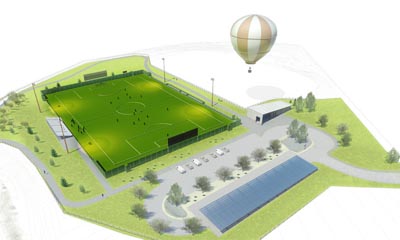 Τhe Taos New Mexico (NM) Eco Park has received a FIFA 2 Star Field Certification from the Federation Internationale de Football Association (FIFA), the world's governing body for the sport of soccer.  The Taos Eco Park is now the fourth FIFA 2 Star field installed in the United States, and the highest altitude FIFA 2 Star training facility in the world.

Taos has long been known for its world class skiing, hiking and biking and now adds soccer to the list of outdoor opportunities. Located 7,000 feet above sea level, Taos Eco Park adds the unique attribute of high altitude training as a sports destination for soccer and many other sports including, but not limited to, American football, rugby and lacrosse, with Taos Mountain providing an incredible backdrop.
"This means teams from all over the world will be able to train at high altitude, on a FIFA certified field, in preparation for tournaments and to improve their team's abilities," said Joel Israel, Executive Director of the Taos Sports Alliance. "If a team has a game in Mexico City, they'll be able to come to Taos and train at 7,000 feet for two weeks of high altitude conditioning for their competition. This is a huge opportunity for soccer teams worldwide and for the Town of Taos, NM."
FIFA is often considered the "United Nations of Soccer" with 208 affiliated countries.  The designation of a FIFA 2 Star Field Certification guarantees premium performance, consistency and safety of play based on the FIFA Quality Concept, respected internationally as the industry standard for artificial turf fields. This rating is designed specifically to mirror the playing characteristics of professional soccer. The new designation and the high altitude training component will make the field an attractive destination for teams regionally, nationally and even internationally.
Taos Eco Park is part of a multi-fold initiative by the Town of Taos to increase quality of life, while creating an economic driver for the region.  The FIFA 2 Star Field Certification compliments the vision by Taos's elected officials to become known as a sports and recreation destination, with a focus on youth sports participation to keep its region's children healthy, happy and safe, in a world-class environment.
"The Taos Eco Park's positive impact will be shared by the community for generations to come in northern New Mexico", said Darren Cordova, Mayor of Taos.  "Our children will learn important life lessons through their involvement in sports.  These lessons include self-discipline, teamwork, dedication and perseverance.  Additionally, local businesses will see an increase in activity, with people coming to Taos, because it is a sports destination."
"I am thrilled that the Taos Eco Park has become a reality and is now being recognized by FIFA, which puts Taos on the map once again as a world class destination," said Taos Councilmember Gene Sanchez – a major proponent of the Eco Park since its inception. "Thanks to the combined efforts of the Town, School Board and community, the Eco Park fosters recreation and education while utilizing alternative energy, so it has very little impact on our environment."
Taos Eco Park's artificial turf system, manufactured by Shaw Sportexe, is constructed using a blend of grass-like fibers, special backing and a mix of sand and rubber infill, installed over compacted base and drainage layers.  The end result of these system components mirrors the playing characteristics of a natural grass surface, allowing for Taos Eco Park to be used as a multi-sport training facility.
Programming for high altitude training at Taos Eco Park has already met the expectations of the Town for 2011.  Reservations for use of the Taos Eco Park are quickly filling the master calendar with team training, sports camps and sports leagues from a wide variety of field sports, from youth programs up through the collegiate level of competition.

For more information or to reserve programming at Taos Eco Park, please contact: Joel Israel, Executive Director, Taos Sports Alliance, (954) 567-8942 or email: joel@taossportsalliance.com.