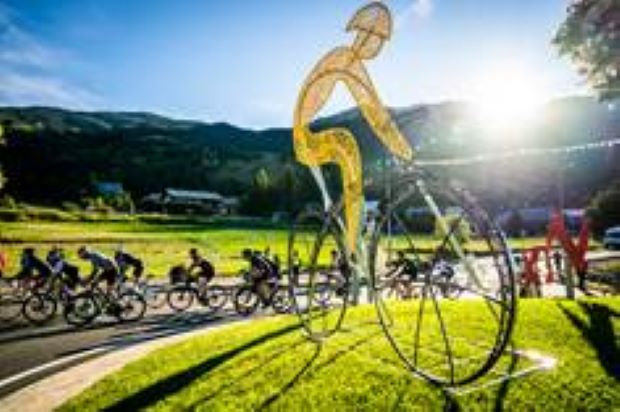 Boulogne
–
Billancourt, 30
June 2023
Sunday, 9
July 2023
CHAMPIONS FLOCK TO
L'ÉTAPE DU TOUR DE FRANCE
The event's sporting challenge and emotional impact will make it a thrilling experience. Six days before
the peloton of the Tour de
France tackles the
very
same roads, L'Étape du Tour de France will take its
16,000
–
strong field on a romp through Haute
–
Savoie, held in the same conditions as the pro race. The
field is made up of 92
nationalities and 45% of rookies. Several famous athlete
s are joining the
celebration.
Key points:
•
The
31
st
edition
of
L'Étape
du
Tour
de
France
, the ultimate cycling challenge in Europe
and the only one held on closed roads, will take place between Annemasse and Morzine
(157
km, 4,100
m of D+) on
9
July.
•
Bixente Lizarazu, Martin Fourcade, Émilien Jacquelin… L'Étape du Tour de France draws
champions from various sports
•
Alexandre Lloveras, who won the gold medal in tandem at the Tokyo Paralympics, is
lining up for his second
participation
•
Mécénat Chirurgie Cardiaque turns out in force with almost 300
riders for a cause
•
Press accreditation is open on the
dedicated platform
Watch out for the American
Ian Boswell
at the front of the pack. A former pro rider who took part in the
Tour de France (2018), the Giro d'Italia (2016) and the Vuelta a España (2015, 2016 and 2018), among
other races, he has specialised in gravel bike racing for a few years now. His climbing
pedigree makes
him one of the favourites. The Savoyard
Arthur Blanc
is another mountain maniac who could set the
race alight.
LIZARAZU, FOURCADE, JACQUELIN, GAVAGGIO AND OTHER STAR ATHLETES ON THE START LINE
Like every year, some big names from the sport
s world are gearing up for a thrilling weekend in L'Étape
du Tour de France.
Bixente Lizarazu
, a former pro footballer who lifted the World Cup in 1998 and the
European Cup in 2000 with
les Bleus
as well as the Champions League in 2001 with Bayern Munich (
to
name but a few of his achievements), is mad about cycling. It is only natural to see the Basque on the
start line in Annemasse on 9
July. "The steeper, the better", he says time and again. The course of the
2023
edition will be a real treat for him.
Biathletes are ready to rock and roll too. Leading the way is
Martin Fourcade
, a legend of the sport who
hung up his skis and now serves on the International Olympic Committee.
Émilien Jacquelin
is
returning after finishing 63
rd
last year. "Cycling is in m
y blood", the two
–
time pursuit world champion
(2020 and 2021) likes to say.
"
I grew up with the Tour de France.
I did cycling until I was 15, before
switching to biathlon, but I always have a blast when I hop on a bicycle."
His teammates from the French
te
am
Éric Perrot
and
Antonin Guigonnat
will try to keep up.
Other high
–
level athletes are also stepping into the fray. Now a Superbike motorcycle racer after three
seasons in MotoGP, the Frenchman
Loris Baz
will also hit the road in Annemasse along with the Irish
rugby player
Greg
O'Shea
,
who
used
to
play
for
the
Irish
national
rugby
sevens
team,
and
the
freestyle
skiers
Enak
Gavaggio
and
Oscar
Mandin
.
PARALYMPIC GOLD MEDALLIST ALEXANDRE LLOVERAS
RACING
ON
A
TANDEM
A tandem will also get a big applause on the start line
—
Alexandre Lloveras
, a Paralympic gold
medallist in the time trial in Tokyo
2021 (bronze in the road race and pursuit) and multiple
–
time medallist
in the world championships, and his father, Christian.
"I had a blast last year", explains the visually
impaired Cofidis rider,
who brought with him seven duos from his beloved club, the Tandem Club
Rhodanien. "My father and I ride a lot together and L'Étape du Tour de France is a reward.
The
atmosphere is awesome and I love taking part in this event.
We know we are in for a tough
challenge,
but our only goal is to enjoy every moment and soak up the scenery.
In winter, when it's cold or raining,
with my father, L'Étape du Tour de France motivates us to go out."
16,000
ENTRANTS, 16,000
CHAMPS
Alain Roux (72), thirtieth start: "Every time is a childhood dream come true" Alain Roux is tackling his 30th L'Étape du Tour de France on 9 July. "I discovered the event from its first edition in 1993, after buying Vélo–Magazine", he explains after a last training session of 90 km and 3,000 m of elevation gain. "I've always been passionate about sport and cycling. Every time I ride L'Étape du Tour de France is a childhood dream come true. The atmosphere of L'Étape du Tour de France is very special because it takes place on the same roads that will host the pros a few days later.

My age makes it a bit tougher every year, but I've never had to quit so far, so I hope I'll manage to finish my 30th start."


FROM L'ÉTAPE DU TOUR DE FRANCE TO LA GRANDE BOUCLE
6 years ago, Jonas Abrahamsen won L'Étape du Tour de France 2017 in Izoard. The Norwegian has been selected for the Tour de France 2023 with Uno–X team.


MÉCÉNAT CHIRURGIE CARDIAQUE: CHAMPIONS RIDING FOR A GOOD CAUSE
Mécénat Chirurgie Cardiaque has been making waves in L'Étape du Tour de France since 2016. This year, nearly 300 "Coureurs du Coeur" will take the start from Annemasse with a jersey in the colours of the organisation, which works to take children with heart defects who live in countries where life–saving surgery cannot be performed to undergo surgery in France or Switzerland instead.

Each "Coureurs du Coeur" got their charitable race number by raising €800 from their friends and family or with the support of their employer. €156,000, enough to pay for 13 children to undergo surgery, have already been raised. This year's drive aims to save 15 children!


The organisation will also be in the heart of the start village in Annemasse on Friday, 7 and Saturday,

8 July, before the start of the race, as well as turning out in force to cheer for the "Coureurs du Coeur"!

A big gathering will be organised on the podium of L'Étape du Tour de France on Saturday afternoon with all these riders with hearts of gold.