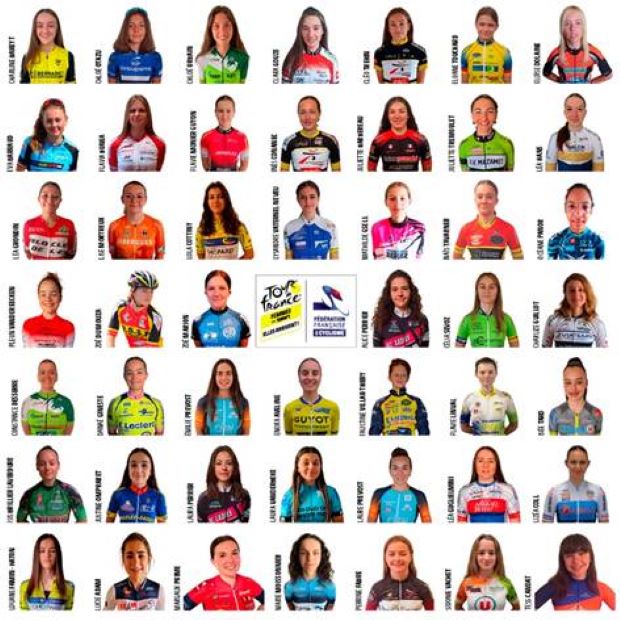 Key points:
"Elles arrivent !" initiative will treat 48 budding cyclists aged 13 to 18 to a memorable experience in the second edition of the Tour de France Femmes avec Zwift.
These young girls, hand-picked by the French Cycling Federation, will plunge into the heart of the race and pedal on the same roads as the champions a few hours before the pro peloton.
The experiences in store for these cyclists include a visit to the bus of a professional team, the chance to attend the pre-race briefing and the opportunity to stand on the podium reserved for the stage winners and wearers of the distinctive jerseys.

Riding in the slipstream of the champions, 48 young French cyclists with an FFC license are about to embark on an extraordinary adventure in the second edition of the Tour de France Femmes avec Zwift. "Elles arrivent !", a joint initiative with the French Cycling Federation, will lift the veil on the world of champions in the biggest cycling race on Earth. Split into two groups of 24, the participants will get to ride part of the course, with the first peloton tackling stages 1, 2 and 3, and the second taking on stages 5, 6 and 7.
The crowds will already be lining the route by the time they take to the road a few hours before the pro race, in what will be a thrilling and formative experience. FFC technical teams will oversee these rides. It will be a great chance for the budding stars to pick up some valuable tips, especially on how to tackle the iconic mountain passes of the Tour de France. The Tourmalet, which hosts the finish of stage 7, will be the highlight of a week packed with discoveries. "If there's one stage I'm looking forward to, it's the finish on the Tourmalet", chirps 13–year–old Mathilde Gsell, who holds a licence with AS La Steigeoise. "Last year, a Tour stage got under way from Sélestat, in my neck of the woods. The girls climbed La Planche des Belles Filles. It was amazing, but the Tourmalet is the stuff of legends."


Selected by the French Cycling Federation after a call for applications with all the clubs and the riders, the young girls are aged 13 to 18 and represent each of the regional committees of mainland France, as well as Réunion.

Some will be riding on home turf. "The girls will ride on the roads where I train", says Laure Prévost, an eager 16– year–old whose club, Albi Vélo Sport, is based in Albi, the start of stage 6.


As well as performing as the warm–up act for the pro race, they will get to discover the world of the champions, talk to leading figures of planet cycling and visit the France Télévisions broadcasting buses. They will get to visit the bus of a professional team and even attend the pre–race briefing. Another big treat will be the chance to stand on the podium and discover how it feels to win a stage or pull on a distinctive jersey. One of the lucky few, 17–year– old Marie Moissonnier, who holds a licence with Cours–la–Ville Cyclisme, recalls when she went to the start of a 2016 Tour stage in Bourg–en–Bresse: "Having access to the paddock, seeing the riders from up close, was really awesome. The best moment was when I got to take a picture with Marion Rousse. Back then, I would have never dared imagine that a few years later I'd be in a Tour de France Femmes with her as director."