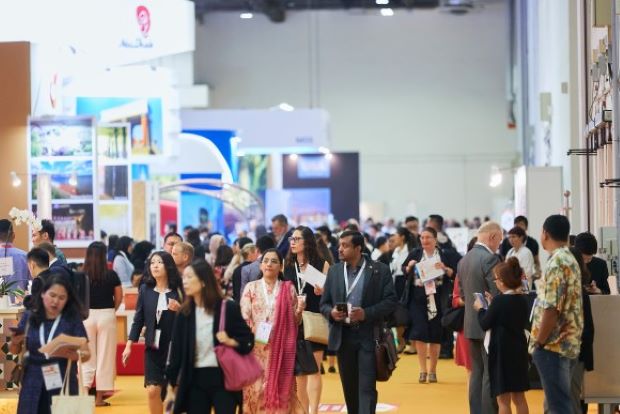 Co-located with MICE Show India, Travel Tech India and the ITB India Conference, the annual trade show is making a strong comeback as an in-person event in Mumbai from 26 – 28 April 2023. Among the top exhibitors and industry leaders are Atout France India, German National Tourist Office, Saxony Tourism, Tourist Office of Roissy, Tourist Office of Spain and Visit Sarajevo.
Happening in the Jio World Convention Centre, Mumbai, the three-day B2B trade show and conference will build the bridge to the Indian and South Asian travel markets. After two digital editions, the show will offer a face-to-face exhibition experience to the travel industry and bring together key travel industry leaders and international exhibitors from various segments of MICE, Leisure, Corporate and Travel & Technology.
Guest of honour Mr Achim Fabig, Consul General, Federal Republic of Germany in Mumbai, together with Mr David Ruetz, Senior Vice President, Messe Berlin, and Mr Stefan Halusa, Director General at Indo-German Chamber of Commerce will usher the opening of ITB India 2023 with a traditional lamp lighting and ribbon cutting ceremony.
The promising exhibitior participation facilitates business meetings and drives engagement for attendees from around the world through ITB India's live format. The various representations by destinations are impressive and feature stands of Spain, France, Germany, Sarajevo, Vietnam, Iceland, Thailand, Fiji, Japan and many more.
Being an international stage, the exhibition will also feature many global national tourism organisations (NTOs) including Atout France India, German National Tourist Office, Saxony Tourism, Tourist Office of Roissy, Tourist Office of Spain and Visit Sarajevo.
International airlines, hotels, travel agencies and tour operators are also highly represented with their products at this year's show, they will include AVIS, Collinson Group, Fiji Airways, Mize, IDeaS, Prince Hotels & Resorts, TravelLine, Uzbekistan Airways and Vietnam Airlines to name just a few.
"With less than a week to go before ITB India open its doors, the number of bookings and the feedback we are receiving from industry experts in discussions underline that all signs point to a successful live premiere. I am convinced that ITB India will help create the best possible business opportunities for all participants and accelerate the international recovery and upswing. The Indian and South Asian outbound travel markets are becoming increasingly important for many countries: ITB India is simply an unmissable event, and I am delighted that the show happens 100 per cent live", says Ms. Sonia Prashar, Deputy Director General, Indo-German Chamber of Commerce.
Leading minds will take the stage at the ITB India Conference, set to take place parallel to the trade show in three conference tracks: Knowledge theatre, MICE Show India & Travel Tech India. "Connecting You to the Indian Travel Market" will be the overarching theme of the conference, where high-level experts will exchange their insights into the future of the industry.
As part of the exciting keynote line up on Day 1 (26 April 2023), Daniel D'souza, President & Country Head, Leisure, SOTC Travel Limited and Rakesh Bansal, CEO, Amadeus India will address the future of travel and give strategic insights to South Asia's tourism reboot.
Knowledge Theatre: Leaders in the industry gather to share their insights and thought leadership
In the "Hospitality Leaders' Panel: Adapt and Grow", senior level speakers including Parveen Chander, Executive Vice President – Sales & Marketing, Indian Hotels Company Limited (IHCL), Vikramjit Singh, President, Lemon Tree Hotels, Amit Sidana, Vice President Sales & Marketing, Pride Group of Hotels, Vivek Shukla, CEO, The Lalit Suri Hospitality Group and Nikhil Sharma, Market Managing Director, Eurasia Region, Wyndham Hotels and Resorts will share their thoughts on how the hospitality industry has adapted and transformed to stay relevant and grow in a new world of travel. This session will be moderated by Aindrila Mitra, Editor-in-chief, Travel + Leisure India & South Asia.
The growth of India's unique accommodation market has opened up opportunities for micro-entrepreneurship and deeper connections with local communities. Amanpreet Singh Bajaj, General Manager for India, SEA, HK and Taiwan, Airbnb, will talk about "Responsible Tourism – Key to Resurgence of the Travel Industry".
In the session named "Travel Influencer Marketing: The Good, the Bad and the Brilliant", Megna Shankaranarayanan, Industry Head – Travel & FoodTech, Google, will highlight the growing importance of video in the discovery, research and planning phases of a traveler's purchase journey.
In the "NTOs' Talks: Destination Rediscoveries", leaders from NTOs across the region and beyond share insights and plans for their destinations to come back stronger than before. Key speakers of the NTOs Talk series will include Sheetal Munshaw, Director of India, Atout France, Romit Theophilus, Managing Director, German National Tourism Organisation, GB Srithar, Regional Director, India, Middle East & South Asia, Singapore Tourism Board, Neliswa Nkani, Hub Head – Middle East, India and South East Asia, South African Tourism, Nishant Kashikar, Country Manager – India & Gulf, Tourism Australia, Vishal Bhatia, Country Manager – India, VisitBritain and Sara Sodhi Juneja, Country Head – India & UAE, Visit Finland.
MICE Show India: The Conference for the meeting industry in APAC
Most meetings and events have returned in person worldwide. Yet that does not take away the challenges that the entire industry is facing. The "MICE Leaders' Panel: Return to a World Transformed: Revitalising MICE for a New Era in South Asia" explores how different players in the MICE ecosystem can work together to deliver a better bottom line and future for the industry. The panel discussion features top experts from the MICE sector including Chander Mansharamani, Managing Director, Alpcord Network Events and Conferences Management Company, Harshad Donde, Country Director – India, BCD Meetings & Events, Manpreet Bindra, President – FCM Meetings & Events, FCM Travel India, Vijay Sharma, General Manager, Koelnmesse India and Renjie Wong, Area Director, India and South Asia (Mumbai), Singapore Tourism Board.
In the "C-Suite Talk: Emerging Trends Shaping the Future of Event Technology", Anupam Arun, Senior Vice President & Country Head, India, Cvent, will foretell event trends of the future and unveil the magical uses of event technology.
The "Buyers Meet TMCs Panel: The State of Corporate Travel 2024" gathers corporate travel managers, meetings and event executives, travel management companies (TMCs) and leading business travel thought leaders from South Asia to discuss how the industry is evolving. Gaurav Sundaram, President, ProKonsul Consulting will discuss the corporate travel trends in 2023 and beyond with his panellists, including Akhil Shah, Director – Global Market Management, India, CWT, Tanvi Mazmudar, Global Business Travel Leader, Lowe's India, Jasminder S Brishan, Senior Manager – Global Travel, Ocwen Financial Solutions and Sangitha Shetty, General Manager Global Travel & Mobility, Tata Communications.
Corporate travel ecosystem is going through a transformation. The "Fireside Chat: Transformation in the Corporate Travel Space" welcomes Anuj Razdan, Vice President & Head of Products & Supplier Relations, FCM Travel India and Deepesh Jethwani, Senior Director – Strategy and Operations, FCM Travel Asia as speakers. They will give insights on how to navigate the changing corporate travel landscape, adapt to new trends and technologies, and ensure the safety and well-being of employees while traveling.
Travel Tech India: Latest technologies, emerging trends, leading travel brands and innovative startups at one place
The "Tech Leaders' Panel: The Next Frontier" will address what digital transformation in hospitality looks like today, and why tomorrow's leaders need to understand both customer needs and how technology can support them. Moderated by Prasad C G, Hospitality Tech Evangelist, Jio Platforms Limited, the panel discussion features top technology experts including Anshul Gupta, Managing Director, Travel & Hospitality Industry, Accenture – Advanced Technology Centers in India, Pratik Modi, VP Engineering and Head of Egencia, India, AMEX GBT, Darshana Shirodkar, Senior Director, Lodging Market Management -Southeast Asia and Indian Subcontinent, Expedia Group and José María Pestaña Sartorius, High Performance Director, Hotelbeds.
Travel customers are increasingly moving online to not just research but book their vacations online, and hotels can benefit immensely by building their strategy around the changing online trends. In the "C-Suite Talk: Test and Analyze: Get to Know How Your Guests Like to Travel", Krishna Rathi, Country Director-India, Sri Lanka & Nepal, Agoda, shares key tips on how best to test, analyze, and ultimately grow.
The rise of Superapps in travel is the focus of an upcoming industry conference session, with an emphasis on both the Asian market and India-focused potential players. In the fireside chat, titled, "Superapps and the Impact on the Tourism Industry", Brett Henry, President Director, MG Group and Kei Shibata, Co-Founder & CEO, Venture Republic – TRAVEL jp & Trip 101 discuss how Superapps have become crucial distribution channels for travel brands across Asia and how they can offer a range of services such as payments, ride-hailing, and e-commerce. They will also share what to expect from Superapps and marketplaces in the travel space moving forward.
The session, titled, "Evolution of B2B Distribution Technology – Opportunities & Challenges" opens the dialogue on the NDC – New Distribution Capability journey from an Airline, Travel Technology Partner, and Travel Trade Partner perspective. Paurus Nekoo, Regional Distribution Manager, APAC, Lufthansa Group, Sanjeev Bhasin, Vice President – Airline Contracting, MakeMyTrip and Abdul Bijur V A, Chief Growth Officer, Verteil will explore the current status of the industry's approach to NDC.
Trade visitors can register online at itb-india.com/visit-register for USD16 and get access to all three shows over three days. Listed Rate at USD16 ends 25 April.