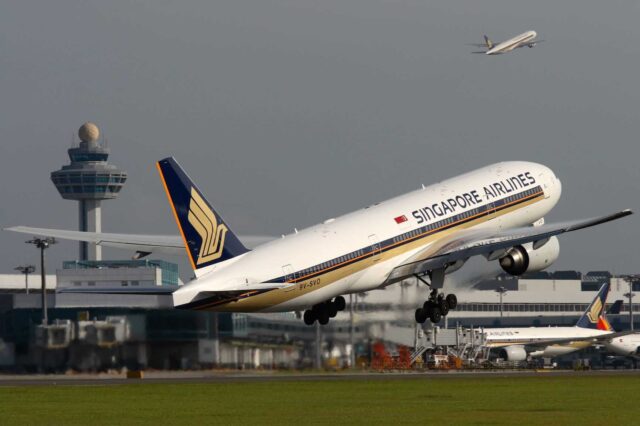 SIA and Scoot are on track to hire around 3,000 cabin crew in total by the end of the financial year 

Demand to pick-up in Hong Kong, Taipei, and points in Japan especially over the holiday period 
SIA and Scoot carried 11.4 million passengers during the six months to 30 September 2022, a 13-fold jump from a year before 
SIA

in discussions with the Tata Group to deepen their existing partnership, and that this may include a potential integration of Vistara and Air India
The SIA Group posted record operating profits in the first half and second quarter of FY2022/23, as the demand for air travel surged after Singapore fully reopened to vaccinated travellers in April 2022, and border restrictions eased across many key markets. This has largely come about because the Group was fast off the block in undertaking several initiatives. These include proactive fund raising, talent retention, and resource deployment in preparation for the recovery of air travel, putting it in a strong position to capture the pent-up demand. With strong support from many stakeholders, Singapore Airlines and Scoot were among the first carriers to launch flights and start sales to points served out of Singapore as the government took decisive action to reopen its borders to international travel, starting with the launch of the country's Vaccinated Travel Lane arrangements in September 2021.  
As a result, SIA and Scoot carried 11.4 million passengers during the six months to 30 September 2022, a 13-fold jump from a year before. Passenger traffic and load factors were robust across all cabin classes and route regions, except in East Asia where border restrictions largely remained in place during the six months. The Group's passenger capacity rose to an average of 68% of pre-pandemic levels in the second quarter of FY2022/23.  
During the first half, passenger flown revenue rose $5,226 million (+694.0%) year-on-year to $5,979 million. Traffic was 11-fold higher, significantly outpacing the capacity expansion of 118.7%. Consequently, passenger load factor rose 66.8 percentage points to 83.0%. Cargo flown revenue grew by $224 million (+11.9%) to $2,099 million, supported by higher yields (+18.6%), despite the decline in cargo loads (-5.6%). As a result, Group revenue rose $5,589 million (+197.7%) to $8,416 million. 
Expenditure increased by $3,735 million (+108.4%) year-on-year to $7,182 million. This consisted of a $1,886 million jump (+232.8%) in net fuel cost, a $1,770 million increase (+65.2%) in non-fuel expenditure, and the absence of the $79 million gain that was recorded last year for fair value changes on fuel derivatives. Net fuel cost rose to $2,696 million, mainly on the 93% increase in fuel prices (+$1,467 million) and higher volume uplifted (+$708 million), partially offset by higher fuel hedging gains  (-$365 million). The increase in non-fuel expenditure was lower than the increase in passenger capacity. 
The Group recorded an operating profit of $1,234 million, an improvement of $1,854 million from the $620 million loss a year before. 
 The Group posted a first half net profit of $927 million, versus a $837 million loss in the previous year (+$1,764 million). This was due to the better operating performance (+$1,854 million), lower net finance charges (+$69 million) and improvement in share of results of joint venture and associated companies (+$46 million), partially offset by a tax expense versus a tax credit last year (-$267 million). 
The Group recorded an operating cash surplus of $2,514 million for the first half, a year-on-year improvement of $2,620 million. 
On 25 October 2022, SIA announced the intention to fully rS IA edeem the $3,496 million Mandatory Convertible Bonds that were issued in June 2020 (2020 MCBs) at the next semi-annual date of 8 December 2022.
SIA and Scoot raised a further $865 million in October 2022 and early November 2022 through the completion of aircraft sale-and-leaseback transactions for six 737-8, two 787-8 and two 787-9 aircraft. This is part of the Group's strategy to manage the residual value risk on its fleet of aircraft, while also providing flexibility in fleet planning.  
The SIA Group continues to invest in our people as we prepare for the future. SIA and Scoot are on track to hire around 3,000 cabin crew in total by the end of the financial year. Both airlines have also resumed cadet pilot recruitment.
Finally, SIA announced on 13 October 2022 that it is in discussions with the Tata Group to deepen our existing partnership, and that this may include a potential integration of Vistara and Air India. This is a key part of the SIA's multi-hub strategy, which allows the Group to directly participate in the growth of one of the largest aviation markets in the world that complements our strong Singapore hub.
"Demand is expected to be strong as we head into the year-end peak travel season. With the recent relaxation of border controls in parts of East Asia, we expect demand to pick-up in Hong Kong, Taipei, and points in Japan especially over the holiday period" said Takis Dimitriou, Head of Asian Aviation, the Singapore Airlines and Scoot GSA in Greece and Cyprus.  
"Forward sales are expected to remain buoyant in the coming months leading up to the Lunar New Year period.  However, high fuel prices, inflationary pressures across the supply chain, geopolitical issues, as well as macroeconomic uncertainties including the risk of a global recession, remain a concern beyond the Lunar New Year period. These could pose challenges to passenger and cargo demand across the SIA Group's key markets. The Group will keep a close watch on the impact of these developments on our business and respond as necessary."