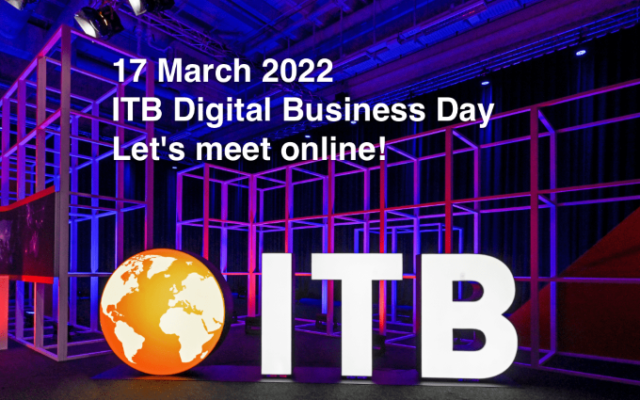 Focus on resilience, digitalisation and sustainability – registration for the convention is free – The ticket shop for the Digital Business Day is online from 17 March
Only a few more days to go until the World's Leading Travel Trade Show takes place with an updated concept. The world is currently watching with trepidation as the conflict in Ukraine unfolds. Together with the entire travel industry, ITB stands for international understanding, peace, treating one another with respect, and it condemns war and violence. Since its launch in 1966 its mission has also been to be a platform for negotiating travel on the basis of peace and international understanding, one where dialogue and a constructive exchange of views are the sole guiding principle. Along with digitalisation and sustainability, resilience, crisis management and the impact of geopolitical events on global tourism are the key topics at this year's convention. The current geopolitical crisis has far-reaching consequences for international travel and on the entire tourism industry. At the ITB Berlin Convention individual sessions, including the Ministers Round Table, will address this topic. Here, experts and guests will debate what policymakers can do to better protect the tourism industry against future crises.
The ITB Berlin Convention will take place from 8 to 10 March 2022 in an entirely virtual format. This will be followed on 17 March by the Digital Business Day, a user-friendly networking platform where buyers and providers can exchange views and generate successful business. The ticketshop for this event is open online. A series of B2B networking events which ITB Berlin is planning at European host destinations this year will round off the programme.
Live from the Messe Berlin studio – the ITB Berlin Convention 2022
The slogan and key theme of the ITB Berlin Convention 2022 is 'Open for Digital, Responsible & Resilient Solutions'. The official opening press conference on Tuesday at 9 a.m. will kick off the event. Taking place over three days, the convention programme will be live-streamed daily from 10 a.m. to 6 p.m. on itb.com. Attendance is free. To register please visit ww.itb.com/tickets. For those who want to view sessions later on, these will be available on demand on YouTube. On all three days of the virtual convention a further stream will also be available which companies can use to showcase their products during 30-minute slots at virtual press conferences and company presentations.
Future & Resilience track on Tuesday, 8 March 2022
At the ITB Future & Resilience track the speakers will take a look at the future. Federal Minister for Economic Affairs and Climate Action of the Federal Republic of Germany Dr. Robert Habeck will kick off the political discourse with a keynote speech on Germany as a tourism market. The focus will be on the outlook for tourism and on economic policy in Germany. The panel discussion to follow (in German only) will debate the trends and challenges facing incoming, outgoing and domestic tourism, air travel demand, market changes due to the pandemic, and the overall political conditions.
Taking part will be Claudia Müller, the government's coordinator for maritime business and tourism, Dr. Markus Heller, managing director of Dr. Fried & Partner, Stefan Baumert, CEO of TUI Deutschland, Daniela Schade, chief commercial and distribution officer of Deutsche Hospitality, and Elisabeth Köstinger, Federal Minister for Agriculture, Regions and Tourism of the Republic of Austria.
At the C-Level Interview, Lea Jordan will talk to Jane Sun, CEO of Trip.com Group, about 'Global Trends in Travel & Technology: Learnings from Asia – Insights from one of the biggest travel technology brands worldwide'. Topics will include Jane Sun's vision of the future of travel. In his keynote speech on 'City Tourism in the past COVID-era (in partnership with the WTCF)', Liu Bin, deputy director of the Beijing Municipal Culture and Tourism Bureau WTCF, will look at tourism in cities and the impact of Covid-19 on their hospitality industry, as well as Beijing's crisis management strategy.
The pandemic has exacerbated the skills shortage – particularly in the tourism industry. At the panel discussion entitled 'HR Trends in 2022: Future of Human Resource Management in Tourism' with Sophia Krekel, head of Sales Hospitality Solutions Stepstone, Mario Maxeiner, managing director of Northern Europe RCIS, Georgia, Ukraine and the Baltic States IHG Hotels & Resorts, Leah Shelly, director of Global Engagement at G Adventures, and Rida Munir, head of Talent Acquisition at Personio, the focus will be on the strategies required to confront the skills shortage and solve recruiting issues. Following the presentation on 'Tours and Activities Sustainable Return' by Charlotte Lamp Davies, founder of A Bright Approach, a discussion round will take place, with speakers including Douglas Quinby, co-founder & CEO of Arival, Brad Weber, president and board member of Gray Line Worldwide, and Emil Martinsek, CMO of GetYourGuide. The topic will be how marketing tours, activities and attractions can play a decisive role in reviving the travel industry and confronting challenges such as overtourism. The online session will also feature a survey by the market research institute Arival presenting the outlook for the industry as well as trends and forecasts.
eTravel track on Wednesday, 9 March 2022
On day two of the convention, the focus of the eTravel track will be on digitalisation in the tourism industry. At the session entitled 'The Power of BI: New Data Trends and Data Skills for the Travel Industry', Dirk Rogl, the session moderator and founder of Travel Commerce, Andreas Wulfes, managing director of Neusta Data Intelligence, Hayley Berg, head of Price Intelligence Hopper, and Mathias Gerber, regional director of Central Europe Sojern, will talk about transparent and reliable methods for gauging tourism success and take a look at the future: can business intelligence provide the answers?
An presentation of best practices awaits viewers at the session entitled 'Improve the sales experience of your customers – best practice with Condor'. In his case study, Sebastian Beck, international sales manager at ISO Travel Solutions GmbH, will explain how companies can improve their marketing by employing personalised videos and creating an emotive experience for customers. A further panel entitled 'The Future of Digital Payments in Travel and Hospitality', moderated by Lea Jordan, also awaits viewers. The discussion here will focus on travel payment trends and developments, and the latest challenges and options for making payments more flexible, frictionless and less complicated. Taking part will be Jörg Kablitz, managing director of PayPal DACH, Xavier Ginesta, chairman of Voxel, and Chiara Quaia, vice president of Market Development Travel Enterprise Partnerships at Mastercard.
At the panel discussion entitled 'The Modern Hotel Technology Stack', Henrik Steen, director of Software Engineering Cloudbeds, Michael Heinze, managing director of the Shiji Group, Iris Steinmetz, senior director of Operations EMEA, HRS (Hospitality & Retail Systems), and Timo Kettern, corporate director of IT Bierwirth & Kluth, will be among those examining the aspects involved in developing a modern, scalable hotel technology stack. In his case study entitled 'Surviving SEO Disasters', Kaspar Szymanski, former senior member of the Google Search Quality team and SEO expert director of SearchBrothers, will take a look at three actual SEO disasters. Those taking part in the session can find out about the missteps that caused the SERP debacle and how they can avoid an SEO disaster. The case study entitled 'Cologne Tourism Board: Experiments with TikTok of a destination', featuring Dr. Jürgen Amann of the CEO Cologne Tourism Board as speaker, will provide a first-hand insight into this social media platform, and show what TikTok can teach users through trial and error. Before day two wraps up, a keynote speech and panel on 'The Future of Business and the Corporate Travel & Technology impact' with Michael Riegel, CEO and founder of Comtravo, Tristan Smith, vice president of Commercial Egencia, and Andy Finkelstein, SVP of Global Agency Sales & Corporate Solutions Sabre, will offer further insights.
Responsible Tourism track on Thursday, 10 March 2022
On day three, the Responsible Tourism track will continue the wide-ranging programme of panel discussions, keynote speeches and lectures. The panel entitled 'Carbon neutrality is not enough', moderated by Randy Durband, CEO of the Global Sustainable Tourism Council (GSTC), will offer a brief update on industry developments since Evora, COP26 and COP15, and the resultant takeaways for the travel industry. Taking part will be Dr. Susanne Etti, environmental impact specialist for Intrepid Travel, Celine Oleson, representing Corporate Partnerships Climeworks, Jane Ashton, the sustainability director of Easyjet, and Christian Delom, executive director of A World for Travel.
At the fifth ITB Gender Equality in Tourism session entitled 'Female Leadership in Times of Crisis/Best Practice Stories of Resilience', moderated by ITB's CSR commissioner Rika Jean-François, the panel guests will discuss how globally, women in tourism in particular are responding to crises and often managing them with success. The international guests taking part will be Dr. Sreeja K.G, director of Research, EQUINOCT Community Sourced Modelling Solutions, Holly Budge of How Many Elephants/World Female Ranger Week, Muna Haddad of the Jordan Prime Ministry Delivery Unit, and founder and CEO of BARAKA, and Shana Fatina, founder and commissioner, ORA DIVE, Labuan Bajo, Flores, Indonesia. In the light of recent events, Natalia Turcanu, executive director of the National Inbound & Domestic Tourism Association of Moldova (ANTRIM), will talk about current crisis management efforts taking place in the areas bordering Moldova and Ukraine. Informal workers exist in a limbo between grasping entrepreneurial opportunity and suffering the risk of exploitation. The panel discussion on The Forgotten Majority – Good Practice Examples to Address Human Rights Risks of Informal Workers in Tourism – powered by: ECPAT, Brot für die Welt, Roundtable Human Rights in Tourism, as well as the Study Group on Tourism & Development will feature reports from practitioners and experts and present examples of how to overcome challenges while respecting human rights. Katharina Stechl, the session moderator and programme manager of the Roundtable on Human Rights in Tourism e.V., a multi-stakeholder initiative and non-profit organisation co-founded by ITB, will take part in a discussion with Antje Monshausen, head of Tourism Watch and chairwoman of Brot für die Welt, Graeme Jackson, The Travel Foundation, and Agnes Rodriguez of the Association of Tour Guides in Catalonia (AGUICAT).
Information for the media and bloggers:
ITB Berlin Convention: attendance is free, but you must register online in advance – itb.com/de/besuchen/tickets/.
Digital Business Day: press accreditation is required – itb.com/de/presse/akkreditierung/. On approval of your accreditation, as of Tuesday, 15 March 2022 you will automatically receive a personalised email giving access to the Digital Business Day.