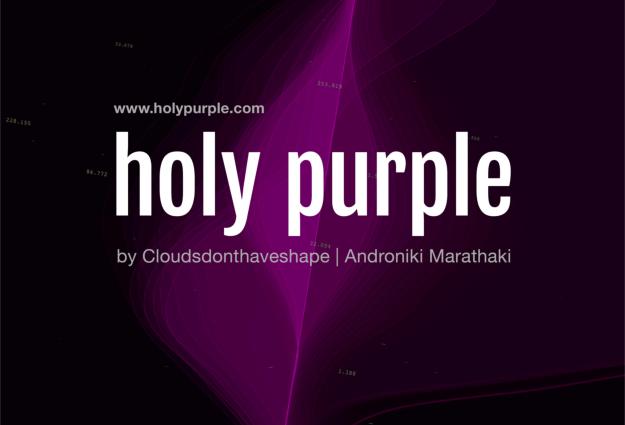 hiding in holy purple dance performance
gardening the holy purple digital "performance"
turning in holy purple installation
jumping in holy purple dance workshop
These four forms, as also the possible intervals between them, compose a grid, a technology of relations. "Braiding" the past with whatever looks like a future and guessing for possible contact areas, points of communication of fragmented, unsynchronized relations, that are in distance with each other and others that collide.
Where? Upon surfaces which seem unstable and transformative.
A platform that changes its inclination when humans displace themselves, a virtual space that is created by their own voices and one choreographic practice which is developed by the relations of their Bodies.
In these "places", holy purple make speculations about the current nature of humans, the nature of their "dance" and hence the dance performance itself.
By the uniqueness of the dancer and the ways by which they perceive, live, train, observe and therefore research the world, holy purple shares processing methods as potentialities for rearrangements and transformations; as relational possibilities, but not directed to deliver knowledge.
In April 2021, the team shares their final phase of rehearsals in public space and in order to film the perfromance.  | hiding in holy purple.
In parallel, a series of meetings-talks take place upon this platform and in public space | turning in holy purple and finally the digital form of the project is activated from the 20th till the 30th of April. During these days, visitors/users of the site may upload furtherly their own voice recordings at www.holypurple.com | gardening the holy purple.
According to the circumstances and for the time being, we are unable to share the location and the dates for all the forms of this art project. It seems that every form of it  that is published or shared, either it is distancing itself or approaching the notion of form as we already know it.
"Jump as carmine, Blue as to fall, turn as gardening, pas de deux knots."
the holy purples
Candy Karra & Loukiani Papadaki (research and performance)
Lampros Pigounis ( sound composition and sound programming)
Nysos Vasilopoulos (lighting)
Filippos Vasiliou (platform curator)
Stergiani Tsintziloni (research and dramaturgy)
Rallou Avramidou (communication practices)
Yiannis Kranidiotis (sound web programming and web's artistic direction)
Eftihia Liapi (poster design)
Alekos & Christos Bourelias (video making)
Nick Strauss Klein-feldenkraisproject (Feldenkrais Method guidance)
Delta-Pi Productions (production manager)
Androniki Marathaki (research και choreography)
Cloudsdonthaveshape A.M.K.E.
Holy Purple belongs to the theme Ιt's not about if you will love me tomorrow and takes place with the financial support of Ministry of Culture and Sports
date| time
location| information
gardening the holy purple digital performance
Date: 20th – 30th April
Location:www.holypurple.com
The digital "performance" evolves through the "divorse" of the digital and physical world and of any presence and absence. By creating  a common place of human voices, it is suggestive of human life.
The voices, detached as they are, they whisper, they allow exclamations, they punt for breath, they breath, they shout out silently and finally they fall silently.
This digital "dance performance" researches liveness through relating and through embodying its pastness while creating common spaces with others.It suggests an application of the choreographing research around the question of how a dance performance lives in the digital world.
The website will be available from the 20th till the 30th of April for visitors and users to upload their own sound recordings.
**The website  www.holypurple.com is – off the region of gardening the holy purple – one more available point, that contains an overall of updated information for all holy purple's forms .
***Dates of launching the rest of art forms will be announced, as long as the circumstances allow it.
In case you are looking for further information for the running project, please send us an email at holypurple2021@gmail.com, or you can stay tuned for any news of the previous mentioned forms of holy purple by our website and social media: FB: https://www.facebook.com/Holy-purple-100998222131326