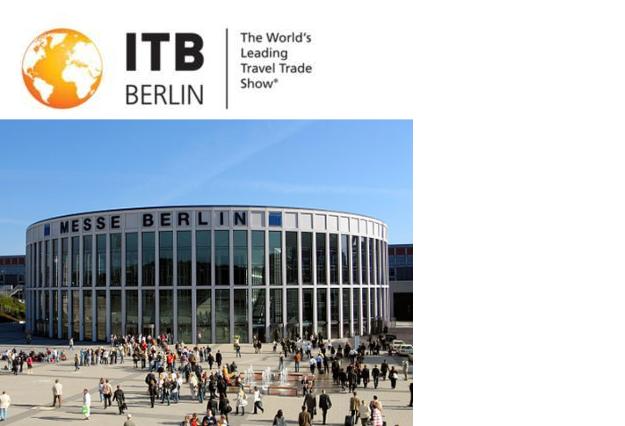 ITB CSR Day features climate change as its key topic – Focus on human rights, fighting poverty, wildlife conservation and environmental protection at the 14th Pow-Wow for Tourism Professionals – Women's Day Special event on International Women's Day on 8 March
Tourism with a vision of the future: socially responsible tourism has been on the agenda of the World's Leading Travel Trade Show for many years. This year, with its wide range of workshops, seminars and lectures on social responsibility, ITB Berlin (6 – 10 March) will help to raise awareness for many issues, to which the ITB CSR Day at the ITB Berlin Convention and the 14th Pow-Wow for Tourism Professionals in Hall 4.1b will make an important contribution. At events taking place on two stages experts and exhibitors will examine topics concerning socially responsible tourism, sustainability and human rights.
Social responsiblity and sustainable tourism in Hall 4.1b
The Adventure Travel & Responsible Tourism Hall (4.1b) has become an international forum for sustainability in tourism. From 6 to 8 March the focus here will be on the 14th Pow-Wow for Tourism Professionals. Exhibitors, experts and leading international guest speakers from all areas of tourism, business and science will discuss topics such as overtourism, marine conservation and ocean pollution, local cuisine in hotels and restaurants, biodiversity, alternative forms of transport and cycle tourism.
On Wednesday, 6 March at 2 p.m., Madagascar and the UNESCO Global Geopark Association will present their sustainable tourism initiatives on the Adventure Stage in Hall 4.1. At the same time, a discussion on fair working conditions will take place on the big stage in Hall 4.1 a. This event will be moderated by Antje Monshausen, senior policy adviser of Brot für die Welt and chair of the Roundtable for Human Rights in Tourism. The aim will be to show how tour operators can create fair and decent working conditions.
On Thursday, 7 March, day two of the Pow-Wow, visitors to Hall 4.1 can find out more about socially responsible tourism in Jordan, Dominica, Mexico, Russia, the Western Balkans and Malaysia, this year's partner country of ITB. At 5.15 p.m. Myclimate, an organisation which compensates for travel emissions, will round off the day's events with a fascinating panel discussion on climate protection and sustainability. On Friday, 8 March, the second edition of the Cycle Tourism Conference will take place on the big stage, where cycling enthusiasts from all over the world will talk about ecologically responsible development of cycle routes featuring natural and cultural attractions. Astrotourism is a fascinating subject, which together with increasing levels light pollution will again be a topic at the Pow-Wow, as will child protection and the use of disposable plastic items. This year The Blue Yonder, the Responsible Tourism Partner of ITB Berlin, will present Planet Abled, an award-winning Initiative for Accessible Tourism in India, and at 5.30 p.m. will talk about the success story of Chekutty Dolls. Rounding off the Pow-Wow again at 6 p.m. will be the internationalResponsible Tourism Networking Event of ITB Berlin in partnership with The Blue Yonder, which has been taking place for the past 11 years. At the event each participant will be able to deliver a two-minute pitch to introduce themselves and find a potential business partner.
Focus on climate change at this year's ITB CSR Day on Friday, 8 March
On 8 March at 11 a.m. at the CityCube in Room A3, in his keynote speech on 'Climate change, global warming, weather extremes', the leading international climate change scientist Prof. Dr. Hans Joachim Schellnhuber will outline the current situation and the need to take climate action. Afterwards at 12 noon, a panel discussion will examine one of the key questions facing the tourism industry: 'In view of a 1.5 degree global warming target, can we still travel as before or is this the end of the industry's growth?' At 2 p.m. representatives of industry, science and Greenpeace will discuss the role that tourism plays in polluting the oceans with plastic waste, the regulatory measures that policymakers need to take, and the contribution that travellers are willing to make. On Friday, 8 March, from 10.30 a.m. to 4 p.m. at the CityCube in Room A7, in addition to the ITB Berlin Convention the Barrier-free Tourism Conference will also be taking place, which for many years has been successfully coorganised by the German National Tourist Board (DZT), experts, and the associations representing those concerned.
Highlights on 8 March, International Women's Day
8 March is a newly established public holiday in Berlin and International Women's Day, and will be a fitting occasion for additional events on gender equality. On the eve of International Women's Day, 7 March, from 1 to 2 p.m. at the Palais am Funkturm, two seminars will be taking place on gender equality and the working conditions of women in tourism. Experts from around the world will provide an insight into different approaches at various destinations. Furthermore, the presentation will take place of the latest findings of the 2nd Global Report on Women in Tourism, which is jointly sponsored by UNWTO, GIZ, UN Women, the World Bank & Amadeus. First Lady of Iceland and Special Ambassador of UNWTO Eliza Reid will address the participants in her welcoming speech. Together with Marie-Christine Stephenson, tourism minister of Haiti, and Taleb Rifai, former secretary general of UNWTO, she will be a guest of honour at the global Celebrating Her Awards, which recognise the special achievements of women in tourism. The presentation will take place on 7 March from 2 to 3 p.m. for the fourth time and is a collaboration between ITB Berlin and the Indian representatives of the International Institute for Peace in Tourism (IIPT). In the South America Hall (23b) on the exhibition grounds a gallery display will also afford special recognition to Celebrating Her Award winners of past years.
To mark the public holiday on 8 March, at 2 p.m. ITB Berlin, Gender Responsible Tourism (GRT) & SheTrades will be holding a WOMEN'S DAY SPECIAL event at the Palais am Funkturm. SheTrades is an initiative of the International Trade Centre (ITC) whose goal is to ensure that three million women become independent entrepreneurs by 2021. Dr. Joke Buringa, an expert on human rights and gender equality in Arab countries who is sponsored by the German-Arab Society, will hold the keynote speech at this event. Women will also be the focus of the International Women's Day Awards 2019, which will be presented at a festive ceremony of the international seminar of the Pacific Area Travel Writers Association (PATWA) in collaboration with the Institute of South Asian Women (ISAW). The event will take place on 7 March at 2.15 p.m. at the CityCube Berlin in Room A1.
Responsible Destination Forum at the Palais am Funkturm
On Wednesday, 6 March from 2 to 3 p.m. at the Palais am Funkturm, under the heading of 'The Art of Engaging and Sustaining Authentic Indigenous Experiences', the Indigenous Tourism Seminar will look at how tourists can share authentic experiences with local inhabitants at their destinations, in ways that benefit indigenous groups and people and help to preserve their culture. Ben Sherman, chairman of the World Indigenous Tourism Alliance WINTA, will hold the keynote speech. Afterwards, international experts from the USA, New Zealand, Easter Island and Sweden will discuss tried and tested best practices. At 4 p.m. a presentation will take place of the 'Best of the Best' winners of the Top 100 Sustainable Destination Awards. The award categories are: Cultures and Communities, Cities, Nature, Eco-Tourism, Coastal & Island Destinations and Best Green Destinations. The ITB Earth Award is a new category and will go to the destination that is a global leader in combating climate change and environmental destruction. The winners will be announced at the event.
On Thursday, 7 March at the Palais am Funkturm at 11 a.m., events will kick off with a seminar discussing to what degree a destination's support for LGBT+ and human rights can contribute to its success. Leading figures including Derek Hanekom, the tourism minister of South Africa, and Nikolaus Graf Lambsdorff, Germany's ambassador to Malaysia, will hold introductory speeches. Afterwards, an international panel including LoAnn Halden, vice president Communications, IGLTA, and Helmut Metzner, chairman of the LSVD, and those concerned will discuss this issue. The event will conclude with the presentation of the ITB LGBT+ Pioneer Award.
Also on 7 March, taking place from 4.30 to 6 p.m. in addition to the established TO DO Award for socially responsible tourism, Studienkreis für Tourismus und Entwicklung will be presenting the TO DO Human Rights in Tourism Award for the third time. The event is organised in partnership with the Roundtable for Human Rights and Studiosus Reisen München and the German UNESCO Commission will act as patron.