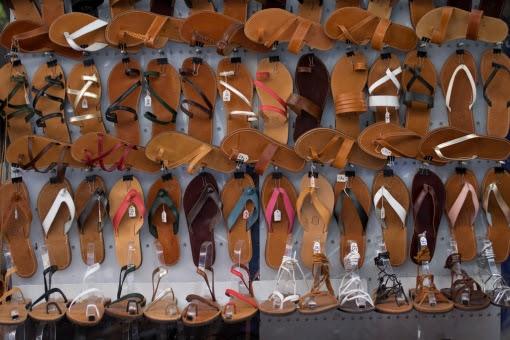 The beginning of winter sales throughout Attica signals the beginning of bargain shopping, in extremely… tempting prices! From Monday, 14 January until Thursday, 28 February 2019, customers in Athens, the suburbs and the islands of Attica are invited to benefit from the reduced prices, and immerse themselves in endless shopping.
Respectively, the summer sales period starts on the second Monday of July and ends at the end of August.
 
This is a unique opportunity for memorable walks in the markets of Attica, and shopping that will satisfy all tastes and preferences. In Attica you will find literally everything!
So, don't confine yourself in brand shopping and world famous chain stores. You are in Attica, a place with a wealth of local products and numerous ideas for imaginative handmade creations of supreme aesthetics, made with love and passion by Attica's artists.   
  
In an era of mass production, seek things that are different and unique, that will express your own personal aesthetics and will connect with your own personal experience from your visit to Attica. In beautiful Plaka, Athens, you will find fine little shops with excellent quality, original and imaginative items that escape the classic notion of souvenirs. Handmade travel-utility items (handbags, aprons, pillow cases and many more), jewellery and accessories designed with creativity and made with natural material, by young designers and inspired artists.
 
At the shops in the museums of Attica you will find beautiful, unique gifts for friends and family, as well as incredible souvenirs from your visit to Attica. Decorative or utility items of excellent quality, inspired by Greek images and traditions.
 
Musical instruments, Greek folk art items, hand-woven textiles and clothes, leather items, furs, handmade sandals and antiques are to be found in Monastiraki and the wider historical centre of Athens, while Kolonaki is known for the stunning creations – true works of art – by Greek fashion and jewellery designers.
 
Discover the top quality and nutritional value of Attica's local products, such as olive oil, honey, herbs, royal figs, dairy products, organic salt, pasteli (sesame seed candy), halva and tahini.
Visit the vineyards and wineries of Attica, try the local varieties, starring Savatiano, and you will certainly not leave empty-handed!
 
Search for the top quality herbal cosmetics of small-scale producers in Attica, made with pure ingredients that are produced in their own farms. Handmade, natural, traditional products with top nutritive and therapeutic ingredients, known from antiquity: extra virgin olive oil, honey, aloe vera, extracts of healing herbs and grapes.
 
In the Saronic islands you will find excellent quality local wine, honey and olive oil, herbs and cheeses. You should definitely try the addictive amygdalota, the traditional crushed almond confections, and make sure you buy enough to take back home! Beautiful souvenirs and unique decorative or utility items are also to be found in every island.
You will fall in love with the handmade wooden miniatures of Greek ships in Spetses, the island with the long nautical tradition. Here you may also buy handmade jewellery by Greek designers, clothes, accessories, handmade leather sandals and art items.
In Hydra you will marvel at the traditional embroidery and hand-woven textiles, as well as the unique jewels made by people with passion for their art. Don't miss out on the shop of the world renowned and established jewellery designer, who was born in Hydra, and was asked to redesign the façade of the medals for the 2004 Olympic Games in Athens and for all Olympic Games to come.
Ever since antiquity, Aegina has been famous for its unique tradition in pottery. Discover the beautiful Aegina jugs, the cruses or traditional "kopaneli", and choose from a great variety of utility or decorative items that are made in local workshops. In Aegina you will also find paintings, designer jewellery, accessories and art items. The star of the island, the famous Aegina fistiki (pistachio), is available everywhere, in numerous versions. Give in to sweet temptations, such as the spoon sweets, the honey with pistachio, the pasteli and the pistachio flavoured "submarine". 
In Poros you will absolutely love the flavour of alcoholic drinks made with citrus fruit (bergamot, sour orange, lemon etc), and you will refuse to leave the island until you purchase some of the many handmade creations you will find in beautiful little shops. Puppets and dolls made with fabric and felt, pillow cases and rugs, traditional embroideries and hand-woven textiles, all unique and absolutely stunning.