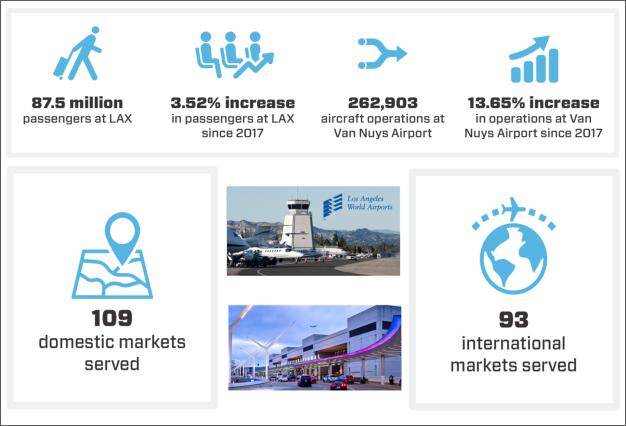 Driven by new air service and continued growth in international destinations, Los Angeles International Airport (LAX) set a new all-time record for passenger traffic in 2018 with 87.5 million travelers, Los Angeles World Airports (LAWA) reported today. 
Van Nuys Airport (VNY), LAWA's general aviation airport, continues to show growth as well, with 262,903 aircraft operations in 2018 – an increase of 13.65 percent from 2017 and its highest total in five years. 
"From our museums to the mountains, and Silicon Beach to Sunset Boulevard – Los Angeles is a global crossroads and a place where everyone is welcome," said Mayor Eric Garcetti. "Another record year of travel at LAX is the latest reminder that our city continues to reach new heights." 
The passenger total at LAX is an increase of 3.52 percent over 2017, shattering the previous record of 84.6 million travelers. International passenger traffic continues to slightly outpace overall traffic growth at LAX, with a record-setting 26 million international travelers last year. 
"LAX's amazing success is due in large part to the continuing investment Los Angeles is making in modernizing our airport and improving the passenger experience. As more terminals are renovated, and the new people-mover opens, our success and popularity as a destination will only increase," said Los Angeles City Councilmember Joe Buscaino, Chair of the Trade, Travel and Tourism Committee. 
In 2018, nonstop flights from LAX served 109 U.S. markets and another 93 internationally. Top international markets included London, Mexico City and Seoul, while New York (JFK/Newark), San Francisco, Chicago and Las Vegas were the most popular U.S. markets. LAX served 15 airports throughout California in 2018. 
"We continue to see the effect of an improving economy, more interest in air travel, competitive fares, and new service and flights at LAX," said Sean Burton, President, Los Angeles Board of Airport Commissioners. "LAX and VNY are important drivers of the Southern California economy, creating jobs and driving commerce and innovation, and we look forward to continuing to raise the bar for guest service, efficiency and security in 2019." 
"The passenger growth at LAWA reflects the strength of the local economy and demand for travel," said Deborah Flint, CEO, LAWA. "With record tourism numbers and our improvement in guest experience ratings, we are on the right course and we reinforce our commitment to providing the essential improvements that will create gold-standard experiences for the decades ahead." 
VNY recorded 31,508 more flight operations in 2018 than 2017 – the highest number since 2013. VNY has 35 Master Tenants and 250 subtenants, including off-airfield commercial and light industrial tenants, and directly employs more than 200 people. According to a report from the Los Angeles Economic Development Corporation (LAEDC) from November of 2016, VNY as an economic impact of more than $2 billion and creates 10,480 jobs in the region.  
For 2018, the total passenger count at LAX was 87,534,384. That total comprises 61,480,817 domestic passengers (up from 59,614,616 in 2017) and 26,053,567 international passengers (versus 24,944,160 in 2017). 
Over the last five years, LAX has experienced continued growth. From 2014 to 2018, LAX added 21 new airlines and 36 new nonstop routes to international destinations. Passenger traffic has grown 31.2 percent during that time, maintaining LAX's position as the second-busiest commercial airport in the country. In 2018, these new routes included Lomé, Togo; Shenyang and Xian, China; and Buenos Aries. New domestic routes included Arcata/Eureka, Calif., and Flagstaff, Ariz. 
LAX also earned national recognition for its continued improvements in 2018, including being named the second-most improved airport in the United States by J.D. Power. Other major accolades from the last year include:
Best Overall Customer Service Program (Airports Council International-North America)
Top 10 Best of the U.S.'s Biggest Airports (Wall Street Journal)

Fifth in the World Among Mega Airports for On-Time Flight Performance (OAG)

Public Agency of the Year (Los Angeles Sustainability Coalition)
Business Leader in Air Quality (South Coast Air Quality Management District)
Innovation Award for the LAX Central Utility Plant (LA Better Building Challenge)
Best Airport for Breastfeeding Moms (Mamava)
Top 10 Most Pet-Friendly Airports in the U.S. (Mental Floss)
Some of the significant investments at LAX in 2018 included the completion of Southwest Airlines' $516 million renovation of Terminal 1; United Airlines neared completion of its $578 million project to improve Terminals 7/8; Delta Air Lines broke ground on its $1.86 billion project to rebuild Terminals 2 and 3; and American Airlines celebrated the groundbreaking for its $1.6 billion improvement projects at Terminals 4 and 5. 
That momentum will continue in 2019, as LAWA will break ground on three major projects, including the Automated People Mover, Consolidated Rent-A-Car facility and Intermodal Transportation Facility-West, comprising the Landside Access Modernization Program (LAMP).