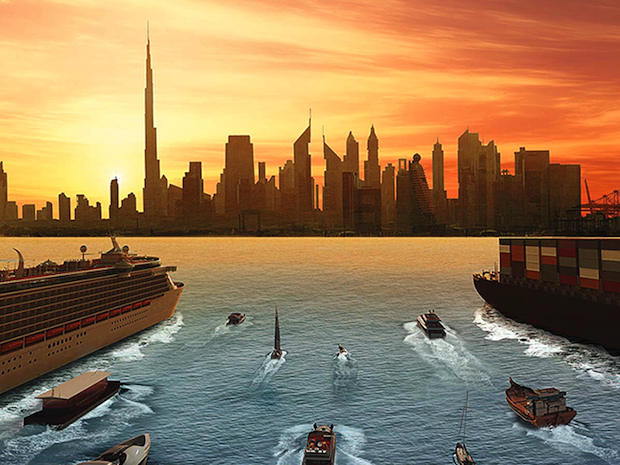 Dubai Among World's Top 5 Leading Maritime Clusters
in Competitiveness and Attractiveness
Attracting Greek Shipping Communities
Thousands of exhibitors, delegates and visitors at the world's most prestigious shipping event, Posidonia 2018, have the opportunity to further discover Dubai, one of the world's most competitive and attractive maritime clusters according to the international survey conducted by Menon Business Economics Group, the globally renowned organization for benchmarking leading maritime capitals of the world. Dubai is actively attracting all members of the Greek shipping communities to be part of its growing maritime sector.
The survey ranked Dubai 5th on the list of the most competitive and attractive maritime clusters in the world and showed how Dubai has progressed confidently from 13th place in 2015 to 10th among the "Overall Leading Maritime Capitals of the World for the Year 2017". The emirate maintained its leading position among "the most attractive business environments for locating maritime business" and "the cities that have the most complete maritime clusters".
Amer Ali, executive director of DMCA said: "We are proud of this new success, which constitutes another record achievement for Dubai on the global stage. This will encourage us to work harder to enhance the legislative, legal and financial structure and improve maritime services and logistics to promote Dubai's transformation into one of the world's leading maritime centers in the coming years."
The Menon Business Economics Group surveyed 1,600 marine experts and professionals from 33 countries who evaluated the cities based on the five key indicators of Shipping Centers, Maritime Finance and Law, Ports and Logistics, Maritime Technology, and Marine Cluster Attractiveness and Competitiveness. The results confirm Dubai's competitive advantages in supporting the ambitious vision of being among the world's top maritime centers, joining the ranks of Singapore, Hamburg, Oslo, Hong Kong, Tokyo, Copenhagen, Athens, and London.
Nawfal Al Jourani, the chief officer of Dubai maritime cluster office said: "Our strategy, which centers on innovation, knowledge and smart transformation, has accelerated the organization, development and promotion of the local maritime sector. We continuously invest in the provision of more advanced infrastructure, the development of policies and integrated regulatory frameworks, and further enhancement of our maritime capabilities – all of which will secure Dubai's leading position on the global maritime map. Today, we look forward with confidence and optimism to achieve greater success within the next few years and make Dubai one of the top maritime clusters, and we actively seek participation from the Greek shipping community".