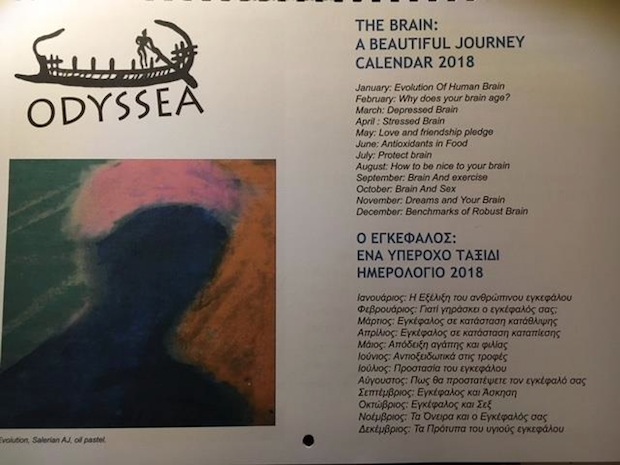 The NGO ODYSSEA, with a cultural, multicultural, humanitarian, sport orientation and with main goal the Revival of the Homeric Journey and the experiences of Odysseus,as they are expressed in our modern reality,
Invites you
to participate in the presentation –conversation that will take place at the Cultural Center «FLISVOS»
Posidonos Avenue 25, P. Faliro, themed:
«ODYSSEA: the Journey of the Human Brain»
Wednesday, 14th of March 2018 at 7:00 pm.
The presentation – conversation aims at the highlighting of all the extends of the Homeric Journey, through art, Gastronomy, language and culture.
Goddess Athena protector of Odysseus, goddess of Wisdom and Strategy, of Thought and Action, is in a sense, the ambassadress of the Brain. The importance of a Healthy Human Brain, is pretty clear to us, that is an inseparable piece, which contributes, in thinking, cognition and the ability to create, hence, is linked with Odysseus and ODYSSEA, in addition with the different perspectives we are trying to highlight.
The event will greet the Mayor of P. Faliro Mr. Dionysis Chatzidakis, with main speaker, the distinguished American professor, Dr. Alen Salerian MD, psychiatrist, who contributed importantly in the creation of the calendar: 2018 – ODYSSEA: The Journey of the Human Brain, quoting, research and material, as they are cited in his book: "THE BRAIN a beautiful journey". Furthermore, the event will honor with their speech, the Minister of Shipping and Island Policy, Mr. Panagiotis Kouroumplis, who has been invited to talk to us about the Power of the Human Brain & its Journey, the professor of the University of Patras Mr. Stavros Papamarinopoulos, president of the Company of Study of Ancient Greek Mythology, Award Winner from the academy of Athens, who will present to us the Astronomical Dating of Odysseus return to Ithaca, the author, Mr. Christos Terzidis, who will literally approach the Odyssey Spirit in the Modern World Environment, the award-winning, internationally renowned, the president of Acropolis Chef's Club of Attica, chef Mr. Konstantinos Mouzakis, who will highlight the important role of Gastronomy and its influence on .

FREE ENTRANCE
www.odyssea.club