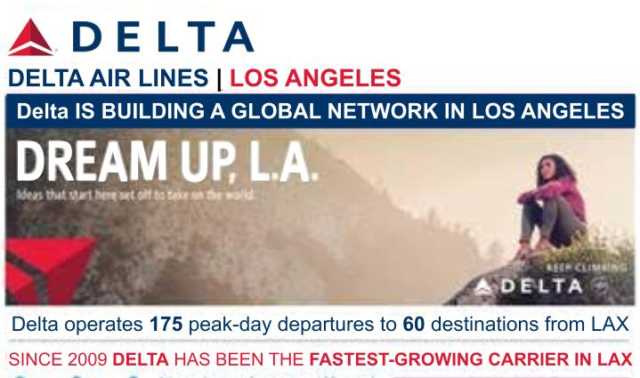 Delta Air Lines [NYSE: DAL] will launch nonstop service from Los Angeles International Airport (LAX) to Amsterdam and Paris beginning June 16, 2018, connecting Angelenos to Delta's two largest partner hubs in Europe.
Delta will operate LA-Amsterdam service four days per week and LA-Paris service three days per week using Boeing 777-200 aircraft with 291 seats, giving customers daily service to one of Delta's two European hubs. The Amsterdam flight will depart LAX on Monday, Wednesday, Friday and Sunday, while the Paris flight will depart LAX on Tuesday, Thursday and Saturday. The Paris flights will also be timed to complement Air France's existing service between LA and Paris. Altogether, Delta, Air France and KLM will offer LA customers three peak-day flights to Paris and two daily flights to Amsterdam.         
"Congratulations to our partner Delta on the launch of their new international routes to Amsterdam and Paris," said Deborah Flint, LAWA Chief Executive Officer. "It is because of new routes like this one that LAX's increase in international flights is the largest in new markets served among all U.S. airports. Our mission at LAWA is to connect people, places, and cultures, and these new routes will provide yet another opportunity for travelers to connect with the world."
"Delta's history of bringing people together and driving positive economic impact across the Atlantic spans more than four decades and our summer 2018 schedule, including the addition of service from Los Angeles to Amsterdam and Paris, further cements Delta as the best choice for customers," said Dwight James, Delta's Senior Vice President – trans-Atlantic. "Delta was the first U.S. airline to fully equip lie-flat business class and premium main cabin seating on transoceanic aircraft and we will continue to enhance the customer experience next summer with locally-sourced chef-driven menus, complimentary in-flight entertainment and great Delta hospitality."
"Los Angeles is Delta's largest partner hub, meaning we connect more customers from Delta to our partner airlines in LA than anywhere else," said Ranjan Goswami, Delta's Vice President – Los Angeles and Sales, West. "Our new Amsterdam and Paris service means we will have large partner hubs on both sides of the pond, giving our Angeleno customers convenient, one-stop connecting service to more than 100 destinations in Europe, the Middle East, India and Africa through our partners Air France, KLM and Alitalia, while customers traveling from Europe can connect to more than 15 destinations in the U.S.
Delta's flights from Los Angeles to Amsterdam and Paris will operate on the following schedule:
| | | |
| --- | --- | --- |
| Flight | Departs | Arrives |
| DL78 | Los Angeles at 12:00 | Amsterdam at 07:55 (Next day) |
| DL79 | Amsterdam at 15:35 | Los Angeles at 18:25 |
| DL156 | Los Angeles at 12:00 | Paris at 07:55 (Next day) |
| DL157 | Paris at 15:15 | Los Angeles at 18:25 |
Delta is the leading airline across the Atlantic with more total departures, destinations and seats than any other airline and is part of the leading trans-Atlantic joint venture with Air France, KLM and Alitalia. The addition of Delta's Amsterdam and Paris service from LA is part of a series of new trans-Atlantic routes at Delta Hubs around the country, including seasonal service between New York-JFK and the Azores and year-round service between New York-JFK and Lagos, both of which offer one-stop connections for Angelenos; seasonal service between Atlanta and Lisbon; and service from Orlando to Amsterdam and Indianapolis to Paris.
Delta offers customers seated in Delta One full flat-bed seats with direct aisle access and chef-curated meals paired with wines chosen exclusively for Delta by Master Sommelier Andrea Robinson. Complimentary in-flight entertainment via individual seatback screens, with up to 300 movies, 750 TV shows, 100 foreign film titles, 2,400 songs, 18 channels of live satellite TV and a selection of games is offered. Wi-Fi is available on all long-haul international flights.
Delta in LA
In May, Delta relocated to Terminals 2 and 3, the first step in its plan to modernize, upgrade and connect the two terminals over the next few years as part of the $1.9 billon LAX Delta Sky Way. The relocation created several immediate benefits for customers, including faster and more convenient connections to flights operated by Delta's partners, including Air France and KLM. When complete, the new space will provide all the amenities Delta's customers have come to expect at LAX, including a private Delta One check-in lounge, new state-of-the-art Delta Sky Clubs, an integrated in-line baggage system, convenient passenger flows, more gate-area seating, and a world-class concession program featuring local chefs and restaurants in partnership with Westfield Corporation.

Since 2009, Delta has been the fastest-growing carrier at LAX, with nearly 180 peak-day departures to nearly 70 destinations. Delta will add service to Mexico City from LA in December. In April, the airline launched daily nonstop service to Washington–Reagan Airport – becoming the only airline to offer flat-bed seats in the front cabin on that route – and Delta's joint venture partner Virgin Australia began service five days per week to Melbourne on a Boeing 777-300ER. Virgin Atlantic launched a third daily round-trip flight on a Boeing 787-9 Dreamliner between LAX and London-Heathrow this summer. In 2016, the airline launched five daily flights from LAX to Denver International Airport; expanded the Delta Shuttle to include LA-Seattle and Seattle-San Francisco in addition to LA-San Francisco; increased service to both New York-JFK and Seattle to 10 daily flights; and launched Aspen service in December.