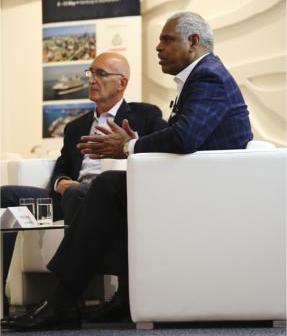 For its second international 'Summit at Sea' event, Cruise Lines International Association (CLIA), welcomed 175 senior cruise industry delegates from four continents, onboard the magnificent Cunard liner, Queen Elizabeth. Sailing from Hamburg to Southampton between 9-12 May, attendees included members of CLIA's Executive Partner Programme, ranging from cruise lines, port authorities, destinations, manufacturers, shipyards and operators to legal and medical services.
After a first day of visits to the Carnival Maritime's Fleet Operations Centre and the Airbus factory, CLIA Global Chairman and President and CEO of Carnival Corporation & Plc, Arnold Donald, and CLIA Europe Chairman and CEO of Celestyal, Kerry Anastassiadis, hosted a welcome reception and dinner. The next day, the Summit started at the new Westin Hamburg, part of the impressive Elb Philharmonie concert hall, with the Presidents Panel focused on current industry topics. A high-level forum followed, focusing on the future of port infrastructure over the next decade, to accommodate the more than 70 new ships expected to be built by 2025.
After embarking on the Queen Elizabeth liner, participants were welcomed by host, David Dingle, Chairman of Carnival UK, with a traditional afternoon tea. A networking dinner in the prestigious Britannia restaurant followed the sail-away celebration.
The third and last summit day was filled with workshop sessions on technology, related safety enhancements, developing shore excursions in a congested environment, environmental policy and effectively connecting source markets with distinct cruise ship itineraries. Procurement was the focus of the last session before more networking activities, a CLIA cruise industry quiz, a farewell reception and fascinating behind the scene tour of the liner.
The Southampton shores were reached early morning on the last day, inviting guests to continue touring inspiring British tourist locations and to attend the Port Director, Alastair Welch, ABP Southampton, morning session on 'wider port development and future opportunities in the fast-growing cruise industry'.
"This CLIA 'Summit at Sea' was a tremendous opportunity to share the needs operators and cruise lines have, and the ideal platform to bring together our wealth of experience to find solutions for any industry issues, and all in great comfort," commented Marco Diodà, Group Vice President Procurement and Supply Chain of Costa Cruises.
For Kyriacos Anastassiadis, the CLIA Executive Partner programme is important for the industry, "As we need to continue building a trust between the cruise lines and stakeholders through frequent communication, to better ensure the future of all industry players", he said.
The next international CLIA Executive Partner programme event, 'Port and Destination Summit', will take place in Hamburg on 5-6 September, ahead of the 2017 Seatrade Europe convention.