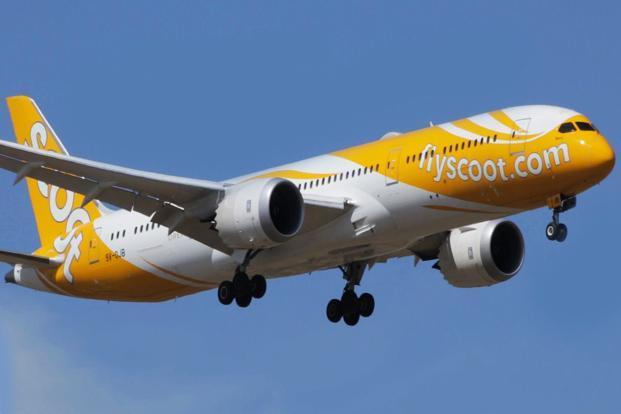 The world's longest low-cost carrier service between Singapore and Athens will commence on 20 June 2017
Scoot, a wholly-owned subsidiary of the Singapore Airlines Group managed by Budget Aviation Holdings (BAH), will expand into Europe from 20 June 2017 with four flights a week between Singapore and Athens, operated with Boeing 787-8s. Award-winning Scoot is a three-time winner of the Best Low Cost Airline Asia/Pacific award by Airlineratings.com for 2015, 2016 and 2017 consecutively, and also came in among the Top 10 World's Best Low-cost Airlines in 2016 awarded by SkyTrax.
"The landmark decision for Scoot to have Athens as the entry point to grow the European market is in line with the Group's strategic move to stimulate passenger traffic between Asia Pacific and Europe, while boosting connectivity through the Singapore hub," said Lee Lik Hsin, Chief Executive Officer, BAH. "This is made possible with Scoot's integration with sister airline Tigerair, the Group's short-haul, low-cost arm also managed by BAH, last May. This has allowed Scoot to realise the synergy of the two airlines and connect guests from Europe to a greater choice of Asia Pacific destinations seamlessly."
"We are delighted with Scoot's decision to connect Singapore to Athens, on the longest ever flight operated by an LCC," said Yiannis Paraschis, CEO of Athens International Airport. "This remarkable development establishes Athens as the European gateway for the carrier's low cost flights from/to the Asia-Pacific region. We warmly welcome Scoot, which continues the long history of the Singapore Airlines family at Athens, and wish our new airline partner all the best for a highly significant route that enhances Athens' connectivity. Athens International Airport is looking forward to Scoot's first flight on the 787-8 Dreamliner, on June 20th!"
TZ702, Singapore-Athens, is scheduled to depart at 0200hrs on Tuesdays, Thursdays, Saturdays and Sundays, arriving in Athens at 0830hrs. TZ701, Athens-Singapore, takes off at 1200hrs, arriving in Singapore at 0425hrs the next day. All times are local.
The Singapore-Athens route will be served by Scoot's brand-new Boeing 787-8 Dreamliners, which are fitted with eight crew bunks and a total of 329 seats, including 18 in ScootBiz.
Scoot's guests from Athens and Europe will fly from Athens International Airport to Changi Airport in Singapore, and from there, onward to popular Asia-Pacific destinations including cosmopolitan cities in Australia, China, India, Japan, Korea, Taiwan, Thailand and Saudi Arabia. What's more? Scoot's guests can also connect to Tigerair's network spanning 39 cities from Singapore, offering European travellers tremendous value and connectivity to alluring Southeast Asia destinations including Bali, Phuket, Kuala Lumpur and Hanoi. There are also destinations served by Singapore Airlines and SilkAir, including Darwin, Christchurch and Auckland, to look forward to.
On board Scoot's game-changing Dreamliners, guests can choose from Standard or Stretch seats with a seat pitch ranging from 30 to 34 inches, while the ScootinSilence Economy child-free zone offers a quiet and more restful travel environment with four-way adjustable headrests. For greater comfort, there is ScootBiz, which features an all-leather seat with a 38-inch pitch and adjustable leg rest, plus bundled meals, drinks, in-seat power, ScooTV and 30kg check-in baggage allowance. Other inflight product options include affordable duration-based wi-fi plans, in-seat power, and the ScooTV streaming in-flight entertainment that streams a range of movies and TV series to your own device.
Scoot has also worked with our inflight services partner SATS, headquartered in Singapore, to carefully develop an inflight food and beverage bundle that will provide guests more substantial sustenance for long-haul flights, including a greater selection
of meals that will more suitably cater to the European palate. "The extension of the collaboration between Scoot and SATS to long-haul services sets a new milestone for the partnership we have shared since Jul 2012. SATS is proud to be Scoot's strategic partner for inflight services including duty-free shopping. We wish Scoot the best for a successful launch of their new services into Athens from June," said Bob Chi, Senior Vice President Sales and Marketing, SATS.
To celebrate the launch, Scoot is offering attractive one-way fares from Athens to Singapore, Australia and selected Southeast Asian destinations (full list below) from as low as EUR 180 on Economy and EUR 590 on ScootBiz. Promotion starts now and will end by 11.59pm on 31 Mar 2017. For bookings, visit www.flyscoot.com/en/greece; enquiries should be directed to contact@flyscoot.gr and +30 210 99 42 567.
One-way fares* departing from Athens (including taxes)
Carrier

Destination

Economy FLY

ScootBiz

Travel Period

Scoot

Singapore

EUR 180

EUR 590

20 Jun 2017 –

28 Oct 2017

Bangkok (Don Mueang)

EUR 200

EUR 600

Guangzhou

Perth

EUR 250

EUR 680

Gold Coast

EUR 260

EUR 680

Sydney

EUR 280

EUR 780

Melbourne

Nanjing

EUR 280

EUR 780

Tianjin

Taipei

Tigerair

Kuala Lumpur

EUR 200

N/A

Jakarta

Surabaya

Phuket

Krabi

Bali (Denpasar)

EUR 220

N/A

Hanoi

Ho Chi Minh City

Yangon

Maldives

Hong Kong

Manila
*Ticket terms and conditions applies.