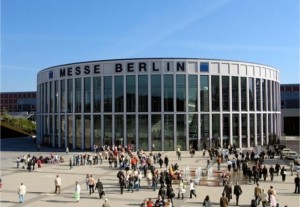 175,000 visitors during the five-day show – an increase in trade visitors from abroad – the convention attracts more visitors – trade visitors and exhibitors remain longer at the show – exhibitors report higher turnover – falling energy prices and good economic prospects mean people are keen to travel – ITB Berlin 2015 cements its position as the world's leading travel trade show
Despite international crises and the risk of political conflict around the world, as the 2015 holiday season begins the economic prospects for the global travel industry could not be better for the months to come. As ITB Berlin, the world's largest travel trade show, closes its doors the conclusion is as follows: boosted by falling energy prices, reduced interest rates, low inflation and positive economic forecasts for the eurozone and North America, the travel industry has high expectations as the 2015 travel season beckons. In Germany in particular consumers are keen to travel. Wage increases and a consistently stable employment market coupled with the falling cost of living have significantly increased spending. More than ever, this is why people are willing to spend their money on holidays. The luxury travel segment in particular stands to benefit.
ITB Berlin, which came to an end on Sunday, was able to cement its position as the world's largest travel trade show. From 4 to 8 March 2015 10,096 exhibitors from 186 countries, more than two-thirds of whom were from abroad, were represented in 26 display halls which were fully booked. Overall, some 115,000 trade visitors (2014: 114,000) travelled to Berlin. The share of trade visitors from abroad increased to 43 per cent (2014: 40 per cent). These visitors also remained longer at ITB Berlin because they did good business, with the average duration of a stay rising to 2.4 days (2014: 2.1 days). According to estimates by Messe Berlin the volume of sales at the world's leading travel trade show increased from around 6.5 billion euros in 2014 to 6.7 billion euros.
Dr. Christian Göke, CEO of Messe Berlin: "More than ever ITB Berlin fulfils the function of the world's leading think tank and a shop window for the travel industry. This is where the opportunities and risks are debated and the potential impact of the sharing economy on the international travel industry is analysed. Over the past few days ITB Berlin has provided further evidence of how important personal exchanges and meetings between people are for an industry that is increasingly dominated by the digital transition."
Trends at ITB Berlin 2015 included the massive rise in the use of mobile devices to book trips, a phenomenon that has now become the norm. Improved software means that travel websites are becoming more attractive and easier to use. Hotels are also witnessing the impact of digital trends. Smartphone functions are increasingly taking over from room keys. Travel apps are developing rapidly and becoming evermore widespread with the use of latest-generation smartphones. At the eTravel World numerous experts debated the latest developments in digital marketing, social media and mobile travel services. The 40 per cent increase in papers and discussions held on the eTravel Stage and at the eTravel Lab showed how important these topics have become for the travel industry.
Despite the internet having brought about lasting change to the travel world with new travel apps and meta search engines, tourists continue to entrust the task of booking the time of the year they enjoy most with their local travel agency. With their ability to offer personal assistance travel agencies are quite capable of positioning themselves as important sales channels in the face of online travel portals and social media and their relentless rise.
According to Messe Berlin all the main travel destinations will benefit from the prevailing positive mood: big European cities, Mediterranean countries and faraway destinations. A fact particularly worth noting is that Germany as a travel destination continues to break all records. The tourism market in Germany has grown for the fifth year in succession in every single federal State, and this positive trend is set to continue in 2015. For North Americans the cost of travelling to Germany has fallen to unprecedented low levels due to the strength of the dollar. Other popular destinations include Egypt and Greece. Whereas Egypt's economic revival has been slow, Greece reported double-digit growth for the third year running and despite the controversy surrounding its national debt continues on the path to recovery.
Knowledge transfer at the highest level
23,000 visitors (2014: 22,000) attended the ITB Berlin Convention, another new record. Decision-makers and opinion-formers debated the key topics concerning the travel industry at a total of 200 events which took place in eight auditoriums. This year the focus was on the sharing economy which was the subject of numerous panel discussions and exclusive surveys. Marking its tenth anniversary, the ITB Hospitality Day had a success story to celebrate.
Despite the warm spring weather around 60,000 members of the general public flocked to the display halls on the weekend to find out about the wide range of information available from exhibitors.
Oyunkhorol Dulamsuren, Minister of the Environment, Green Development and Tourism of Mongolia: "I would like to congratulate and thank you for a great ITB. I am very happy that ITB Berlin 2015 is wrapping up with full success.
As the official partner country of ITB this year, we succeeded in showcasing Mongolia's unique tourism products, destinations and nomadic lifestyle to the world. Also we showed you that Mongolia is an enigmatic, dynamic country with many natural and cultural resources.
I am very positive that the results of ITB will bring Mongolian tourism a new boost.
Mongolia will greet you with open arms when you come to explore its culture and nomadic way of living. As Mongolians say: 'Seeing once is worth more than hearing about it a thousand times'. Welcome to Mongolia to see and discover your roots as global nomads."
Taleb Rifai, Secretary-General of UNWTO:
"ITB Berlin is an increasingly important meeting point for the tourism sector. An occasion to foster businesses connections but more and more to learn about the changes shaping our sector and exchange knowledge and experiences on how to adapt to such changes. We, at UNWTO, are very happy to have ITB Berlin as a strong partner and trust our cooperation will go from strength to strength."
Dr. Michael Frenzel, President of the Federal Association of the German Tourism Industry (BTW):
"Once again, ITB Berlin was an all-round success and fills us with optimism for the coming months. For German citizens travel is and remains a favourite pastime and, if the surveys are to be believed, many will have already packed their bags and be waiting to go. We are therefore confident that the 2014 record of 1.6 billion days of private holidays undertaken by Germans will be surpassed this year. We are also certain that Germany will be even more popular as a travel destination, as it is extremely diverse, offers good value for money and great hospitality. As regards the aviation tax, minimum wage, the toll charge for foreign vehicles and other burdens, we appeal once again to political decision-makers: do not hamper the positive developments and destroy the positive image that Germany enjoys as a travel destination by imposing massive financial burdens and bureaucracy. Create conditions that do not leave a sour taste with holidaymakers and that make it possible for our industry to remain a strong economic factor and a driving force for employment."
Norbert Fiebig, President of the German Travel Association (DRV):
"The tourism industry got off to a good start in 2015. Accordingly, this year's ITB Berlin went very well and once again proved itself to be an indispensable platform for tourism professionals from around the world. From the tourism industry's point of view ITB 2015 went according to plan. Everything was perfect: the exhibitors present at the show, the quality of trade visitors, and the exceptionally high attendance by exhibitors and visitors from abroad.
The stage is set for the travel industry to do good business in 2015 and for it to expand even further. The high number of early bookings taken by travel agencies in recent weeks for this year's summer holidays are proof that Germans remain keen to travel. Sales are five per cent higher than they were this time last year. Destinations will benefit that are traditionally favourites with German citizens, including Greece, the Balearics and Egypt, which has risen in popularity again."
High level of media attention and political interest
Around 5,180 accredited journalists from 75 countries and some 350 bloggers from 29 countries reported on events at ITB Berlin. Politicians and diplomats from Germany and abroad were present at the show.
In addition to 127 foreign delegations three royal highnesses and 95 ambassadors travelled to the event. 47 ministers from foreign countries, 11 deputy ministers from abroad and a number of foreign state secretaries were also present. Federal Foreign Minister Frank-Walter Steinmeier, Federal Minister of Justice and Consumer Protection Heiko Maas, and Governing Mayor of Berlin Michael Müller came to find out what the travel industry had to offer.