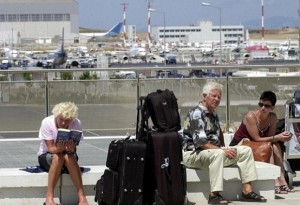 One of major tourist companies in St. Petersburg Solvex-Tourne suspended activities on Monday, the Russian Union of Tourism Industry reported on Monday, referring to the company's head Tamara Khaletskaya.
About 9,000 clients of the company are abroad now. Most of them stay in Greece and Bulgaria. About 8,600 clients have paid for tours due within several next months, even on Christmas.
Russia's Orenburg Airlines announced earlier it may cancel from September 8 serving Solvex-Tourne, as the tourist company had informed the carrier it might suspend its activities.
The Union of Tourism Industry says tourists staying in Bulgaria will not have any problems, as the company undertook the accommodation expenses. "Besides, the suspended activities will not affect tourists, who plan to travel to Bulgaria up to September 26 by Bulgaria Air flights. Those flights are paid for, and accommodation is covered by Solvex Bulgaria," the Union's representative Irina Turina said.
Three insurance companies are bearing financial responsibility of 450 million rubles (about $12 million) for the tourist operator. "Thus, a compensation for unused tours will make 150 million rubles (about $4 million)," the representative said. "As not all the tours are fully paid for, tourists will be able to receive, we estimate, 70-80% of the money paid for the trips."
The tourist company's head Tamara Khaletskaya said the complicated political and economic situations have lowered the demand for tourism, and the chain of bankruptcies in the tourism market had affected trust for the business, and thus sales slumped.
"Unfortunately, not all foreign counterparts agreed to optimize programs, did not cut on commitments at hotels. As we had to observe the obligations in filling hotels, we could not cut on air tickets. Thus, with the lack of sales, our debts started growing," she said explaining why the company suspended its activities.
The Union said the Solvex-Travel Company working in Moscow continues its operations without changes, as it has only the same brand with the company in St. Petersburg.
Situation in the Russian tourism industry
Sovex-Tourne is a part of the Solvex Group of Companies, which is represented in St. Petersburg, Moscow, Kiev, Minsk and in Bulgaria's Sofia and Varna. The Solvex brand has been in the market for over 20 years. Solvex-Tourne is a tourism operator in international and domestic tourism, sightseeing, ski and leisure tours. Solvex-Tourne has been serving annually dozens of thousands tourists to Greece, Bulgaria, Cyprus, Turkey, Egypt, Israel, Hungary, India, Sri Lanka, the UAE, Italy, Spain, Estonia, Lithuania, Latvia, the Czech Republic, Montenegro, Croatia and Tunisia. The company's revenues in 2013 made 4.55 billion rubles (about $123 million).
In summer 2014, Russia's tourism sector has witnessed a chain of bankruptcies. From mid-July, 16 companies closed due to financial problems. Most affected tourists were clients of Neva (17,000) and Labirint (40,000 people). The companies explained the situation by the sanctions introduced by the EU, currency rates' fluctuations and banned foreign trips for law enforcers. However, experts said the tourism companies, which had been working as financial pyramids, simply wanted to escape responsibilities. Prime Minister Dmitry Medvedev ordered inspections and was expecting suggestions on reforming the sector.
In 2013, Russia ranked third among European countries, where citizens made most trips abroad: 32 million trips, the World Travel Monitor reported. Most Russian tourists visited Turkey (4.3 million), Germany (2.1 million) and China (2 million). Of all the trips Russians made, 27 million were private trips, and 12.5 million trips were targeted at spending time by the sea. Sightseeing tours attracted 3.8 million tourists, and traveling the world – 1.3 million. About 51% tourists spend around 1,200 euro per person, which is comparable with tourism expenses of most Europeans.
Source: itar-tass.com