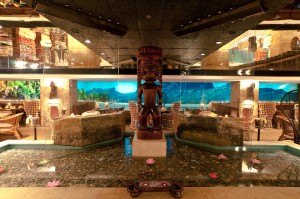 Kona Kai reopens as of 1st October, 2013 for the 2013-2014 winter season celebrating a 30 year milestone.  The Kona Kai restaurant & Teppanyaki restaurant through time has been a leader in offering Athenians a repertoire of fine Polynesian tastes, a fusion of Asian cuisine and the renowned innovative cooking on a hotplate known as the "Japanese Teppanyaki". Over the years the lovers of fine gourmet Asian cuisine have embraced Kona Kai making it for haven of exotic surroundings for celebrities, political figures, technocrats of political and social life and many Athenians. After a short summer interval the Kona Kai re- opens while celebrating 30 years in Athens and will introduce a new menu featuring old time classic delicacies and new exotic cocktails all complimented with a new wine list. Specialty menus include a wide choice of Sushi favorites, Polynesian and Teppanyaki selections. Bali Lounge offers a range of exotic cocktails like Mai Tai and Pinacoladas to name a couple.  
Athens, Greece – September 27th, 2013 – Athens Ledra Marriott – Kona Kai Celebrates a 30 Year Milestone.
The mirrors on the ceiling, running waters, totems and statues of gods of the Polynesian natives, giant posters with exotic landscapes combine to create a mystique ambience accompanied by a unique culinary experience.  Re-opening on 1st October, 2013 for the 2013-2014 winter season the Kona Kai restaurant introduces a new menu to include a milestone of old time classic main courses in celebration of the restaurant's 30 Years in Athens. Among classic choices featured are Won – Ton shrimps and Teriyaki Beef.   Mai Tai has been a signature cocktail for over 30 years in Kona Kai restaurant and the cocktail menu is complimented with new additions like Tom-yam and Princess Monoke to name a few. Fine choices of local and international wines have been added to the new wine list to commend classic favourites. The Japanese Teppanyaki and Sushi choices harmoniously blend into the exotic surroundings. Tailor made menus for groups and social gatherings are available. The restaurant offers early bird discounts and a happy hour for exotic cocktail selections.  
Kona Kai Restaurant – Athens Ledra Marriott Hotel:
Opening Hours: 19:00 to 00.30 from Tuesday through Saturday.
About the Athens Ledra Marriott:
Overlooking the Acropolis, the luxurious Athens Ledra Marriott hotel is located just minutes from the city's famous sights. Featuring spacious guest rooms and gracious amenities, this Acropolis hotel is an unforgettable escape for business and leisure travelers alike.  With easy access to Plaka, Kallithea, and fabulous Athens restaurants, the Athens Ledra Marriott Hotel is the ideal place to make your home away from home.