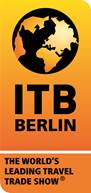 Gay & Lesbian Travel features a colourful programme for trade visitors and the public – new international exhibitors showcase tailor-made travel products – Vienna Gay Café at the Pink Pavilion in Hall 2.1
Gay & Lesbian Travel has become a recognised growth segment of the international travel market. ITB Berlin was its pioneer and has been showcasing travel products for this market since 2003. This is the fourth time that ITB Berlin will be shining the spotlight on this segment's exhibitors at an attractive combined stand in Hall 2.1a. The Pink Pavilion now showcases a wider range of gay and lesbian destinations than any other event. On 9 and 10 March, the weekend of ITB Berlin, gays and lesbians will be able to book trips directly with exhibitors for the first time. Public attractions such as the Queer Tango on the Gay & Lesbian stand of Argentina will be highlighting the colourful diversity of lesbian, gay, bisexual and transgender tourism (LGBT). visitBerlin will be presenting the Pink Pillow, a new hotel initiative. Trade visitors can find out more about this attractive market at the ITB Berlin Convention.
Dr. Martin Buck, director of the Competence Center Travel & Logistics, Messe Berlin: "The gay and lesbian travel market has enormous growth potential and due to changing attitudes that respect diversity and human rights is gaining strong support in the travel industry. Over the past ten years LGBT tourism has stood side by side with other travel segments at ITB Berlin and over the last three years the ITB Convention has also addressed this topic."
ITB Berlin champions gay and lesbian travel at international level as well and is a member of the board of directors of the International Gay & Lesbian Travel Association (IGLTA). In this role it supports the newly established IGLTA Foundation, which obtains scholarships for students enabling them to take part in the annual IGLTA Convention, which this year will be taking place in Chicago. On 6 March, the Wednesday afternoon of the show will provide an opportunity to meet people and network at a get-together at ITB Berlin, along with the show's partner Lufthansa on the stand of Spartacus International Gayguide and the IGLTA in Hall 2.1. The stand of the IGLTA will also have information on trips to Florida, Los Angeles, Bulgaria, India, Tel Aviv, Greece and World Rainbow Hotels.
New exhibitors and a programme of colourful events
Newcomers to the Pink Pavilion in Hall 2.1a include the New York Resort The OUT NYC and Czech Tourism with Prague Pride, the Monochrome Resort in Thailand, India's tour operator and gay travel pioneer Indjapink, as well as Gran Canaria and Maspalomas. Regular exhibitors at this year's ITB Berlin include DERTOUR and Destsetters, along with numerous co-exhibitors from Greece and Cyprus. Among the established attractions is the Vienna Gay Café at the Pink Pavilion, where the city of Vienna will be represented for the first time. This year, visitBerlin is a co-exhibitor at the Pink Pavilion and will be presenting the Pink Pillow hotel initiative, one of the measures with which it aims to highlight Berlin's attractiveness to LGBT tourists.
Numerous specialist publishers will be presenting their printed works at ITB Berlin. Special Media SDL Verlag, which publishes both "Siegessäule", the city's magazine for gays and lesbians, and Berlin's traditional Queer Guide in cooperation with visitBerlin, can be found on the combined stand of ITB Berlin and TomOnTour/Diversity Tourism UG. A special edition of the magazine supplement "Queer Travel" is also being published to coincide with the start of ITB Berlin. Among partygoers the GAY ITB Party by TomOnTour, organised by the ITB's LGBT partner Diversity Tourism, already enjoys cult status. Due to its great popularity admission is by personal invitation only. This year GayandAway.com, the travel partner of TomOnTour, will be represented at ITB Berlin for the first time.
Discussions and latest research results
At the ITB Berlin Convention the ITB Destination Days will be addressing the topic of gay and lesbian travel. On 8 March 2013, international experts including Steven Eidelberg, Accor North America, Chris Lee, Tourism Authority of Thailand, Mya Reyes, President, Las Vegas Gay Visitors Bureau and Rika Jean-François, responsible for LGBT travel at ITB Berlin, will be discussing "Gay and Lesbian Tourism: a market with an untapped potential." Community Marketing Inc. CMI from San Francisco, the LGBT science partner of ITB Berlin, will be presenting its latest research results. Afterwards, a discussion round will be debating how destinations and hotels can implement well-managed, top-down strategies that enable them to easily exploit new markets. This is a particular area where numerous companies have made successful inroads into new markets. Thomas Bömkes, the LGBT consulting partner of ITB Berlin, will be moderating the event. For those keen to follow up the debate, starting at 5.30 p.m. a get-together will be taking place in the Vienna Gay Café at the Pink Pavilion in Hall 2.1. The event's hosts are the ITB Academy and Special Media Verlag, the LGBT media partner of ITB Berlin. For PR managers, important events on 6 March include an afternoon get-together with the media and numerous exhibitors and partners, among them Antwerp and Vienna, at the Vienna Gay Café, and a workshop by Special Media Verlag in the Regensburg Room at 11.30 a.m. on "how to organise a press trip for the gay and lesbian media."
ITB Berlin's commitment is not confined to the dates of the show. Along with its LGBT partner Diversity Tourism the ITB Academy will be holding lectures on this subject at venues around the world. In 2012 the ITB Academy successfully organised seminars and LGBT travel information events, including in India, the USA and in Rio de Janeiro at Brazil's travel trade show ABAV. Moreover, the officer responsible for this market segment at ITB Berlin is a member of the advisory committee of IGLTA.