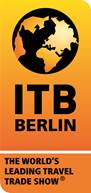 Young travellers and new ideas transform the hotel market – 8th ITB Hospitality Day points in a new direction and presents four exceptional hotel concepts
Young travellers, employees and CEOs, new hotel concepts and distribution channels – on Thursday, 7 March 2013, at this year's ITB Hospitality Day in Hall 7.1b/ the London Room, the focus is on new, dynamic and unconventional developments. In his keynote, Claus Sendlinger, CEO, Design Hotels will talk about the hotels of tomorrow and the principle of "The Neighbourhood Principle". Afterwards, experts will engage in a discussion with young people about their demands on travel and hotels. Two students will be interviewing employers to find some concrete answers to Generation Y's concerns. At the CEO Panel the founders of 25hours Hotels in Hamburg and Unlisted Collection in Singapore will span a bridge between boutique hotels in Europe and Asia. What is more, the Hospitality Day will present four exceptional hotel concepts from Germany, Spain, Italy, and Shanghai. The last hour will be devoted to mobile technology and the question of  "What power does the mobile world have?".
At the ITB Hospitality Day, part of the ITB Berlin Convention, the focus is on young people and new ideas. Maria Pütz-Willems, editor-in-chief of hospitalityInside.com, the exclusive media partner of the ITB Hospitality Day, is again responsible for the programme of this eighth event. Commenting on the programme's approach in 2013, Maria Pütz-Willems said: "At a time when smartphone ownership has outstripped that of stationary PCs, young travellers and new ideas are transforming the world. Naturally, that leads to controversy, and we are looking for a lively debate." For some years Claus Sendlinger, CEO, Design Hotels, has viewed hotels no longer as islands, but instead as focal points in individual cities' quarters. A globally respected trendsetter, in his keynote he will be speaking about "Hotels Of Tomorrow – The Neighbourhood Principle'" and will be aiming to spark debate.
What are the demands of the under-thirties on travel and hotels? "'Hot Spot' The Young Generation – What Are This Generation's Expectations Regarding Travel And Hotels?" will be looking to find answers. The World Youth Student & Educational (WYSE) Travel Confederation has data on the travel habits of young people. Together with Carl Michel, CEO, Generator Hostels, Prof. Greg Richards and David Chapman of the WYSE will be debating with a representative of ruf Reisen and with Hilmar zum Buttel, a 23 year-old student.
Frequently ridiculed for their unrealistic attitudes to work, "Generation Y" will have an opportunity to respond at the ITB Hospitality Day. Katharina Jaeger and Adrian Ruch, two students from the distinguished hospitality management school in Lausanne, will be confronting two employers with their expectations and questions. Answering them will be Ingrid Eras, Vice President, People Development & Staffing EAME of Starwood Hotels & Resorts and Reto Candrian, a young member of the administrative board of Suvretta House, St. Moritz, a luxury hotel.
As part of a session of lively lectures and discussions, four hotel groups will each be presenting exceptional concepts in the space of ten minutes: Dormero Hotels from Germany will be attracting listeners' attention with a 3-D concept for sound and lighting, Palladium Hotels from Spain will do the same with a special music hotel on Ibiza, the design-oriented creatives of Sixtantio Group from Italy will talk about their World Cultural Heritage five-star caves, and the co-founders of URBN Hotels from China will be drawing attention to  carbon-free city hotels.
At this year's CEO Panel two boutique hotel owners, Christoph Hoffmann, the co-founder & CEO of a young team with controversial ideas, and Loh Lik Peng, the founder and CEO of Unlisted Collection in Singapore, will be spanning a bridge between Europe and Asia with their six unusual "25hours Hotels", whose approach beats every conventional idea of a hotel. In the space of only a few years Loh Lik Peng has succeeded in setting up six dynamically-oriented hotels and six restaurants in major cities, in Singapore, Shanghai and London. Both of them place a focus on the young generation and on new distribution and communication channels.
The topic at the final discussion round of the 8th ITB Hospitality Day is "What power does the mobile world have?". Debating it will be the data researchers Susanne Fittkau of Fittkau& Maaß Consulting, Dr. Bernd Fauser, "Global Accounts Director Travel, Google", the software specialist Andreas Erlemann, managing director of Zenith Hospitality Solutions, and Michael Hucho, Vice President of Distribution Commercial of the Accor hotel chain.