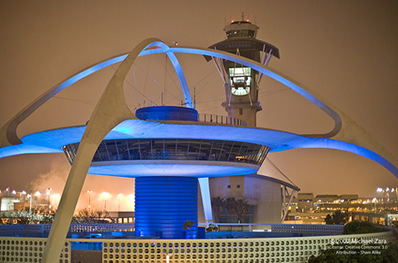 Los Angeles World Airports (LAWA) staff today announced its "strong commitment and desire" for the Los Angeles County Metropolitan Transportation Authority (Metro) to locate a Metro light rail station directly at Los Angeles International Airport (LAX). To support this proposal, LAWA has committed to provide scarce airport property located west of Sepulveda Boulevard on the east end of the Central Terminal Area (CTA) to create the opportunity for an on-airport Metro light rail station.
During a regularly scheduled meeting of the Los Angeles Board of Airport Commissioners, LAWA staff reported that it has "substantially accelerated planning work and coordination with Metro staff to evaluate the best interface of our (airport) facilities with transit."
LAWA and Metro have jointly identified the following site options on LAWA property where a Metro light rail interface could be designed that result in a direct connection to a future automated people mover system and that airport officials believe would bring a "high level of service and connectivity" for passengers:
An area west of Sepulveda Boulevard on the east end of the CTA

A proposed intermodal transportation facility in the vicinity of Economy Parking Lot C

Manchester Square
LAWA staff is also currently coordinating with Metro on the Crenshaw/LAX Line Project in order to ensure the design of the Century/Aviation Station is aligned with and will better integrate with any potential LAWA infrastructure at Manchester Square.
On a parallel but separate effort, LAWA is moving forward with the LAX Master Plan Specific
Plan Amendment Study (SPAS), which evaluates options at a programmatic level for configuring the LAX north airfield and a long-range plan for ground transportation access to the Central Terminal Area. SPAS is part of a multi-billion-dollar, multi-year modernization program at LAX. Earlier this month, LAWA announced a staff-recommended alternative for the LAX Master Plan SPAS, which proposes new ground transportation facilities east of Sepulveda Boulevard, including: an intermodal transportation facility in the vicinity of Lot C; a consolidated rental car facility at Manchester Square on airport property located about one mile east of the airline terminals; and an automated people mover to connect the terminals and off-airport facilities when forecast demand levels materialize and can justify these investments.
According to airport officials, the next steps will be to continue close coordination with Metro to identify opportunities to link transit with airport facilities, and develop project level concepts and related technical and environmental analyses.