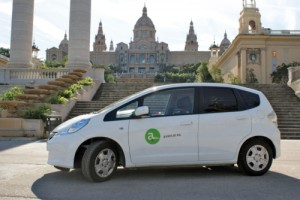 Zipcar, Inc., the world's leading car sharing network, today announced the final integration of Spain's largest car sharing service, Barcelona-based Avancar. The integration widens Zipcar's global network and membership base, giving members access to even more vehicles around the world. The service will operate as "Avancar, a Zipcar company" and is a key step in Zipcar's expansion in Europe, which also includes services in the United Kingdom and Austria.
This integration coincides with the launch of Zipcar's new global technology platform, designed to support multi-language capabilities and enhance scalability to improve speed to market with future international expansion. 
The Avancar integration included conversion of the entire fleet in Barcelona from the legacy Avancar platform onto the Zipcar network. Zipcar accounts were established for all consumer and business Avancar members and the end-to-end Zipcar experience is now offered in both Catalan and Spanish languages.  Vehicles in Barcelona are now available for reservation by all Zipcar members, with rates starting from four Euros per hour and 45 Euros per day, including insurance, gas, and 20 kilometers of driving per day (24 hours).
"With the launch of our new global information technology platform and the completion of Avancar's integration, the Zipcar global network is now more scalable and has an even wider reach," said Scott Griffith, Zipcar chairman and CEO. "With a common platform across the US, Canada, UK and now Spain, Zipcar is an attractive option for consumers, businesses and governments looking for ways to reduce costs without sacrificing vehicle accessibility. The completion of this integration, coupled with our recent acquisition of CarSharing.at in Vienna, Austria, positions us well to continue to grow and expand the car sharing category and Zipcar's presence throughout Europe."
Using Zipcar's technology, reserving and driving in Barcelona is easy and convenient. In minutes, members can reserve a car online or by phone, 24 hours a day, seven days a week. As part of the integration, Barcelona members with smartphones, including iPhones and Android devices, will be able to download the Zipcar mobile applications in both Catalan and Spanish, to make reservations, lock and unlock the vehicles as well as honk the horn to help locate the vehicle.
Zipcar purchased a majority ownership interest in Barcelona-based Catalunya Carsharing S.A., known as Avancar, in February 2012, following an initial equity investment in December 2009. Avancar was the first car sharing operator in Spain, and has been offering car sharing in Barcelona since 2005.  According to Zipcar research, Barcelona has the potential to become one of the top European cities for car sharing.