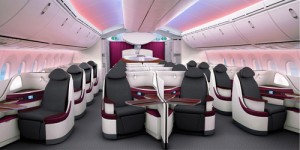 Business And Economy Class Seats Make Debut At World's Biggest Travel Show
Berlin Mayor Joins Airline CEO For Launch On Carrier's New Exhibition Stand
Qatar Airways today unveiled revolutionary new Business and Economy Class seats for its Boeing 787 aircraft with space, comfort and a revamped in-flight entertainment system being key features of the airliner that will be inducted into the fleet this summer.
The first of several key service enhancements to be announced over the next few months, Qatar Airways' new 787 seats promise to deliver a whole new passenger travel experience across both cabins with the industry's newest aircraft.
The Mayor of Berlin Klaus Wowereit, together with other VIPs, joined Qatar Airways Chief Executive Officer Akbar Al Baker for the official unveiling of the seats on the opening day of ITB Berlin, the world's largest travel fair taking place in the German capital this week. The seats are a central feature of Qatar Airways' new-look exhibition stand, which is making its debut at the five-day event.
Qatar Airways' new 787s will feature a total of 254 seats in a two-class configuration of 22 in Business Class and 232 in Economy.
A striking feature of every seat throughout the aircraft will be the award-winning touch screen Android technology control units that will debut on Qatar Airways' 787s. Passengers will be able to navigate through a truly interactive system, offering more than 1,000 movie, TV programmes, music and gaming entertainment options in a sophisticated and user friendly way, just like the latest smart phones.
The touch-screen control unit has a unique dual screen interface allowing passengers to play games on their handheld device while enjoying a movie on their personal screen.
Passengers can be fully connected through WIFI and GSM telephony, sending both text and MMS messages. Voice calls, although possible, will be disabled to minimise passenger disruption.
With a 1–2–1 configuration in Business Class, the layout features two less seats than competitors on conventional wide body aircraft, more typical of a First Class cabin where each passenger is assured of direct aisle access. The seats have been designed exclusively for Qatar Airways.
The seat offers considerable personal space – almost double than existing business cabins – allowing passengers to sit back and relax in a 22-inch wide armchair that converts at a touch of a button into different cradle positions before reaching an extremely generous 80-inch long, 30-inch wide flat bed offering exceptional legroom.
Armrests can be fully adjusted to different heights to complement different body positions while dining, reading, working or resting. Passengers will also be able to dine and work comfortably with an elegant wood trimmed large sliding table. When dining begins, passengers can easily rest their laptops on the side table. There is ample storage space such as a show drawer and side compartment for personal belongings. The seats, produced by B/E Aerospace, also feature generous 17-inch personal touch screen TV monitors.
In Economy Class, configured 3–3–3, the Recaro-produced seats embody the very latest in design technology and materials assuring all passengers have a high degree comfort and personal space. Featuring one less seat per row than competitors on other wide body aircraft, the Economy seats promise to offer a totally different travel experience.
With 7 inches of recline, both the seat cushion and backrest adjust to 'cradle' the passenger into greater comfort. The slim-line seat design set at a pitch of 32 inches, together with a 16.9-inch width, offers more personal space than ever before. The adjustable hammock-style headrest allows passengers to comfortably support their head while resting.
Each Economy Class seat is fitted with 10.6-inch seat back TV monitors offering passengers optimum viewing of a wide array of in-flight entertainment options.
With Wi-Fi and GSM telephony options, all passengers throughout the aircraft can always be in touch with the ground during their flight. Personal power ports are available in every seat, equipped with USB, MP3 and other charger ports, including laptop power outlets.
USB ports enable holiday pictures from digital cameras to be viewed on the personal screens, while iPort connectors enable iPod and iPhone content to be displayed on passengers' mini TVs ensuring they are fully connected to work and play.
Qatar Airways Chief Executive Officer Akbar Al Baker said: "As we prepare to take delivery of our first Boeing 787 just months away, we are delighted to announce today a whole new passenger travel experience with the unveiling of our brand new seats that will be onboard the world's newest aircraft.
"Space, comfort and ensuring our passengers have the best onboard entertainment options are key elements of our new Boeing 787s, promising to set new benchmarks in air travel. Qatar Airways has taken a lot of time and effort in ensuring we are true leaders in the field rather than followers, meticulously working with manufacturers on specific seat design and features.
"The 787 aircraft architecture is such that a lot of attention has been placed by Boeing on spacious cabins, which we are maximising to ensure our passengers get what they pay for – value for money and a great travel experience," added Al Baker, speaking at ITB Berlin, an event that attracts tens of thousands of travel industry professionals from around the world.
Qatar Airways is the first Middle East customer of the Boeing 787, with 60 aircraft on order, including options. The Doha-based airline is preparing to take delivery of five 787s during 2012, with the first set to arrive in Qatar this summer.
The carrier will initially operate the aircraft on intra-Gulf routes to provide flight crew with training hours before Qatar Airways' 787 is scheduled to appear on static display at the Farnborough Air Show in July and then enter its first long-haul commercial service on the Doha – London Heathrow route.
The design of the Boeing 787 Dreamliner ensures that customers will arrive at their destination feeling less fatigued and more refreshed as the cabin pressure is 2,000 feet closer to ground level and the air purification system is cleaner and healthier than many other aircraft.
Dynamic mood lighting throughout the aircraft helps passengers adjust their body clocks according to the change in time zones as lighting is automatically altered during the flight.
The 787 is quieter than other aircraft allowing passengers to work, sleep or relax in peace. With the largest windows in the industry and first-of-its-kind electronic touch pad controls to adjust the amount of light entering the cabin, passengers are able to look outside without glare, replacing conventional blinds. Business Class passengers will exclusively be able to control the large window shades through their personal touch screen control units.
Qatar Airways currently operates a modern fleet of 105 aircraft from its Doha hub to 112 key business and leisure destinations across Europe, Middle East, Africa, Asia Pacific, North America and South America.
As part of its 2012 expansion programme, the airline recently launched flights to the European capital cities of Tbilisi in Georgia and Baku in Azerbaijan.
 
The Doha-based carrier will begin scheduled flights to a further seven destinations this year – Kigali (Rwanda) from March 21; Zagreb (Croatia) from May 9; Perth (Australia) from July 3; with dates yet to be announced for other new routes – Mombasa (Kenya), Zanzibar (Tanzania), Helsinki (Finland), and Gassim (Saudi Arabia).