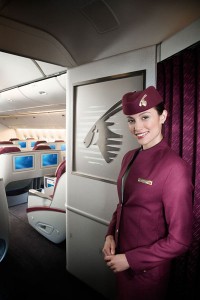 Qatar Airways To Launch Flights To Destinations In Iraq, Tanzania And Serbia
Airline Plans Return To Myanmar After Four-Year Absence
Iraq, Tanzania, Serbia and Myanmar are featured in the passenger route expansion programme over a six-month period starting in May. New freighter services will be introduced to Korea, Pakistan, South Africa and Oman, while frequency of passenger flights will be stepped up to destinations in Europe, Middle East, Africa and Asia Pacific.
Qatar Airways Chief Executive Officer Akbar Al Baker unveiled the expansion programme on the opening day of ITB Berlin, the world's largest travel show taking place in the German capital this week.
Two destinations in Iraq – the northern city of Erbil and capital Baghdad – will be introduced to the carrier's Middle East network in May and June respectively.
Qatar Airways will induct a second Tanzanian point to its African map with the launch of flights to Kilimanjaro. The Serbian capital Belgrade becomes the newest addition to the carrier's European portfolio in September and the airline returns to Myanmar, serving the capital city Yangon from October after a four-year absence.
Today's news follows previously announced start-ups to a number of other international destinations during 2012, namely the Rwandan capital Kigali from March 21, Zagreb (May 9); Perth (July 3); Mombasa (August 15); with dates yet to be revealed for launches to Zanzibar (Tanzania), Helsinki (Finland), and Gassim (Saudi Arabia).
In addition, Qatar Airways announced an expansion to its dedicated freighter services with four new routes – Karachi (Pakistan), Seoul (Korea), Johannesburg (South Africa) and Muscat (Oman), to be phased in from March 26. The carrier currently operates a fleet of six freighters to 33 destinations worldwide.
In line with the carrier's strategy to increase frequency on existing routes to offer passengers more choice, Qatar Airways is stepping up the number of flights across its network in phases from March 25, the beginning of the Northern Summer flying schedule.
In Asia, the Kuala Lumpur route will be expanded from double daily to 17 services each week, while the daily Jakarta service will gain three additional flights taking capacity up to 10-a-week.
In Europe, a fifth daily flight will be introduced on the Doha – London Heathrow route. With the recent opening of a new First and Business Class lounge at Heathrow Terminal 4 – the carrier's first outside Doha – the new flights are a welcome boost to one of the airline's most popular routes.
Flights to Milan will be stepped up from 11 flights each week to double daily.
In North Africa, services to Algiers will increase from seven to 11 services each week, while the Egyptian capital Cairo will have an additional three flights taking frequency up to 12 a week.
Three destinations in the Gulf will be boosted with additional capacity. The Kuwait route will have 13 additional flights taking frequency up from 42 to 55 flights a week, while frequency to the Omani capital of Muscat will be stepped up from 24 to 31 services each week.
Abu Dhabi, capital city of the United Arab Emirates, will secure an additional daily flight, seeing capacity rise from 35 to 42 flights every week (six daily).
The airline's Doha hub will continue to facilitate passenger and cargo traffic to all parts of the world, offering convenient connections across Europe, Middle East, Africa, Asia Pacific, North America and South America.
"Today's announcement reflects the importance Qatar Airways places on expanding its portfolio of passenger and cargo destinations, and offer more frequency on existing routes to provide more choice, more flexibility and more options," said Al Baker, addressing a packed press conference in Berlin.
"We are entering new passenger and cargo markets where we see a need for more air services, particularly where such markets are under served and in need for extra capacity.
"This year alone will see Qatar Airways take delivery of one new aircraft every 15 days, so as we bring them in, they will quickly be inducted into service and we will continue to look at new opportunities."
Qatar Airways has seen rapid growth in just 15 years of operation, currently operating a modern fleet of 105 aircraft to 112 key business and leisure destinations across Europe, Middle East, Africa, Asia Pacific, North America and South America.
As part of its 2012 expansion programme, Qatar Airways recently launched flights to the European capital cities of Tbilisi in Georgia and Baku in Azerbaijan, its first new routes of 2012. Later this month, starting March 21, Qatar Airways will launch daily scheduled services from Doha to the Rwandan capital Kigali, via Entebbe.