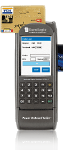 GuestLogix, Inc. the leading global provider of onboard store technology to the passenger travel industry, today announced that Qantas Airways ("Qantas"), Australia's largest domestic and international airline, has deployed the Company's OnTouch™ Retail Technology to expedite onboard sales transactions for existing duty free offerings and to facilitate the future sale of products and services, through GuestLogix' OnTouch™ Merchandising Platform. GuestLogix secured Qantas, its first major deployment in the Asia-Pacific region, through its strategic channel partner, Alpha Flight Services, Australia ("Alpha").
"Speed and ease are fundamental in enabling us to deliver a new level of customer service to our travellers," said Mr. Eric Jelinek, Head of In-flight Services at Qantas. "We believe the implementation of an onboard retailing technology and merchandising platform, through Alpha and GuestLogix, will help us to enhance the in-flight experience for our customers."
In addition to enhancing its current onboard duty free program, the GuestLogix deployment provides Qantas with tools to create, manage and control a more comprehensive branded onboard store.  Through GuestLogix' OnTouch™ Merchandising Platform, both Alpha and Qantas will be able to develop strategic offerings that evolve standard onboard retailing initiatives into much more passenger-driven, travel-relevant, destination based programs.
"Our goal is to enable Qantas to strengthen its offering inflight, particularly through its onboard duty free program by making it more convenient for passengers," said Mr. Pat Osborne, Sales Director, Alpha Flight Services, Australia. "With the deployment of GuestLogix' Retail Technology, not only can Qantas process in-flight transactions more efficiently, but it can also introduce new global, destination based products and services for sale onboard. Additionally, it also facilitates new revenue streams for the airline."
GuestLogix' OnTouch™ Merchandising Platform gives Qantas direct access to a global portfolio of travel-relevant, destination based products and services that could strengthen its onboard operations for both domestic and international routes.
Mr. Brett Proud, EVP New Markets & Products, GuestLogix said "Qantas now has the  opportunity to create a branded onboard store with a global reach. We look forward to working – in partnership with Alpha – to assist Qantas in leveraging our OnTouch™ Merchandising Platform to implement a large-scale, international onboard retailing program."
Australia's second largest in-flight catering firm, Alpha Flight Services, and GuestLogix have partnered to deploy the GuestLogix OnTouch™ Retail Technology and Merchandising Platform with Alpha customers in Australia.
OnTouch™ is GuestLogix' next generation onboard store technology and merchandising platform. It allows airline passengers to purchase products and services while in-flight.The various products and services either meet passengers' onboard requirements, or can be consumed after disembarking the plane. Airlines can easily tailor and deploy offerings to suit specific destinations, with a ready-made portfolio that includes: transportation to and from the airport; local entertainment and attractions; catalogue sales with convenient product delivery to a desired destination; destination guide services via mobile devices; inexpensive communication options to stay connected with business, friends and family; and other destination based offerings. The GuestLogix platform meets the latest payment industry security standards, ensuring all transactions processed are secure and appropriately reconciled.