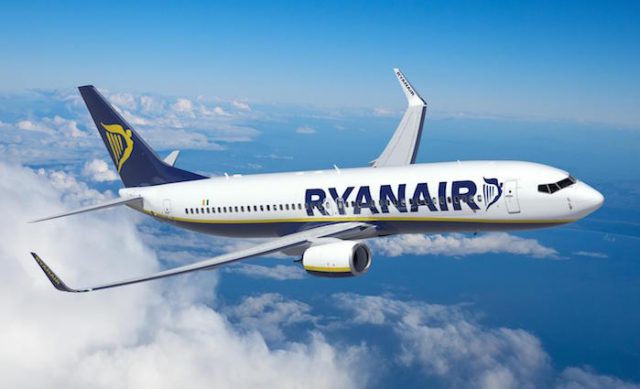 OVER 700,000 ESN BOOKINGS IN 7 YEARS
Ryanair on 9th Nov announced that they will continue their partnership for a seventh year, further helping European students to travel at the lowest fares during their educational exchange. Through this partnership, Erasmus students are offered a dedicated ESN booking platform on the Ryanair.com website, where they can avail of 10% flight discounts on four one-way flights (or 2 round-trips) and a free 20kg checked-in bag with every flight booked.
Since 2017, ESN students have benefited from this exclusive partnership which has seen over 700,000 bookings to date. Ryanair is Europe's most environmentally efficient major airline, has a leading network of 230+ destinations and a record order of 300 environmentally efficient Boeing MAX-10 aircraft.
Ryanair is committed to continuing to support the recovery of Erasmus student mobility across Europe. ESN students can now book their low fare Ryanair flights with these exclusive travel discounts through the dedicated platform at www.ryanair.com.
Ryanair's Head of Public Affairs, Matthew Krasa, said:
"Ryanair is pleased to announce our exclusive partnership with ESN for the 7th year running, promoting student mobility by offering third level students across Europe a range of exclusive flight offers, including generous discounts and free-of-charge baggage. As Ryanair continues to grow and invest in Europe, we are delighted to support the EU flagship Erasmus programme and the incredible opportunities offered to their student members."
ESN President, Rita Dias, and ESN Treasurer, Ayberk Yavuz, said:
"The continuation of the partnership between Ryanair and ESN constitutes a significant stepping stone in advancing ESN's commitment to making mobility more inclusive and affordable for students across Europe. Lack of financial means and uncertainty about additional costs have been reported as one of the largest obstacles to participation in learning mobility, frequently impacting the overall quality and experience of students' experience. 
ESN recognises the value of the partnership with Ryanair in addressing one of the main barriers faced by students. Numerous students have encountered difficulties when deciding to undertake a foreign exchange programme due to a combination of geographic factors and financial constraints. Our partnership with Ryanair provides a means to ease these burdens, namely through free luggage schemes and discounted plane tickets. This can improve students' exchange experiences, and in addition, make a positive impact on the local economies of the host communities. 
Participating in the Erasmus programme is a key factor for the personal and professional growth of young people. Ensuring that this opportunity is accessible to a wide range of students is essential for the future of Europe. We thank Ryanair for their ongoing commitment to the Erasmus Student Network and for facilitating these opportunities."