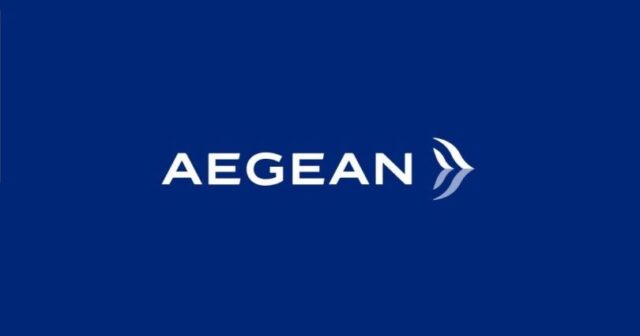 Strong performance in revenue and passenger traffic with record profitability in the first half of 2023.
AEGEAN announces its financial and operating results for the second quarter and the first half of the year.
Consolidated revenue reached €449,1 mil. in Q2-23, 37% higher than Q2-22. Pre-tax Profit reached €67,3 mil. and Net Income €51,5 mil. from Net Income of €10,8 mil in Q2-22.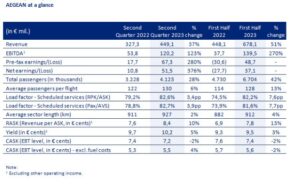 The Group offered 22% more seats following its network expansion, bringing an even higher increase of 28% in passenger traffic and welcoming 4,1 mil. passengers from 3,2 mil. in Q2-22. Load factor reached 82,6% from 79,2% in Q2-22. Network expansion with the addition of 16 new international routes, as well as increased frequencies to destinations in Italy, Spain, Germany, Scandinavia, Israel, Egypt and Saudi Arabia, markets where demand has recovered significantly, contributed to the Group's strong performance.
More specifically, strong demand in Q2-23, network expansion and ongoing fleet investment, led to a 42% increase in passenger traffic in H1-23 vs H1-22, with the Group carrying 6,7 mil. passengers in total in H1-23, while offering 8,2 mil. available seats, 28% more compared with H1-22.
The growth in passenger traffic stemmed mainly from international network where the Group carried 4 mil. passengers, 52% more than H1-22. Load factor in the period improved significantly, reaching 82,2%, 7,6 p.p. higher than H1-22.
With the positive impact of the second quarter, Consolidated revenue in H1-23 improved by 51% vs Q2-22, reaching €678,1 mil. Ongoing fleet investments and efficient cost management despite inflationary pressures led to achieve an EBITDA growing 3,7 times higher, to €139,5 mil. from €37,7 mil in H1-22.
Pre-tax Profit reached €48,7 mil. compared to a pre-tax Loss of €30,6 mil. in H1-22, while Net Income reached €37,1 mil. from Losses of €27,7 mil in H1-22.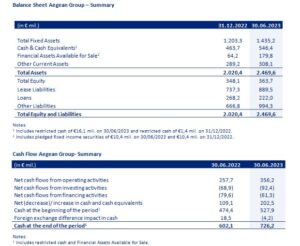 During H1-23, AEGEAN proceeded with the full repayment of loans drawn during the pandemic (€68,5 mil.). Moreover, AEGEAN fully repaid a finance lease contracted in 2020 for an A321 neo aircraft, while one new A320neo aircraft delivery from Airbus was purchased in cash ($70 mil. total amount of above mentioned two actions). In total, the Group owns 11 debt free aircraft, from 4 owned aircraft in December 2019.
Cash and cash equivalents increased by almost €200,0 mil. at 30.06.2023 vs 31.12.2022, due to strong operating cash flow, following high pre-bookings for the summer period, despite loan and finance leases repayments and capex.
Mr. Dimitris Gerogiannis, AEGEAN's CEO, commented:
"Our performance in H1 2023 confirmed the consistent implementation of our targets in an environment of strong demand and intense competition. We are presenting exceptionally strong results stemming from network expansion and increased capacity following new aircraft deliveries, while at the same time, cost discipline and continuous upgrade of our services and product further enhance our competitiveness.
In Q3 and Q4 the Group plans to operate with 10% and 15% more available seat kilometers (ASKs) respectively
compared to the respective period in 2022, supporting the extension of the tourism season and increasing capacity investment in more areas. 
Based on the strong performance in H1-23 and Q3 available data, revenue per flight is expected to be at the same high levels of the already strong Q3 2022, while for the full year a significant improvement in profitability is expected versus the already strong FY 2022 results, thus reaching new historical highs.
It is noted that in 2023 AEGEAN took delivery of 9 new aircraft, thus reaching 28 A320 neo family aircraft. New aircraft cover 50% of total annual activity operated by the jet fleet in terms of hours, flights and ASKs, achieving significant cost benefit as well as reduced environmental footprint per passenger.
For the full year, the Group plans to offer a total of 18 million seats, with 11 million international seats, 2 million more compared to 2022. Network is expected to cover 46 countries to 165 destinations out if its 10 bases with a fleet of 76 aircraft.
AEGEAN management will host a conference call to present and discuss the "First Half 2023 Financial Results" on Thursday, 7 September 2023 (17:30 Athens time, 15:30 GMT).
Details are available at: http://en.about.aegeanair.com/investor-relations/announcements/announcements/