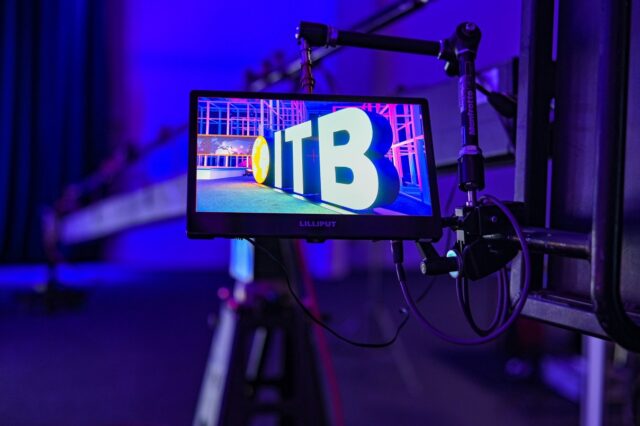 Online accreditation starts now – Comprehensive information and services in the modern media center in Hall 6.3 – New: ITB Media Monday on 6 March – Premiering Media Lounge in Hall 2.1 – Save the Date: media dates at ITB Berlin 2023
From 7 to 9 March, 2023, the world's leading travel trade show is looking forward to welcoming thousands of journalists and bloggers from across the globe again. To ensure the perfect working conditions for journalists, ITB Berlin provides an extensive – from online accreditation and custom-tailored media material to the state-of-the-art media center with journalist workstations in Hall 6.3. Together with the Wilde & Partner communications agency, we are proud to present the new media lounge in Hall 2.1. The premiering space is bound to become a further vantage point for media representatives.
Online Accreditation
You can apply for accreditation online starting today. Please mind our accreditation guidelines. You will receive your ITB media accreditation as a printable PDF document after successful registration and review of your application.
Accreditation during the Trade Show
Media representatives can apply for accreditation online during the entire duration of ITB Berlin 2023.
Please note: the media counters at ITB Berlin will not be offering onsite- accreditation opportunities for media representatives. Make sure to apply for your accreditation online in advance.
Press badges for ITB Berlin 2023 are valid from 6 to 9 March 2023, from 8.30 a.m. until the end of the fair at 06 p.m. and entitle the holder to free access to ITB Berlin, the ITB Berlin Convention, and ITB Media Monday. The badges are non-transferable and only valid in conjunction with an ID card. Some exhibitors provide additional services to visitors and media representatives in dedicated areas. These may require a separate registration with the respective exhibitor.
Save the Date: Media Events of ITB Berlin 2023 at a Glance
ITB Media Monday on Monday, 6 March 2023, 10 a.m. till 6 p.m. – Palais am Funkturm
Opening Press Conference of ITB Berlin 2023 on Monday, 6 March 2023, 10 a.m – Palais am Funkturm, Hammarskjöldplatz
The opening press conference will be followed by further press conferences of the ITB Berlin exhibitors. Those will also be held at Palais am Funkturm.
Opening Guided Tour of ITB Berlin on Tuesday morning, 7 March 2023.
Meeting point: Hub27, stand of Georgia. The exact time will be announced soon.
You will find all the current media events for ITB Berlin here. The event list is updated constantly.
Media Center at ITB Berlin
The central contact point for journalists at ITB Berlin is the Media Center. ITB Berlin offers you the best possible working conditions and a broad range of information services and materials. The nearest entrances for access to the Media Center are the main South Entrance and the CityCube.
The state-of-the-art Media Center in Hall 6.3 is open daily from 6 to 9 March 2023, from 9 a.m. to 6 p.m. This is where you can find:
The ITB Berlin Press Team,
The media materials from the organizers,
Around 200 journalist workstations,
A lounge area with a dedicated press bar,
Current information and event times and dates,
Free Wi-Fi and workstations with LAN connections,
Editorial offices.
Register with the e-mail address used for accreditation.
Wardrobe
Show your ITB Berlin 2023 media accreditation to use the wardrobes at any main entrance for free.
Vehicle Entry Permits
Entry permits will be issued for vehicles of radio and television stations that are necessary for reporting purposes upon request and subject to availability.
Contact us for permits at: presse-itb-@messe-berlin.de.
Please do not hesitate to contact us if you have any questions or require further information.
We look forward to welcoming you in March at ITB Berlin 2023.