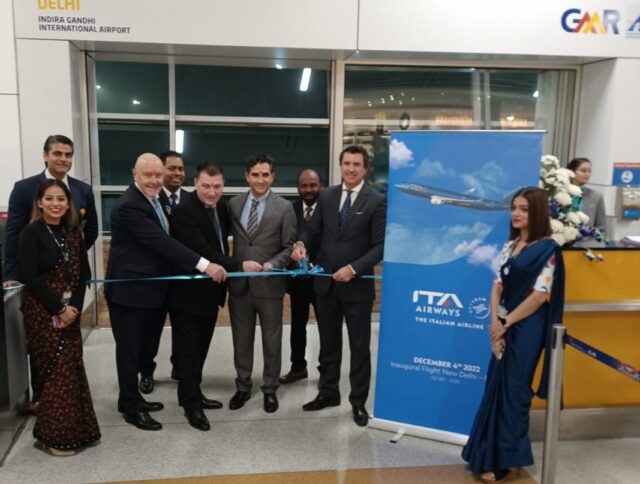 ITA Airways' first flight from New Delhi to Rome Fiumicino departed today at 03:50 am local time. The new connection marks a step forward in the expansion of the Company's network towards the Asian market, while confirming its commitment to attracting connecting customers.
The ribbon-cutting ceremony at New Delhi's Indira Gandhi International Airport was attended by Pierfrancesco Carino, Vice President International Sales ITA Airways and Fabio Bigotti, Country Manager India ITA Airways.
"We are happy to inaugurate today the ITA Airways' Rome Fiumicino – New Delhi connections, the only direct flights between these two capitals" – said Emiliana Limosani – Chief Commercial Officer ITA Airways and CEO Volare. "With the opening of this new route for the transport of passengers and cargo between Italy and India, ITA Airways is further contributing to the cultural integration and development of the economic relationship between the two countries, which have developed a solid political and commercial collaboration in recent years, with the presence of more than 600 Italian companies in India and a bilateral interchange that in 2021 reached a record value of more than 10 billion euros. We have thus taken an important step forward in the project of expanding our intercontinental network towards a fascinating destination and a market full of opportunities. In addition, thanks to the flight departing from New Delhi to Rome, our Indian customers will be able to visit not only Italy but all of Europe thanks to convenient connections offered from our Rome Fiumicino hub" concluded the Chief Commercial Officer. 
This is the first time ITA Airways operates in the Indian market and, more importantly, the Company is the only airline to operate a direct Rome Fiumicino – New Delhi flight. 
The new route will be operated with an Airbus A330, three times a week, departing from New Delhi, every Tuesday, Thursday and Sunday at 03:50 am and landing in Rome Fiumicino at 08:10 am. Return flights from Rome Fiumicino will depart every Monday, Wednesday and Saturday at 2:10 pm and will arrive in New Delhi's Indira Gandhi International Airport at 02:00 am, local time.
With the new intercontinental connection, ITA Airways is further expanding into the Asian market, while it continues to strengthen the ability to attract connecting customers, tapping into the flows between India and North America, Germany, Spain and France. 
Through this new flight, Indian passengers will be able to discover the beauties of Italy's capital and the uniqueness of the 'Made in Italy' and will also use this flight as a connecting one to start exploring other Italian cities, courtesy of 20 domestic connections offered by ITA Airways. 
ITA Airways' Indian operations will be enhanced by flights operated in interline agreement with Vistara. Thanks to the collaboration with the Indian full-service airline, customers on ITA Airways' Rome – New Delhi flight will be able to fly on connecting domestic and international flights from Vistara's hub at Indira Gandhi International Airport. These include Mumbai, Amritsar, Kolkata, Bangalore, Kochi, Chennai, Hyderabad, Pune, Chandigarh and Dabolim in the Indian market and Bangkok, Kathmandu and Dhaka at international level. 
To support the new intercontinental flight from New Delhi to Rome and to enhance local awareness of the new Italian flagship carrier, ITA Airways has launched a multi-channel advertising campaign in India, which highlights the New Delhi-Rome connection as well as the beauty of Italy and its most iconic destinations. The "It's A" campaign will be live until December 13 on digital billboards in the most renowned shopping centers of the city, train stations and in all the main business and commercial areas throughout Delhi. The billboards are also supported by a radio campaign, both in English and Hindu, on the 3 most important radio stations of the country – Mirchi, Radio One, and City FM. 
ITA Airways continues to expand its intercontinental network: in the winter season, the Company will serve a total of 51 destinations, of which 9 are intercontinental, 22 are international and 20 are domestic and will focus primarily on its long-haul expansion project with several important new routes including, in addition to New-Delhi, the recently launched Tokyo-Haneda and the Maldives (Malé) which will be opened on December 17. All these new intercontinental routes are joining flights to New York, Los Angeles, Boston, Miami, Buenos Aires and São Paulo opened earlier this year.
In addition, and as recently announced, in 2023 the Company is also expected to open additional new intercontinental destinations with direct flights operated from Rome Fiumicino to San Francisco and Washington in the United States, to Rio de Janeiro in South America and, with the entry in fleet of the new A321Neo aircraft, to destinations in the Middle East, such as Riyadh, Jeddah and Kuwait City.
All new ITA Airways flights can be purchased on the website, or through the company's call centre, travel agencies and airport ticket offices.