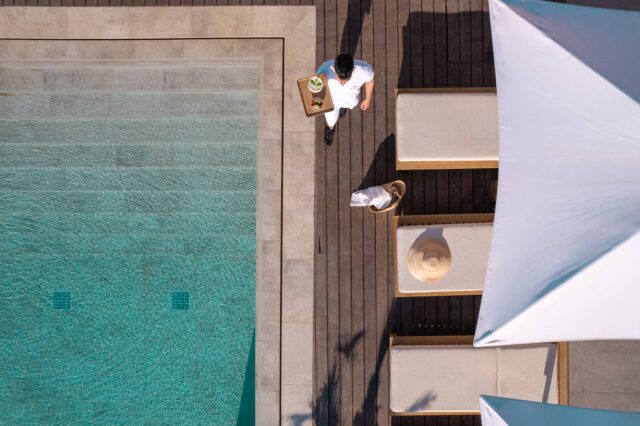 MITSIS HOTELS was distinguished for its responsible operation and support of local communities at the "Bravo Sustainability Dialogue & Awards 2022" by the QualityNet Foundation, in the ceremony held on June 22nd at the Old Parliament House.
The Group was awarded for its initiative "Committed to our surroundings" which aims to support, empower and improve the lives of the residents of its 5 destinations. In this context, Mitsis Hotels Group focuses on local recruitment, aiming το recruit 75% of its human capital from its destinations' local communities by 2025. At the same time, the Group empowers the local primary sector, supporting 140 local producers and suppliers with over 15 million euros annually.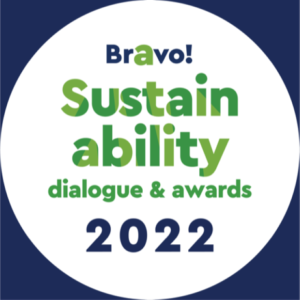 The Group proudly sponsors local events, local athletes and local sports teams and supports local residents in times of crisis, offering financial and in-kind assistance to earthquake, fire and other disaster victims. Mitsis Hotels also collaborates with distinguished NGOs, including its long-term partnerships with HOPEgenesis, Make-A-Wish Greece and The Ark of the World, while the establishment of the Blood Donor Volunteer Association 'Mitsis Group of Companies' with the participation of its employees and guests makes a valuable contribution to the blood banks of our destinations.
The initiative "Committed to our surroundings" is part of the Group's new holistic CSR programme entitled 'A story of change', which includes a variety of actions to address key contemporary industry challenges. "We recognise that our progress is inextricably linked to the prosperity of the local communities that nurture us. Sustainability is a key criterion for our competitiveness and we aspire to act as a role model for sustainable tourism development in the country, contributing 5% of our annual net profit to social and philanthropic activities," stated Stavros Mitsis, Managing Director of the Group.
Every year, Bravo hosts a social dialogue on sustainable development based on the sustainability initiatives that have been developed in the country. This year, "Bravo Sustainability Dialogue & Awards" noted a record number of participants, with over 300 submitted initiatives from 185 organisations. The evaluation of initiatives is undertaken by the institution's scientific committees consisting of 170 members, as well as through the contribution of more than 16,000 active citizens, recognising the best practices supporting a sustainable future.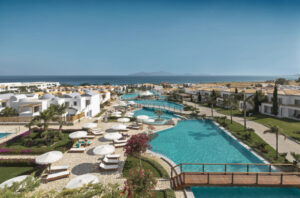 The Group's distinction is added to numerous awards from national and international organisations, including Blue Flag, Green Key, ISO and Travelife Gold Certification, while Mitsis Hotels is also awarded in the "31 Most Sustainable Companies in Greece" for 2022. Lastly, the Group publishes its annual Corporate Social Responsibility Report that contains the sum of the company's social contribution and environmental practices.
Mitsis Hotels Group
As Greece's largest privately-owned hotel chain, Mitsis Hotels has been a tourism pioneer for over 45 years now, making its own mark on Greece's tourist industry, driven by a customer–centered philosophy and the promise of an unparalleled holiday experience. With 19 city, beach and resort hotels of 4* and 5* and 11 Spa and thalassotherapy centers in our portfolio in Athens, Crete, Kamena Vourla, Kos and Rhodes, we aspire to stand out as the preferred portfolio of hotels & resorts in Greece offering excellent service, great locations, impeccable facilities, sophisticated dining and a broad spectrum of options for our clientele. We bring to life enriching experiences for our guests, making the most of our unparalleled family touch and genuine Greek essence, always seeking to be flexible and adaptable to individual customer needs and the mindset of new generations. Transforming each visitor into a special guest is the key to our success. For its remarkable performance, Mitsis Hotels has been awarded several prizes by local and international tour operators and travel organisations in recognition of the high quality of the services provided, its contribution to upgrading local tourism and its respect for the environment.
QualityNet Foundation 
QualityNet Foundation is a non-for-profit organization with the goal to develop and promote sustainable development in Greece. Since 1997, QualityNet Foundation has been active in pursuing its goals through dialogue and networking with the participation of stakeholders from different professional backgrounds of the Greek society. QualityNet Foundation, as an open network on issues of sustainable development, responsible business and social responsibility, is in contact and consultation with many organizations in Greece including 150 institutions, 1,280 businesses, 450 civil society organizations, 250 local authorities, 4,500 schools and 63,000 active citizens.