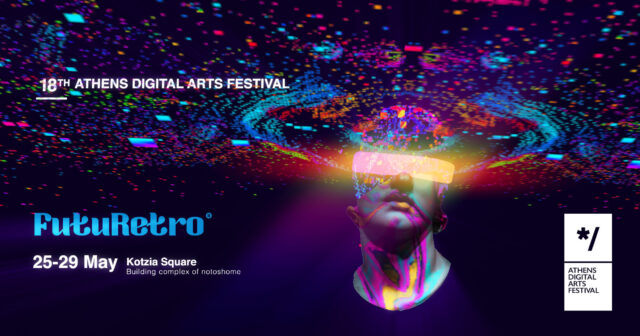 18th Athens Digital Arts Festival "FutuRetro"
25 – 29 May 2022
Kotzia Square, Athens City Center
Βuilding complex of notoshome
The Athens Digital Arts Festival (ADAF) presents FutuRetro, a celebratory 18th edition and a five-day gathering in the heart of Athens at the historical landmark of Kotzia Square.
From the 25th – 29th of May, the building complex of notoshome and Kotzia Square will be revived to host an innovative exciting program with works from 12 categories: Video Art, Animation, Interactive Installations, Virtual and Augmented reality (VR/AR), Games, Digital Image, Web Art, Live Performances, Workshops, Talks and ADAF KIDS, a mini digital arts festival dedicated to children. This year ADAF is especially excited to present a curated program for the ADAF MUSIC category.

The theme, FutuRetro, focuses on science fiction, retro futurism and futurology and aims to present the technological milestones of today through the eyes of the past and as a foreshadowing means for the future. Marking its third year as a Hybrid Festival, the online edition of the festival, ADAF ONLINE, will be launched in the fall of 2022 as an extension to the physical edition and in an effort to make the festival and its works accessible to a truly limitless, global audience.
With the selection process in its final stage, ADAF's international open call has yet again received an overwhelming number of submissions, 5,700 works from artists, scientists, intellectuals, and technologists from around the world. Parallel to the open call, the Festival continues to expand its network by cultivating bridges with local and international festivals, universities and institutions to exchange knowledge, art and to showcase global trends in digital arts.
Call For Volunteers
Volunteers are a vital part of Athens Digital Arts Festival. Every year, plenty of creative people join the Festival's team in order to develop their abilities and help in all sectors of the festival, such as in the audience reception, exhibition set-up and production as well as in guided tours.
By participating at ADAF you will have the opportunity to live a unique experience and contribute, according to your dexterity, skills, interests and availability, to all creative and organizational processes of the 18th edition of the festival. If you are over 18, please fill in the form. Deadline: 30.4.2022
At the end of the festival, all volunteers will receive a certificate of participation.
More Info: volunteers@adaf.gr
A few words about the location:
The Athens Digital Arts Festival traditionally takes place during spring in the Historic Center of Athens, each time activating and reinventing city landmarks and spaces, engaging the local community and creating new paths where one can explore and experience the city in a new and unique way. This year, ADAF selects the city landmark of Kotzia Square and the notoshome building complex to host its exciting program.
The main exhibition will take place in an impressive building complex, of over 12,000 m2 on Kotzia Square, where notoshome department store was housed from 2003 until its relocation in 2018 in the notos beauty & fashion department store (6th & 7th floor, Stadiou & Aiolou Str). To celebrate the 18th Athens Digital Arts Festival and as an invitation to its customers and pedestrians, the notos department store will feature an impressive interactive installation in one of its windows.
In the meantime, we invite you to visit our last edition Tāctus, with an exciting 3D Virtual Tour to see the artworks showcased at the 17th Athens Digital Arts Festival which took place at the Museum of Modern Culture.
More information on the program of the 18th Athens Digital Arts Festival will be announced shortly on 2022.adaf.gr. Connect with us on Instagram and Facebook for daily updates and sign up for our newsletter for year-round news on ADAF.
#ADAF2022 #ADAFgreece #TheNewRetro #Futuretro #Futurology #Sci-Fi #Retrofuturism