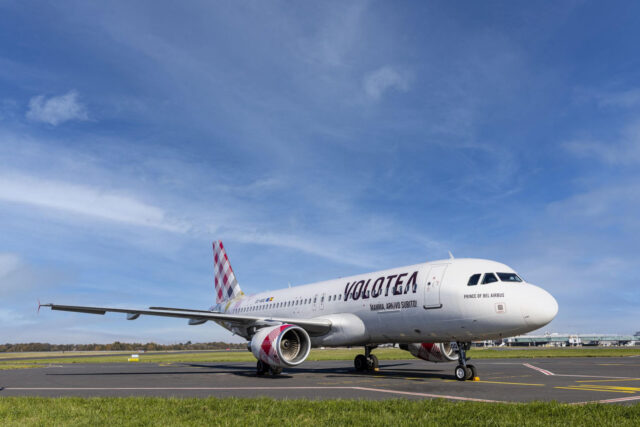 The connection from the Greek capital will be available as of June 10 with two  weekly frequencies. 
With the announcement of this new route the total number of seats on sale at  Athens for the summer 2022 rises to more than 560,000. 
With Palermo, the number of Volotea destinations that can be reached from Athens airport reaches number 15, including the other 4 new routes launched  this year (Bilbao, Bordeaux, Nantes, and Turin). 
Volotea, the airline that connects medium-sized cities and European capitals, continues to lead the recovery of the tourism sector, and announced today in Athens the launch of a new international connection to Palermo: from June 10th, in fact, it will be possible to fly to the capital of Sicily. The new route, operated twice weekly (every Tuesday and Friday), provides an offer of over 11,500 tickets. With the announcement of this route, the total number of seats on sale for the summer of 2022 in Athens rises to more than 560,000, and the number of destinations gets to 15!  
The launch of the new route shortens the distance between Greece and Sicily, guaranteeing an offer of comfortable flights at competitive prices to fly easily to Palermo, the main Sicilian city, full of art, history, beaches and amazing food. 
The announcement of the flights to Palermo proves once again the company's commitment to expanding the range of destinations that can be reached from the Greek capital during the summer months: Bilbao (new route 2022), Bordeaux (new route 2022), Lyon, Marseille, Nantes (new route 2022), Strasbourg, Bari, Turin (new route 2022), Venice, Verona, Crete, Mykonos, Santorini and Dubrovnik and now Palermo!
The airline will offer more than 560,000 seats (vs 182,000 seats offered in 2021) from Athens Airport and will operate more than 3,600 flights vs the 1,162 operated last year.
"Announcing the new Athens-Palermo connection fills us with pride and satisfaction. Only a few weeks ago, in fact, we launched in Athens a new route to Italy, to Turin, and since the beginning of the year, other two new routes to France (Bourdeaux and Nantes) and Spain (Bilbao) as proof of our commitment to support the recovery of the tourism sector, both incoming and outgoing – said Valeria Rebasti, Country Manager Italy & Southeastern Europe of Volotea -. This new route will further expand the travel options of Greek passengers, allowing them to comfortably reach Sicily."
Since the start of its activities in 2015, the year of its debut in Athens, Volotea has transported more than 1 million passengers with a total of over 11,000 flights.
All Volotea routes are available on the website www.volotea.com and through all travel agencies.
ABOUT VOLOTEA
Volotea was founded in 2011 by Carlos Munoz and Lázaro Ros, previously founders of Vueling, is one of the fastest-growing independent airlines in Europe, increasing year-on-year its fleet, routes served, and seats offered. Since its start, Volotea has carried more than 35 million passengers across Europe.
Volotea is currently based in 18 medium-sized European capitals: Alghero (opening in 2021), Asturias, Athens, Bilbao, Bordeaux, Cagliari, Hamburg, Lille (opening next April), Lyon (opening in 2021), Marseille, Nantes, Naples, Olbia, Palermo, Strasbourg, Toulouse, Venice, and Verona. Volotea serves more than 100 cities in 16 countries, with novelties in 2022 such as Denmark, which will begin operating in May this year from Italy, and Algeria, which began last December with flights from France.
The airline will operate a fleet of between 41 and 45 aircraft in 2022, up from 36 in summer 2019. In terms of volume, Volotea will increase its seat capacity by nearly 39% compared to 2019, highlighting the strong latent demand in Europe's mid-sized city markets. Likewise, this year the airline plans to offer a total of 11 million seats, which represents an increase of almost 40% compared to 2019, the year in which the airline put 8 million tickets on sale; and increase its staff in all its markets. In June 2021, Volotea had more than 1,400 employees and by 2022 the company expects to have more than 1,600 employees in Europe.
Volotea became a full Airbus carrier in 2021, by renewing part of its fleet with aircraft from the European manufacturer. The airline, which had planned to perform this fleet unification in 2023, has advanced its plans in order to improve its cost base over the next 2-3 years and increase its network offering, with aircraft that have a higher capacity and a longer flying range. Since 2012, Volotea has carried out more than 50 sustainability actions, thanks to which it has reduced its carbon footprint per passenger and kilometer by more than 41%. In 2021, the airline began to voluntarily offset 5 percent of its total CO2 emissions until it reaches 25 percent offset of its carbon footprint in 2025. And this year, the company will introduce sustainable fuels in aircraft and will collaborate with manufacturers and industry so that these fuels (now difficult to access) can be developed and become widespread as soon as possible.
Volotea was elected "Europe's Leading Low-cost Airline" at the World Travel Awards 2021, the industry's most prestigious awards recognizing excellence in the transportation and tourism industry worldwide.