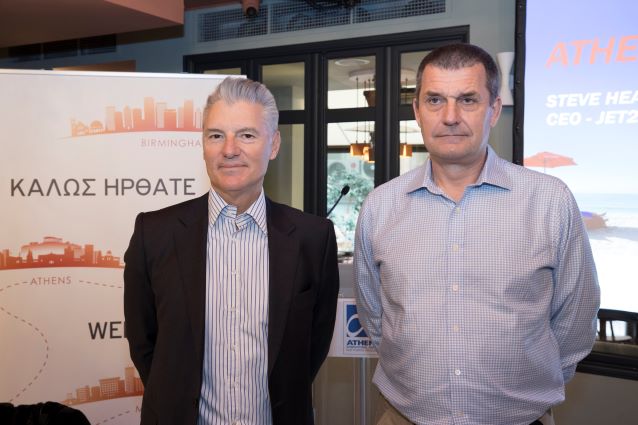 From left, Mr Giannis Paraschis, CEO, Athens International Airport and Mr Steve Heapy CEO Jet2.com & Jet2holidays
Jet2.com and Jet2holidays announce massively expanded Greek programme, cementing position as leading UK airline and tour operator to Greece
Jet2.com and Jet2holidays is consolidating its position as the UK's leading airline and tour operator to Greece, by announcing a massive expansion for Summer 22, with over half a million extra seats on sale to Greece compared to Summer 19 – a capacity increase of 86%.
As a result of this growth, the leading leisure airline and tour operator has over 1.1 million seats on sale from the UK to Greece in Summer 22.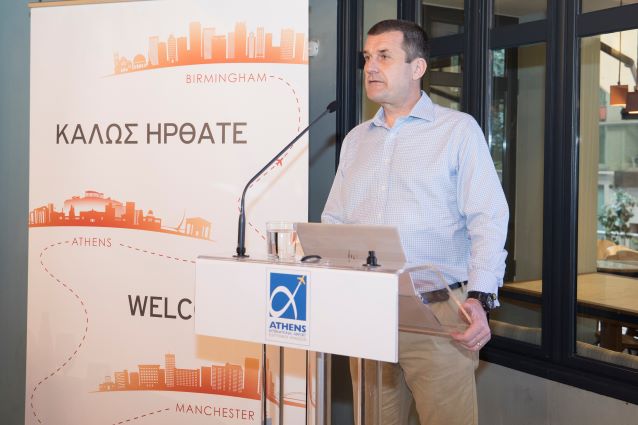 Speaking at a joint event with Athens Airport, Jet2.com and Jet2holidays' CEO Steve Heapy talked about the company's growth story in Greece, as well as its continued commitment to further success. The company's ambitious plans include the launch of flights and city breaks to Athens for the very first time this summer. Yiannis N. Paraschis, CEO of Athens International Airport SA welcomed this growth and highlighted the relationship with Jet2.com and Jet2holidays as an example of Athens Airport continuing to see more traffic as travel bounces back following the Covid-19 pandemic.
Jet2.com and Jet2holidays' expanded programme will see the company operate flights from ten UK bases to 15 gateways in Greece (Athens, Corfu, Chania, Heraklion, Kefalonia, Thessaloniki, Kos, Kalamata, Lesvos, Mykonos, Preveza, Rhodes, Skiathos, Santorini and Zante). In total, Jet2holidays will operate to almost 175 resorts across 20 Greek destinations this summer, with 270 weekly services operating during peak periods giving customers fantastic flexibility when it comes to reaching the Greek sunshine.
When it comes to selecting where to stay, Jet2holidays has more than 1,100 2-5 star hotels and 400 villas on sale in Greece this summer, giving customers unrivalled choice and flexibility.
As well as bringing more UK holidaymakers to Greece than ever, this huge programme of flights provides Greek nationals with more opportunity than ever to reach the UK with Trip Advisor's Top Rated Airline in Europe (Belfast International, Birmingham, Bristol, East Midlands, Edinburgh, Glasgow, Leeds Bradford, Manchester, Newcastle and London Stansted).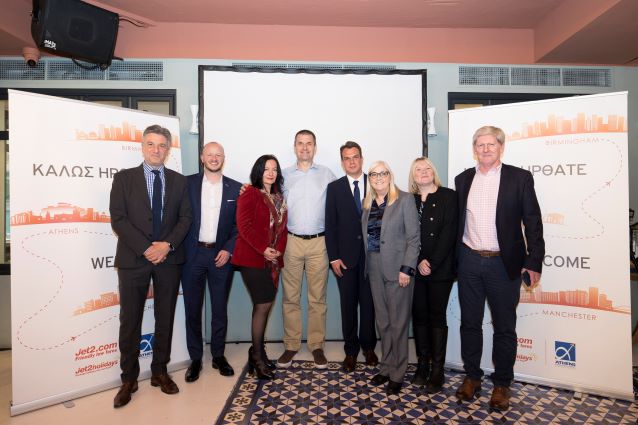 Jet2.com and Jet2holidays' expansion for Summer 22 includes launching Athens as a brand-new destination, with four weekly services operating between the capital and Birmingham and Manchester Airports from 14th April (two weekly services from each base).
Including these two new routes to Athens, Jet2.com and Jet2holidays will operate a total of eight new routes between the UK and Greece this year, with the other new routes including:
Edinburgh to Skiathos
Edinburgh to Santorini
Edinburgh to Preveza
Edinburgh to Halkidiki
Bristol to Halkidiki
Glasgow to Kos
Jet2.com and Jet2holidays are repeatedly recognised for the way they look after customers and industry partners, with both companies winning multiple awards. Recent successes include Jet2.com being the only UK airline to be recognised as a Which? Recommended Provider as well as being recognised as the best UK airline for providing great customer service by the Institute of Customer Service. The airline has also won Trip Advisor's Best Airline in Europe for four years running, as well as being recognised as one of Trip Advisor's Top Ten Airlines of the World.
This success is replicated by Jet2holidays, the UK's leading tour operator to many destinations across the Mediterranean including Greece. Jet2holidays has won multiple awards including Which? Recommended Provider and the best UK tour operator for providing great customer service, according to the Institute of Customer Service.
These accolades come on the back of Jet2.com and Jet2holidays' commitment to providing a VIP customer service including friendly flight times and a generous 22kg baggage allowance through a flight-only booking with Jet2.com; or that very same VIP customer service, in-resort Customer Helpers, transfers, free child places and ATOL protection with Jet2holidays.
In addition to receiving recognition for providing a VIP customer service, this track record has continued through the pandemic, with Jet2.com and Jet2holidays receiving accolades and praise for the way they have treated customers and independent travel agents, including providing smooth and speedy refunds. Recognition includes Jet2.com and Jet2holidays being ranked as the Best Travel Firms for providing refunds according to a survey of respondents by Money Saving Expert, and the UK Civil Aviation Authority recognising Jet2.com as the only UK airline to provide prompt refunds.
Steve Heapy, CEO of Jet2.com and Jet2holidays said: "This summer marks a milestone moment for us in Greece, as we are growing exponentially and really putting down our marker as the UK's leading airline and tour operator to Greece. With international travel returning to normality, we are looking forward to our biggest and busiest ever summer in Greece, including the launch of flights and city breaks to Athens. I am delighted to be here in Athens to build on the fantastic relationships that we have in place with our partners."
He added: "We will be bringing more customers on a package holiday they can trust than ever to Greece, and a critical part of our ongoing success in this beautiful country is the fantastic partnerships we have with airports, hoteliers and Government. As well as bringing more holidaymakers to Greece and creating more jobs through our expanded team of award-winning customer helpers, we will of course be flying more people from Greece to the UK too. We are looking forward to a fantastic summer and beyond as Greece continues to be right at the heart of our ongoing growth and success strategy."
Yiannis N. Paraschis, CEO of Athens International Airport SA said: "We are extremely pleased to welcome Jet2.com to our airport and into the Athens market. The UK being one of our most important markets, Jet2.com's new services to Manchester and Birmingham will meet the increased demand and offer more value-for-money options to the travelling public. We welcome our new aviation partner, remaining totally committed to support Jet2.com in order to develop and grow out of Athens!"
For further information and to book visit www.jet2.com or www.jet2holidays.com  
Independent travel agents can visit: trade.jet2holidays.com