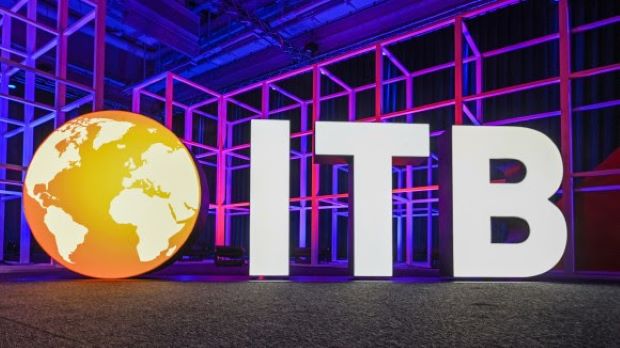 ITB Berlin Convention 2022 begins: Orientation and dialogue on the most pressing topics of our times
Day one kicks off a series of formats over the coming months – High-level exchange of views among experts – The war in Ukraine, the pandemic and the key topics of resilience, digitalisation and sustainability are the dominant convention themes – ITB Minister's Keynote with Dr. Robert Habeck – Comprehensive programme of events with 223 speakers and 102 sessions – Georgia is the official cultural destination – Digital Business Day on 17 March – New series of B2B networking events in 2022
The trade show opens in challenging times: the world has already experienced two years of the coronavirus pandemic – now the terrible war in Ukraine is overshadowing global events. Since its launch in 1966, ITB Berlin has provided an important platform for international travel industry, and together with tourism it stands for international understanding among cultures and for peace. With the opening of the virtual ITB Berlin Convention, which will take place online from Tuesday, 8 March to Thursday, 10 March, the World's Leading Travel Trade Show is launching a new event concept. Over the next three days, high-ranking experts will examine the most pressing topics of the global tourism industry from every perspective. The focus is on the pandemic and its impact as well as the challenges of geopolitical conflicts and crises. The convention will be live-streamed from the Messe Berlin studio at itb.com. Attendance is free. To register please visit itb.com/ticketshop.
The opening press conference moderated by Katie Gallus will kick off events on 8 March at 9 a.m. Joining her will be Martin Ecknig, CEO of Messe Berlin, H.E. Prof. Dr. Levan Izoria, ambassador extraordinary and plenipotentiary of Georgia to Germany, who represents this year's Convention & Culture Partner Georgia, Peter Kautz, MD of Statista Q, and Norbert Fiebig in his role as president of the German Travel Association (DRV). Over the three days of the convention the focus on Tuesday is on the pressing topics of resilience and the future, on Wednesday the topic is digitalisation, and on Thursday sustainability. In a total of 102 panels, lectures, presentations, exhibitors' press conferences and discussions, 223 leading experts and companies will assess the global challenges facing the travel industry. On 8 March at 11 a.m., Federal Minister for Economic Affairs and Climate Action Dr. Robert Habeck will hold this year's ITB Minister's Keynote speech.
"About two years after the pandemic began it seems it may finally be coming to an end", said Martin Ecknig, CEO of Messe Berlin. "However, the world is making an almost seamless transition to another global conflict, whose consequences we can only vaguely imagine at the moment. What is clear however, is that we live in a world of constant change. As a firmly established member of the tourism industry and against the backdrop of all the challenges and uncertainty, with ITB Berlin we are least able to offer the industry some orientation and a corresponding space for dialogue."
Tour operators, destinations and suppliers can make use of a further streaming channel to present more fascinating content at press conferences and product presentations. Events will range from destination presentations, specialist discussions to award presentations. More program details can be found in the exhibitor presentation and press conference section at itb.com/convention.
Georgia's wide-ranging cultural heritage and natural attractions
In 2022 Georgia is the Convention & Culture Partner at ITB Berlin, and next year it will introduce itself to a wider audience as the official Host Country of the Leading Travel Trade Show. This is another phase in the three-year partnership with ITB Berlin. Thus, together with David Ruetz, head of ITB Berlin, Mariam Kvrivishvili, MP, Deputy Minister of Economy and Sustainable Development, Georgia, will open the ITB Berlin Convention. Last year, Georgia already fascinated visitors as the Adventure & Sustainability Partner of ITB Berlin. The republic has a population of 3.7 million and is popular with visitors due to a wealth of cultural attractions, the variety of architectural styles in the capital Tbilisi, mountain ranges, hillside monasteries, beaches on the Black Sea and the ancient winegrowing region of Kakheti.
Networking and business at the Digital Business Day on 17 March
ITB Berlin 2022 will by no means be over after the three-day convention, which will be followed by the Digital Business Day on 17 March. As a networking platform, this offers one-on-one networking opportunities, audio-video meetings, information on global travel trends and forecasts, as well as on-demand corporate news and automated speed-dating. The virtual format is a catalyst for business networks and focuses on business and networking. It also offers companies numerous opportunities for sponsoring the virtual format. The event will be augmented by the IPK World Monitor with global travel trends and forecasts for 2022 as well as company presentations, which are available via the on-demand programme. Tickets to the Digital Business Day are available at itb.com/ticketshop.
IPK International: Global Outbound Travel 2021 & Roadmap for 2022
At the Digital Business Day on 17 March, taking the findings of the latest World Travel Monitor® survey of more than 60 countries around the world, Rolf Freitag, CEO of IPK International, will report on the year in travel in 2021. How did international travel fare globally in year two of the pandemic? Which travel and holiday markets are already witnessing a recovery? In addition, Rolf Freitag will also talk about people's current desire to travel. What are the chances of the tide turning in 2022? Which destinations will be particularly in demand over the coming months? And what types of holiday will be most popular this year? The World Travel Monitor® is the world's most comprehensive survey on outbound travel trends in Europe, Asia, North, South and Central America. With its surveys, it covers more than 90 per cent of the global demand for international travel.
ITB – 365 days a year
In addition to its virtual formats, in 2022 ITB Berlin is bringing the industry together with a series of B2B networking events in European markets. These will provide numerous networking opportunities, fixed dates in the form of a Speed Networking event, as well as workshops presenting and discussing the latest travel industry topics.
Information for the media and bloggers:
ITB Berlin Convention: attendance is free, but you must register online in advance – itb.com/de/besuchen/tickets/.
Digital Business Day: press accreditation is required – itb.com/de/presse/akkreditierung/. Upon approval of your accreditation you will receive a personalised link for the Digital Business Day. As of Tuesday, 15 March 2022 this link will be active and provide access for onboarding and participation in the Digital Business Day.