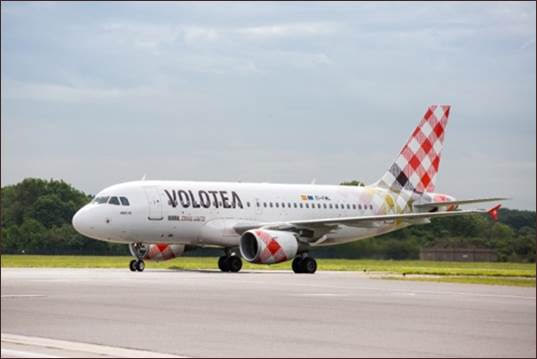 Volotea will fly from Athens to Bilbao from next Spring, with a growth in capacity equal to 211% more than the previous year
This new route adds up to the 2 connections the airline announced in January towards Nantes and Bordeaux.
Barcelona, 9th February 2022 – Volotea, the airline of Europe's medium-sized cities, reinforces its presence in Athens and in the Greek market by launching a new route, from Athens to Bilbao, connecting for the first time a Spanish city to the Greek capital.  The route will start on May 27th and will be operated 2 times a week (Thursday and Sunday) with a total capacity of more than 14 500 seats.
In 2022, Volotea will triple its capacity in Athens, offering more than 560,000 seats (vs 182,000 seats offered in 2021). In terms of flights, the airline expects to operate more than 3,600 flights vs the 1,162 operated last year.
The airline will offer a total of 14 routes from Athens airport – including the 3 new routes launched this year: Bilbao (new route 2022), Bordeaux (new route 2022), Lyon, Marseille, Nantes (new route 2022), Strasbourg, Bari, Genoa, Venice, Verona, Crete, Mykonos, Santorini and Dubrovnik.
Overall, a positive trend that is also reflected at international level: in 2022 Volotea will offer a total of 11 million seats, a growth of around 40% compared to 2019, when the carrier put on sale 8 million tickets. The airline expects to transport between 9 and 9,5 million passengers in 2022, 32% more than the ones carried in 2019 when the airline reached its annual record of 7,6 million passengers. Furthermore, in the coming months, Volotea is planning to launch more than 45 new routes in Europe, to add 2 new bases to its network and to operate around 70,000 flights compared to the 40,500 operated in 2021 and the 58,000 operated in 2019.
"We are very happy to announce the launch of this new route to Spain, showing our commitment to Greece and our desire to keep on growing and developing new markets – said Valeria Rebasti, Country Manager Italy & Southeastern Europe of Volotea –Thanks to this new route, Greek passengers will have a wider range of destinations and will be able to reach  Spain with Volotea, on the other hand, more and more Spanish will visit Athens thanks to this new route, increasing, therefore, job opportunities and economic development in the country".
ABOUT VOLOTEA
Volotea was founded in 2011 by Carlos Munoz and Lázaro Ros, previously founders of Vueling, is one of the fastest-growing independent airlines in Europe, increasing year-on-year its fleet, routes served, and seats offered. Since its start, Volotea has carried more than 35 million passengers across Europe.
Alghero (opening in 2021), Asturias, Athens, Athens, Bilbao, Bordeaux, Cagliari, Genoa, Hamburg, Lyon (opening in 2021), Marseille, Nantes, Olbia, Naples, Palermo, Strasbourg, Toulouse, Venice, and Verona. Volotea serves more than 100 cities in 15 countries, including Algeria since December from France.
Volotea became a full Airbus carrier in 2021, by renewing part of its fleet with aircraft from the European manufacturer. The airline, which had planned to perform this fleet unification in 2023, has advanced its plans in order to improve its cost base over the next 2-3 years and increase its network offering, with aircraft that have a higher capacity and a longer flying range.
The airline will operate a fleet of between 41 and 45 aircraft in 2022, up from 36 in summer 2019. In terms of volume, Volotea will increase its seat capacity by nearly 39% compared to 2019, highlighting the strong latent demand in Europe's mid-sized city markets. Volotea employs over 1,350 staff across Europe and was the most active airline in Summer 2020 among its main competitors inactivity, seat-load factor, operational levels, and customer satisfaction.
Volotea was elected "Europe's Leading Low-cost Airline" at the World Travel Awards 2021, the industry's most prestigious awards recognizing excellence in the transportation and tourism industry worldwide.