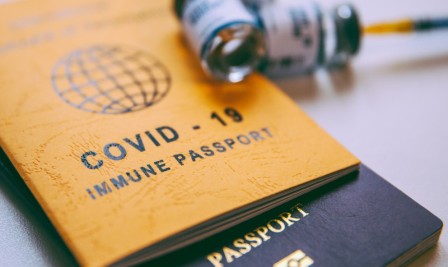 The COVID-19 pandemic has largely affected the global travel and tourism industry. After more than a year of battle with the pandemic, the deadly coronavirus continues to take the world by storm. However, several countries around the world have started to consider reopening of their borders in order to welcome back tourists. The travel and tourism industry holds an important place in the global economy. Therefore, numerous destinations are now planning to restart their economy after a year of heavy financial loss by reopening the tourism sector.
Almost every nation in the world has embraced several new rules and regulations for a safe reopening of the travel and tourism industry. The recent rollout of the COVID-19 vaccination across the globe has largely contributed towards the reopening of travel. Majority of destinations now require a negative COVID-19 test resultfrom travellers in order to grant them entry. But with the vaccine rollout, many countries now also require proof of vaccination on arrival. Governments around the world have started working on COVID-19 vaccination passports to help restart international travel.
Travellers will likely require using their smartphones to showcase digital vaccination certificates that would serve as their proof of vaccination and allow them to travel freely across borders. Let us take a look at how vaccination passports will work towards facilitating global travel.
Official Records
The user's official and approved digital immunisation record is the main part of a vaccination passport. The UK recently updated its NHS app to allow fully vaccinated individuals to showcase their vaccination record while travelling abroad in line with the ease of restrictions. Meanwhile, the EU has also started working towards its digital vaccination certificate that will even show COVID-19 test results and recovery report and allow EU residents to travel across 30 European countries once again. Similarly, Japan and China have also decided to introduce their own digital vaccine passports to facilitate cross border travel.
A Common Platform
It is likely that most users would need a common platform through which they can put the vaccination passport to use. Besides digitization of vaccination certificates and COVID testing results, travelers will require an application that can be used on smartphones to securely store the vaccine certificates. Travellers can then use the app to seamlessly share the certificate with officials as and when required.  IATA's Travel Pass is already being used by travellers across several airlines that have signed with the organisation. A non-profit CommonPass has also been introduced for another group of airlines. So far, these apps are only used to verify COVID-19 test results. Therefore, an integration to include the vaccine certification can also be expected. This will make it easy for users to verify their vaccine status during online check-in.  
Authentication
Almost every country that has reopened for travellers now requires proof of negative COVID-19 test result on arrival. However, with several cases of fraud COVID results authentication has been a major concern off late. Developers are of the opinion that a digital certificate would be more authentic as it will be difficult to tamper with the digital records.
Privacy and Security
Like similar previous initiatives, the privacy and security associated with vaccination certificates has been a matter of concern among users. Discussions about security threat and breach of privacy are already rife online. Developers are of the opinion that phones hold minimal personal data and encryption keys are the only transmissible data that allow secure exchange of information. They have already mentioned that vaccine passports will not likely raise any additional privacy concerns as users are only required to put in place a yes or no credential status.
The Exceptions
It is also a matter of concern that there will certainly be a group of people who would not have the chance to get the vaccination passport. There exists a relatively small group who cannot take the COVID-19 vaccination due to other health concerns. Therefore, authorities should work towards introducing a form of passport that such individuals can use to state their concern and is not barred from regular travel related activities. As for people who do not have smartphones or families that does not have a separate device for each member, IATA and EU officials have reportedly started to work towards introducing certain solutions.