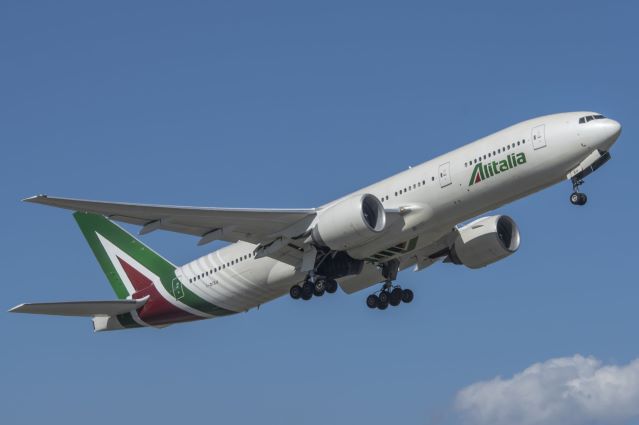 On 15 December Alitalia will resume non-stop services from Rome to Sao Paulo and inaugurate the codeshare agreement with Brazilian airline GOL; flights from Rome to Buenos Aires will begin on 19 December
Alitalia will resume from mid-December non-stop flights from Rome to Buenos Aires and Sao Paulo, air services which had been respectively suspended in March and April due to the Covid-19 pandemic.
Scheduled services with Brazil and Argentina will be operated on a weekly basis and will mark not only the resumption, after about nine months, of a regular direct air connection between Italy and the two South American countries, but they will also guarantee greater opportunities for carrying goods between Europe and South America, thanks to the load capacity of 20 tons (in 80 cubic meters of space) of the bellies of the Alitalia Boeing 777-200ER aircraft which will fly on the two routes.
In detail, services to and from Brazil will restart from 15 December with departure from Rome Fiumicino airport at 10:05 pm and arrival at the Sao Paulo-Guarulhos airport at 6:25 am (local time) the following day. From Sao Paulo, the Alitalia Boeing will take off for the first time on 17 December at 4:05 pm (local time) and land in Rome Fiumicino at 7:15 am the next morning. Departures from Rome will be every Tuesday and from Sao Paulo every Thursday.
With the resumption of operations in Brazil, a codeshare agreement with the Brazilian airline GOL will also be launched. The commercial agreement will offer will offer passengers the possibility to travel to 39 other Brazilian destinations (including, for example, Rio de Janeiro, Brasilia, Recife, Salvador) thanks to the flights operated by GOL to and from Sao Paulo airport in connection with the Alitalia flight to and from Rome. In addition to greater accessibility in Brazil, this agreement with GOL will also offer important benefits to members of the MilleMiglia loyalty program, who will be able to earn miles by flying with the Brazilian airline, and further benefits for all travelers, such as the opportunity to reach the desired destination with a unique ticket, checking-in once at the departure airport for the entire journey, and collecting the checked baggage at the end of their trip in the arrival airport. Alitalia adds the new codeshare agreement with GOL to the one already in force with AZUL Linhas Aéreas Brasileiras.
Services to and from Argentina will restart from 19 December with departure from Rome Fiumicino airport at 9:50 pm and arrival at the Buenos Aires-Ezeiza airport at 8 am (local time) the following day. From Buenos Aires, the Alitalia Boeing will take off for the first time on 21 December at 2:05 pm (local time) and land in Rome Fiumicino at 7 am the next morning. Departures from Rome will be every Saturday and from Buenos Aires every Monday. Thanks to the commercial collaboration with Aerolineas Argentinas, Alitalia passengers arriving in Buenos Aires will also have the opportunity to continue their journey from the airports of Buenos Aires to 33 Argentine domestic destinations (such as, for example, Cordoba and Mendoza), plus further five in South America, including Santiago (Chile), Lima and Asuncion.
With the resumption of these two routes to South America, Alitalia will serve three intercontinental destinations with scheduled flights: Buenos Aires, New York and Sao Paulo.
Flights to and from Argentina and Brazil are available on the Alitalia sales systems (website, Alitalia App, call centers), in travel agencies and at airport ticket offices. For the transportation of goods, Alitalia Cargo is available at the Customer Service number +39 02 2499 2890 or by e-mail at azcargores@alitalia.com.
In compliance with the current Italian and international laws on the prevention of contagion, all Alitalia aircraft are sanitized with high-powered sanitizing products every day and, thanks to HEPA filters and vertical circulation, the air on board is not only renewed every three minutes, but it is also 99.7% pure, just like in a sterile medical room. All passengers are also required to complete a self-certification form before boarding, which certifies that they have not had close contact with people diagnosed with Covid-19. In addition, passengers must bring protective masks to be worn from their arrival at the airport and during the flight, taking into account that they have to bring an adequate number of protective masks according to the duration of the flight, since it is necessary to replace the mask with a new one every 4 hours.