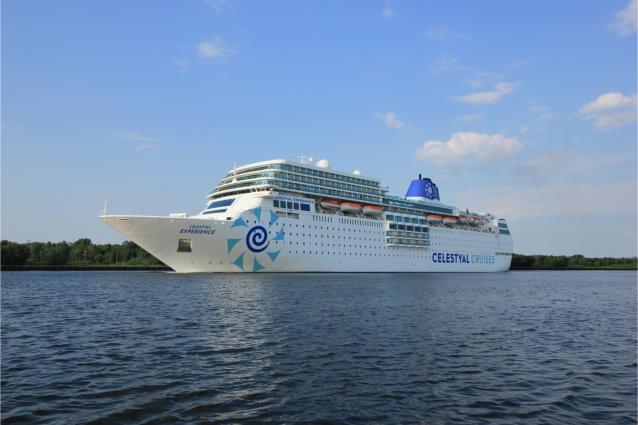 … MADE BY NOVEMBER 30 FOR SAILINGS FROM MARCH TO JUNE 2020
To provide guests with additional peace of mind as they look towards returning to cruising,  Celestyal Cruises, the award-winning, number one choice for cruise travelers to the Greek Islands and the Eastern Mediterranean, has announced that it will provide complimentary travel insurance for all new, individual bookings made from now through November 30, 2020 for March-June 2021 sailings.  The included policy is provided by Allianz Global Assistance and includes coverage of medical/hospitalization expenses, including those associated with Covid-19, transportation costs to the nearest hospital and travel costs to the next port of call, if required, as well as travel expenses to return home due to illness, if required, and reimbursement for any unused portion of a cruise.  For an additional fee, guests can opt to upgrade their policy to also include trip cancellation coverage.
Celestyal's first sailing of the 2021 season will be on March 06 on board its new flagship, the Celestyal Experience, with the seven-night "Three Continents" itinerary calling on Greece (Athens and Rhodes), Turkey (Kusadasi),  Israel (Ashdod), Egypt (Port Said) and Cyprus (Limassol).  Beginning on April 03, 2021 the Celestyal Experience will set sail on the seven-night "Idyllic Aegean" itinerary visiting Athens, Rhodes, Crete (Agios Nikolaos), Santorini, Milos, Mykonos and Kusadasi (Ephesus).
Celestyal Cruises has also added extra departures to the special seven-night "Steps of Paul" itinerary due to popular demand, which traces the footsteps of St. Paul, the Apostle, across the Mediterranean with departures on 16th October and 13th November 2021.  Additionally it has introduced an amended seven-night "Eclectic Aegean" itinerary to maximize time ashore and to offer Thessaloniki as a new embarkation/disembarkation port which is the second largest city in Greece with a rich cultural and culinary heritage being the gateway to the land of Alexander the Great, stellar nightlife, and laid-back authenticity. The seven-night 'Eclectic Aegean' has departures between 23rd October and 6th November 2021.
"We are extremely optimistic about the future of cruising and are truly excited to introduce our guests to our newest addition to the fleet, the Celesytal Experience. We recognize that concerns surrounding the pandemic still exist, and we want to help put our guests at ease when booking with us for voyages during the first half of next year.  Thus we're proud to be one of the first in cruising to offer complimentary COVID cover travel insurance along with very attractive all-inclusive introductory pricing to help restore their confidence in booking that dream vacation that they likely had to put on hold this past year as a result of the pandemic," said Leslie Peden, chief commercial officer, Celestyal Cruises.
The Celestyal Experience has a capacity of up to 1,800-guests in 789 staterooms, 166 of which feature balconies, sea terraces and bridge-view verandas. The Celestyal Experience which has recently undergone an extensive refurbishment will offer an intimate onboard guest experience with all the warmth of traditional Greek hospitality.
The Celestyal Experience features a range of experiences for guests of all ages including four specialty restaurants, seven bars and lounges, two pools, two Jacuzzis, a beach club, sundeck, jogging track and state-of-the art two-deck panoramic Sana Wellness Spa. Rounding out the "Celestyal Experience" will be nightly entertainment, a casino, library, meeting rooms, and onboard boutiques, all topped off with a unique, specialty wine and cheese bar that will serve as a tribute to Mediterranean wines and cheeses.