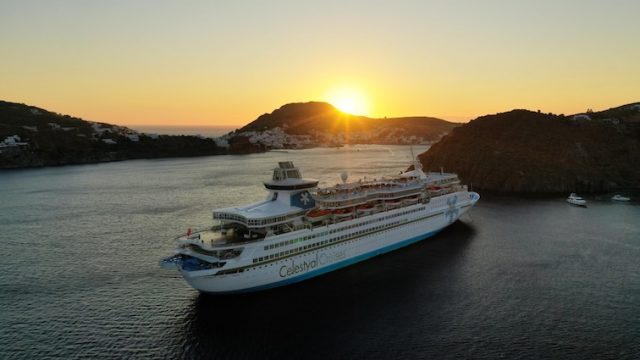 Celestyal and AHEPA to Jointly Commemorate 200 Years of Greek Independence in 2021
Celestyal Cruises, the Greek cruise company and the award-winning, number one choice for travelers to the Greek Islands and the Eastern Mediterranean, is proud to announce a strategic alliance with the American Hellenic Educational Progressive Association (AHEPA). AHEPA is a service organization that was founded as a fraternity in 1922 in Atlanta, Georgia following growing attacks on Greek Americans and Greek American businesses by the Ku Klux Klan (KKK) and others. Its initial mission was to assist Greeks in America, assist them with citizenship and to fight discrimination, bigotry, and hatred. With the full assimilation of Greek Americans, its mission evolved toward advancing philanthropy, education, and promoting and preserving the Hellenic identity of Greek Americans. As a part of this partnership, Celestyal has been named the exclusive cruise partner of AHEPA. Celestyal joins other travel industry AHEPA partners such as Disney Parks and Emirates Airline.
Next year marks the 200th anniversary of Greek independence and the establishment of the modern Greek state. AHEPA will be marking the bicentennial by holding its international annual meeting, the "Supreme Convention," in Athens, July 25-31, 2021.   Celestyal will be offering a special July 31 group sailing of its seven-night "Idyllic Aegean" itinerary to AHEPA delegates following the annual meeting. AHEPA members will be offered a special discount, and five percent of all AHEPA member bookings on this sailing will be donated to AHEPA to help support the organization's initiatives.
"The Order of AHEPA is very proud and pleased to announce this new partnership with Celestyal Cruises, the only cruise company based in Piraeus, Greece.  We are eager to see all of our convention members, family, and guests join us for the July 31 AHEPA Cruise of the Greek isles.  The AHEPA and Celestyal Cruises partnership is the beginning of a great relationship.  We would like to thank all of our friends at Celestyal, and we are looking forward to working together," AHEPA Supreme President George G. Horiates said. 
AHEPA is committed to preserving and promoting the principles of Hellenism, humanity, freedom and democracy. It is the organization's mission to educate its community of members on these values.  AHEPA is committed to the ideals of philanthropy and volunteering at the global, national, and local levels. From natural disaster relief and raising funds for the elimination of life-threatening diseases to contributing to community development, AHEPA is focused on humanitarian activities. The organization also has a history of educating political candidates and elected officials who align themselves with those positions that matter most to American philhellenes , including international relations with Greece and Cyprus.
"As a Greece-based company that has corporate social responsibility deeply woven into our DNA, Celestyal Cruises is extremely pleased to join forces with AHEPA, the leading humanitarian organization focused on the Greek diaspora. As we look forward to a post-pandemic world, we believe that it will take all of us working in concert to get Greece back to where it needs to be as a vital global economic engine for the benefit of all of its residents and those who visit us from around the world. We look forward to marking our bicentennial as a modern Greek democracy with AHEPA next summer," said Celestyal Cruises CEO, Chris Theophilides.