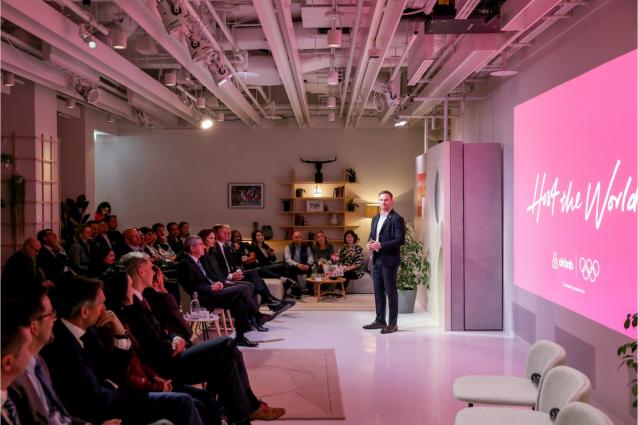 Airbnb is to sponsor the Olympic Games until 2028 in a $500m deal that the partners say will ensure the Games are 'the most inclusive, accessible and sustainable yet'.
The nine-year agreement is Airbnb's first major global sponsorship deal, covering five Games in total.
In addition, the International Olympic Committee (IOC) will make at least £28m worth of Airbnb accommodation available to athletes competing at the Olympic and Paralympic Games.
The agreement begins with the next summer Olympics in Tokyo, followed by winter and summer games in Beijing, Paris, Milan and Los Angeles.
Airbnb co-founder Joe Gebbia (pictured, above) says it will generate of thousands of new hosts over the agreement time period and the deal will create a 'new standard' for hosting that will be a positive outcome for host cities, spectators, fans and athletes.
The agreement includes a focus on sustainability, including providing travel options that are 'economically empowering, socially inclusive and environmentally sustainable'. There's also a commitment to increase accommodation for people with accessibility requirements.
For the IOC, the agreement means reduced costs and a move away from building a huge amount of infrastructure in host cities to accommodate tourists and athletes.
Airbnb said 85,000 visitors to the 2016 Rio Olympics used its platform, generating a total of £30m for hosts and an estimated £100m in economic activity.
The company has previously been a domestic sponsor for the 2016 Rio Games in 2016 and 2018 Winter Games in PyeongChange.
Under the new agreement, Airbnb will be elevated to 'unique accommodation products and unique experiences service' supplier alongside global brands such as Coca-Cola and Toyota.
Gebbia said: "Our Olympic partnership will ensure that the Games are the most inclusive, accessible and sustainable yet, and leave a lasting positive legacy for athletes and host communities.
"Airbnb's mission is to create a world where anyone can belong anywhere, and we are proud that the Olympic spirit will be carried by our community."
IOC president Thomas Bach (pictured, below, with Gebbia) said: "This innovative partnership underpins our strategy to ensure that the efficient staging of the Olympic Games is sustainable and leaves a legacy for the host community.
"With Airbnb's support, we will also develop new opportunities for athletes around the world to develop their own direct revenue streams through the promotion of physical activity and the Olympic values.
"From this partnership there will also be direct benefit for athletes beyond the US $5 billion the IOC is distributing during this Olympiad for their benefit to Organizing Committees and sports organisation around the world."