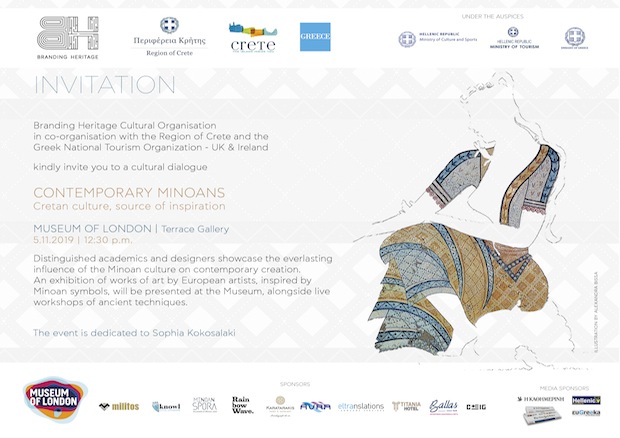 5.11.2019, Museum of London
Distinguished academics and designers from Europe come together in London to showcase the everlasting influence of Minoan culture on the global contemporary creation scene (fashion, gastronomy, music, art). From the innovative dances of Sergei Diaghilev (Ballets Russes) to Ted Shaw, from William Blake's Minotaur to Pablo Picasso's groundbreaking artworks inspired by the Labyrinth's mythical creature and from Mariano Fortuny's celebrated Κnossos scarf to Karl Lagerfeld and Sophia Kokosalaki, the Minoans, Europe's earliest advanced civilisation, continue to capture the imagination of archaeologists and artists alike.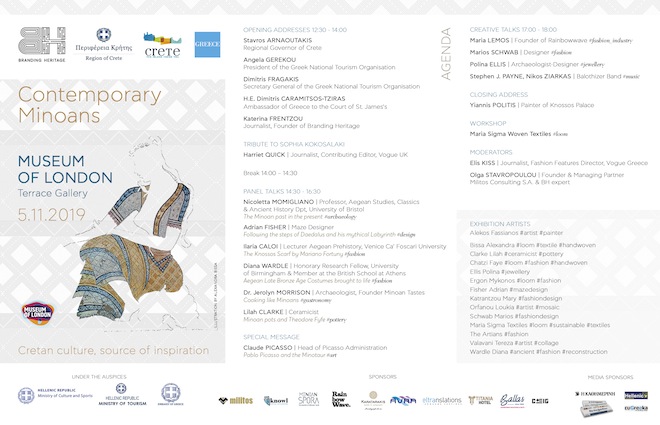 This high-level cultural event "Contemporary Minoans: Cretan culture, source of inspiration" is organised at the initiative of Cultural Organisation Branding Heritage (BH) with the support of the Region of Crete and the Greek National Tourism Organisation UK & Ireland, on Tuesday, November 5 2019 at the Museum of London (150 London Wall, London EC2Y 5HN map), starting at12:30 p.m. The event is held under the auspices of the Hellenic Ministries of Culture, Tourism and the Embassy of Greece to the United Kingdom.
The event is dedicated to fashion designer Sophia Kokosalaki who passed away in October. Journalist and contributing Vogue UK editor Harriet Quick will pay tribute to the designer's creative genius and exceptional personality. Last year, Sophia Kokosalaki was honoured by Branding Heritage and the Region of Crete at the Heraklion Archaeological Museum for her valuable contribution to the promotion of Greek heritage and Minoan culture on the international fashion scene. The distinction was given within the framework of the multifaceted cultural event 'Contemporary Minoans' and 'Cooking like Minoans', held in the presence of HRH Prince Charles of Wales.
The event will be addressed by Regional Governor of Crete Stavros Arnaoutakis, Greek National Tourism Organisation President Angela Gerekou and Secretary-General Dimitris Fragakis, Ambassador of Greece to the Court of St. James's H.E. Dimitris Caramitsos-Tziras, journalist and Founder of Branding Heritage Katerina Frentzou.
Speakers include: Professor of Aegean Studies, Classics and Ancient History at the University of Bristol Nicoletta Momigliano, Maze designer Adrian Fisher, Lecturer of Aegean Prehistory at Venice Ca' Foscari University Ilaria Caloi, Honorary Research Fellow at the University of Birmingham Diana Wardle, Archaeologist & Founder of Minoan Tastes Dr. Jerolyn Morisson, Ceramicist Lilah Clarke, at the Creative Talks Founder of Rainbowwave Maria Lemos, Fashion Designer Marios Schwab, Archaeologist & Designer Dr. Polina Ellis, Members of Balothizer Music Band Stephen J. Payne and Nikos Ziarkas.
A special message will be sent by the Head of Picasso Administration Claude Picasso, while the closing address will be delivered by the painter of Knossos Palace Yiannis Politis. The event will be moderated by journalist & Fashion Features Director at Vogue Greece Elis Kiss and BH Expert & Managing Partner at Militos S.A. Olga Stavropoulou.
The event will feature an exhibition of inspired artworks with Minoan references by European artists Alekos Fassianos, Lilah Clarke, Loukia Orfanou, Tereza Valavani, fashion designers Mary Katrantzou, Marios Schwab, Faye Chatzi, fashion brands Ergon Mykonos and The Artians, jewellery designer Polina Ellis, textile designers Alexandra Bissa and Maria Sigma Textiles, maze designer Adrian Fisher while researcher archaeologist Diana Wardle will present a reconstruction of an ancient garment. The event will be accompanied by live workshops reproducing ancient techniques (weaving / loom).
About Branding Heritage
Cultural Organisation Branding Heritage was founded by journalist Katerina Frentzou and is devoted to highlighting ancient Greek culture as an everlasting inspiration of contemporary artists. BH designs multifaceted cultural events promoting cultural heritage and cultural entrepreneurship, supports the revival of ancient techniques and showcases artistic creation that pays tribute to the "global" Greek heritage across borders.
Branding Heritage also embarks on a journey to bring youth closer to their unique cultural roots. Connecting past, present and future, BH Kids revives ancient arts and techniques in collaboration with craftspeople, artisans, weavers and creators, in an effort to prompt youth to discover and experience hands-on their cultural heritage. BH Kids also aims to establish synergies with schools, colleges and universities, connecting culture with entrepreneurship and opening up new career paths for students.