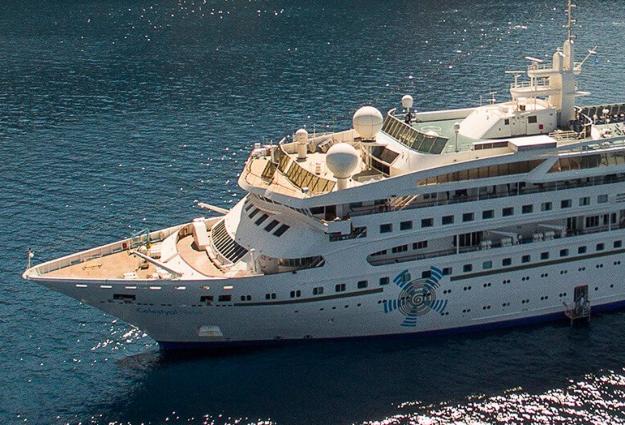 Celestyal Cruises – which has fast built an award-winning reputation and recognition as the number one choice for travellers to the Greek Islands and East Mediterranean thanks to its regional expertise and exceptional hospitality – has just released its new, reimagined 2020/2021 brochure featuring new and extended itineraries as the once seasonal-only operator looks towards sailing year round.  In 2020 Celestyal Cruises sets sail in the Adriatic for the first time with its new seven-night "Romantic Adriatic" itinerary (Dec. 05, 12, 19, 26) which sails four departures in December and visits Venice, Corfu, Patras, Kotor, Dubrovnik and Split at a time when these popular destinations are far less crowded than during the summer months.  Highlights of this voyage include visits to UNESCO World Heritage sites, stops to experience the Christmas markets in Venice and Dubrovnik and an excursion to medieval Kotor. 
Also new for 2020/2021 are one-time cruises including a three-night, short-break cruise from Cyprus to Athens (Jan. 03, Apr. 01 and Dec. 3, 2020) with a stop in Turkey; a five-night itinerary from Athens to Venice (Nov. 30, 2020) with stops in Montenegro and Croatia and a seven-night cruise that takes guests from Venice to Athens (Jan. 02, 2021) with two overnight stays in Venice and Athens.  
New for 2021 is a special, seven-night "Steps of Paul" itinerary, which traces the footsteps of St. Paul, the Apostle, across the Mediterranean on an exclusive sailing on Oct. 16.   Guests will join expert guides on a religious and historical journey with visits to St. Paul's birthplace in what was once the Roman city of Tarsus and is now part of Turkey. Guests will also visit St. Paul's Tribune at the Vlatadon Monastery, Philippi, the prison where St. Paul and St. Sylas were held captive, and will have the opportunity to ride a cable car to the Acropolis in Pergamon as well as visit the ancient city of Ephesus.
In 2020 and 2021, Celestyal will also introduce 14-night truly immersive sailings (Mar. 28, 2020 and Mar. 06 2021) visiting Greece, Cyprus, Egypt, Israel and Turkey, including 6 excursions.  Due to its continued popularity, Celestyal will also expand its "Idyllic Aegean" itinerary season through October.  A new feature on its "Eclectic Aegean" itinerary will allow guests to now embark from Heraklion, Crete in addition to Piraeus/Athens and Istanbul.
In 2020-2021 Celestyal Cruises will continue its well-established three- and four-night "Iconic Aegean" cruises and further strengthen its seven-night itineraries. The seven-night "Eclectic Aegean" will sail from Apr. 04 to May 09 and from Oct. 10 to 24 in 2020 and from Mar. 13 to 27 and from Oct. 23 to Nov. 06 in 2021. The seven-night "Idyllic Aegean" cruises will sail from May 16 to Oct. 03 in 2020 and from Apr 03 to Oct. 09 in 2021. The seven-night "Three Continents" cruise will sail from Feb. 29 to Mar. 28 and from Oct. 31 to Dec. 26 in 2020 and from Feb. 06 to Mar. 06 and Nov. 13 to Dec. 25 in 2021.
All 2020 and 2021 cruises feature the award-winning Celestyal all-inclusive experience with an unlimited drinks package, all meals on-board, entertainment, select shore excursions, port and service charges and gratuities included in the fare.  
Mr. Chris Theofilidis, Chief Executive Officer of Celestyal Cruises, said about the new itineraries: "This year, we are very pleased to have been able to implement our strategic goal, offering year round cruises and reaffirming our commitment to the growth of cruising in Greece and in the broader region of the Mediterranean.»
"Our 2020 and 2021 expanded portfolio of itineraries brings the warmth of our Greek welcome and hospitality to more destinations, bringing us even closer to our objective of sailing year-round onboard our recently refurbished vessels," said Mr. Leslie Peden, Chief Commercial Officer, Celestyal Cruises. "In response to growing demand for winter cruising, we are thrilled to be entering the Adriatic from Venice for the first time in 2020 so guests can truly experience both marquee gems and lesser known destinations, beating the summer crowds and heat. Due to the popularity of our spring and autumn seven-night itineraries both the 'Three Continents' and 'Eclectic Aegean' will feature again having successfully launched this year. A new variety of 'must-see destinations' are available on our 14-night, one-time sailings and exclusive seven-day itineraries such as 'Steps of Paul", offering guests an immersive historical and religious-focused experience.  All of this complements our core Greek Island product nicely and provides our repeat guest with even more vacation options."