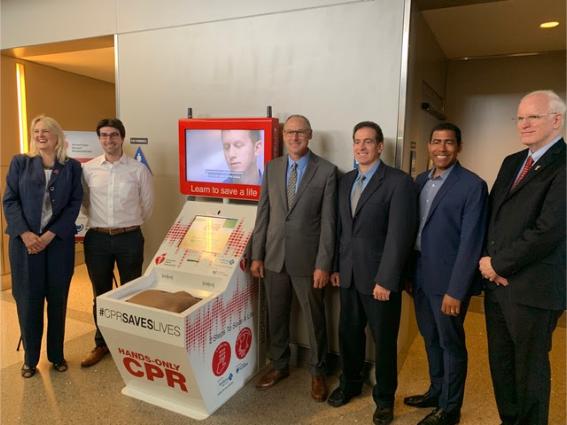 The new kiosk at LAX is the result of a partnership between Los Angeles World Airports, the American Heart Association, Anthem Blue Cross Foundation and CareMore Foundation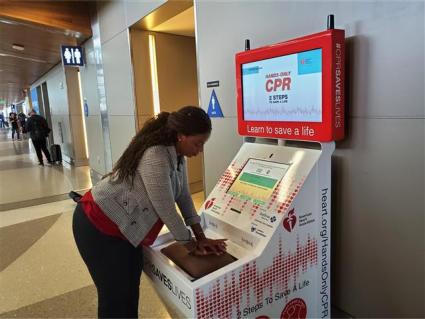 Los Angeles World Airports (LAWA) and the American Heart Association unveiled a hands-only Cardiopulmonary Resuscitation (CPR) training kiosk at Los Angeles International Airport (LAX) during National CPR and Automated External Defibrillator (AED) Awareness Month, an annual observance that brings attention to how lives can be saved if more Americans know how to perform CPR and use an AED.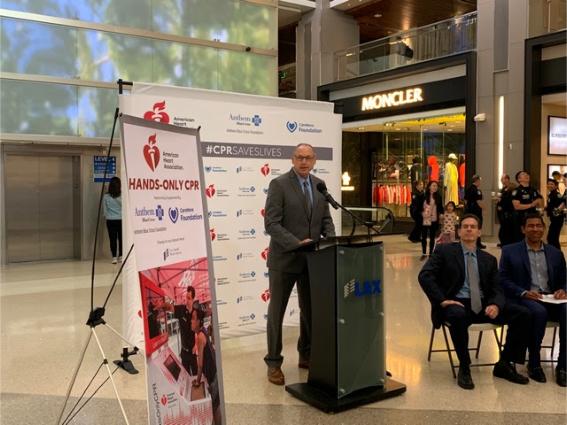 "When emergencies occur, being prepared can mean the difference between life and death," said Keith Wilschetz, Deputy Executive Director of Emergency Management and Operations, LAWA. "We encourage all guests traveling through LAX's Tom Bradley International Terminal to take a few minutes to use our new hands-only CPR training kiosks to learn the skills needed to save a life when someone is in cardiac arrest." 
"The LAFD firefighter/paramedics who serve LAX appreciate any effort that enhances a cardiac arrest victim's chance of survival," said Dr. Marc Eckstein, LAFD Medical Director and EMS Bureau Commander.
The hands-only CPR training kiosk, operated by the American Heart Association and supported by Anthem Blue Cross Foundation and the CareMore Foundation, is located near Gate 150 on the Upper/Departures Level of Tom Bradley International Terminal. The terminal served more than 17 million passengers in 2018. With the help of the training kiosk, travelers can learn hands-only CPR in about five minutes.
Every year, more than 350,000 cardiac arrests occur outside the hospital, and about 20 percent occur in public places. CPR, especially if performed immediately, can double or even triple a cardiac arrest victim's chance of survival. However, less than half of out-of-hospital cardiac arrest victims receive CPR from a bystander. 
Hands-only CPR has two simple steps, performed in this order: when you see a teen or adult suddenly collapse, call 911. Then, push hard and fast in the center of the chest at a rate of 100 to 120 beats per minute until help arrives. 
Zach Gingold, who spoke at today's press conference, is proof of the lifesaving power of CPR. Ten years ago, at the age of 14, the Los Angeles resident collapsed on a hotel lobby floor in Israel after coming back from a bus tour. Two bystanders immediately ran to his rescue, performed CPR and administered an AED. Gingold survived and went on to graduate from high school, then college, and become a real estate investment banking professional. 
"Every second counts when a person suffers a cardiac arrest, which is why bystander CPR must start immediately until professional help arrives," said Dr. John Harold, a cardiologist and President of the American Heart Association's Los Angeles Board of Directors. "But bystanders may be reluctant to perform CPR because of lack of training or they may be fearful. The kiosks will help the public acquire a comfort level with performing chest compressions without the stress of an actual medical emergency, so they'll feel empowered to spring into action if they witness a cardiac emergency." 
Each kiosk has a touch screen with a short video that provides an overview of hands-only CPR, followed by a practice session and a 30-second test. With the help of a practice manikin, or a rubber torso, the kiosk gives feedback about the depth and rate of compressions, as well as proper hand placement – factors that influence the effectiveness of CPR. Kiosk visitors can select to do the training in English or Spanish. The training also has closed captioning to make the instruction available to everyone.  
"Anthem Blue Cross is committed to supporting important initiatives that can have a positive impact on the health and wellbeing of the communities we serve," said David P. Pryor, M.D., M.P.H., Regional Vice President and Medical Director at Anthem Blue Cross. "Making the hands-only CPR training kiosks available at the airport enables travelers to make the most of their time by providing greater access to this valuable life-saving skill that can make a difference in the lives of Southern California residents and beyond."
There are an additional 35 kiosks across the U.S., 18 of which are located at several U.S. airports. More than 200,000 people have been trained across all the kiosks.
For more information, visit http://heart.org/handsonlycpr.