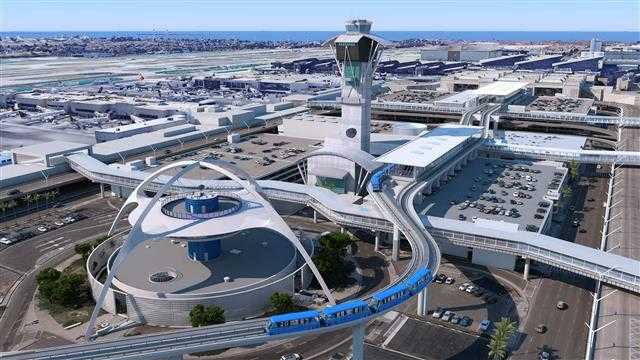 Los Angeles World Airports (LAWA) announced the retirement of Chief Operating Officer Samson Mengistu. His retirement comes after a 30-year career at the City of Los Angeles, more than 25 of them at LAWA. He has served under four Los Angeles mayors, and numerous Airport Commissions and LAWA administrations.
"Samson Mengistu has been a steady, guiding force in helping set and execute evolving agendas at Los Angeles World Airports," said Deborah Flint, CEO, LAWA. "His vast institutional knowledge and business savvy have helped us grow in countless ways, contributing to numerous successes and establishing a tremendous legacy. We are heartbroken to see him go, but wish him all the best in his well-earned retirement."
Samson started working for the City of Los Angeles in 1989. In 2003, he was named LAWA Deputy Executive Director of Board Relations and Special Programs with responsibility for Risk Management, Procurement and LAWA's $500 million Property Acquisition Program. That latter program paved the way for the Automated People Mover and Consolidated Rent-A-Car (ConRAC) facility, part of the multibillion-dollar Landside Access Modernization Program (LAMP). From 2006 to 2015, as Deputy Executive Director for Administration, he was in charge of Finance, Office of the Board of Airport Commissioners, Human Resources, Risk Management and Contract Services. He served twice as Acting Executive Director. In 2015, he was appointed COO by Chief Executive Officer Deborah Flint. 
"For three decades, Samson Mengistu has brought his intelligence, thoughtful decision-making and compassion to help realize the vision of Los Angeles World Airports and create a lasting impact on our great city and region," said Sean Burton, President, Board of Airport Commissioners. "Samson has helped put LAX on track to become a world-class airport, brought in dozens of new international routes and providers, and ensured that at Los Angeles World Airports we are truly connecting the world. His knowledge and professionalism are unparalleled." 
"Samson Mengistu is a person with a profound knowledge and understanding of LAWA, local governance and community concerns, and he has been a tremendous resource for me as Vice President of the Board of Airport Commissioners since 2005," said Val Velasco, Vice President, Board of Airport Commissioners. "Samson leaves a legacy of shepherding the modernization of LAX while instituting and enhancing strong programs for local, small and minority owned businesses. Samson is one-of-a-kind, leaving LAWA with a strong foundation for today and the future."
During his time at LAWA, Samson saw LAX grow from 51 million annual passengers 87.5 million annual passengers. Also during this time, Van Nuys Airport elevated to one of the premier general aviation airports in the world.  
"Working for Los Angeles World Airports and the City of Los Angeles has been an honor and privilege, and I am grateful to have been part of such a dedicated, passionate, and hardworking team," said Samson Mengistu, Chief Operating Officer, LAWA. "I am confident that LAWA, and the superb team assembled by CEO Deborah Flint, is positioned to achieve new heights in the years to come and will continue to set the standard for excellence among major airport systems in the world."
Samson will remain in his current role through the first part of the summer and will assist CEO Flint as needed in the organizational transition through the beginning of 2020.