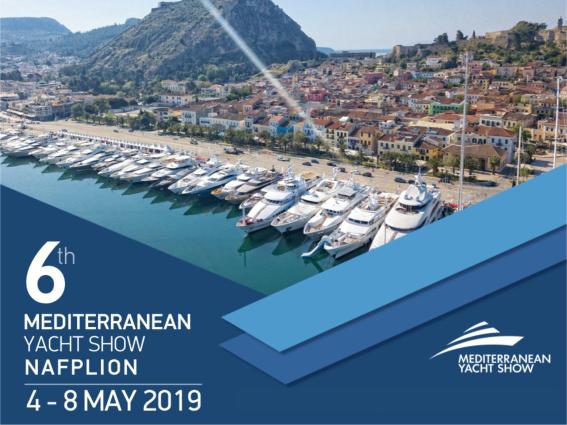 The 6th Mediterranean Yacht Show once again approaches and will be heald at Nafplion from May 4 – 8, 2019.
Due to its unprecedented success in 2018 and the record number of participating yachts and attendees, MEDYS has claimed the title of the largest luxury crewed charter yacht show in the world. In order to accommodate its growing success, the event itself has to grow and has now been extended to a celebration of yachting excellence! The Mediterranean Yacht Show, founded by the Greek Yachting Association and with the kind support of the  under the auspices of the Hellenic Ministry of Tourism, will take place from Saturday 4th to Wednesday 8th May 2019. This means that all participants, whether they be charter companies, sponsors or exhibitors, will have an extra day at their disposal to view more yachts, interact with even more industry professionals from all corners of the globe and ultimately do more business.
Nafplion itself contributes greatly to the success of the Show, due to its proximity to Athens and its historical significance, this picturesque port town has proven to be the ideal backdrop for showcasing the superb collection of charter yachts available in Greece. It is also clear, from the feedback received from international brokers visiting last year's show, that the MEDYS is now viewed as the ultimate yachting event in the region. In fact, in terms of the number of participating yachts and popularity, it surpasses similar events that are held in the Western Mediterranean and the Western Hemisphere.
Last year's show saw more than 400 professionals from 23 countries appraising an impressive fleet of 107 yachts and acquainting themselves with the superior standard of service offered on board by the captains and crew. A record number of luxury boats filled the port, attracting the interest of major global players who expressed their satisfaction with the overall organisation. What does 2019 hold in store for attendees? This year promises to be exceptional in all aspects, with a larger number of yachts registering, a scintillating social agenda and the Chef's Competition raising the bar even higher.
The Mediterranean Yacht Show is undoubtedly the most important date on the Greek yachting calendar and has been instrumental in establishing Greece as one of the top charter destinations in the world. With its plethora of islands, beautiful landscapes, safe waters, calm cruising conditions and fabulous weather, Greece truly is a yachting paradise. Together with the CAs, we are proud of our contribution to the positive development of our country in the sector of luxury yachting.