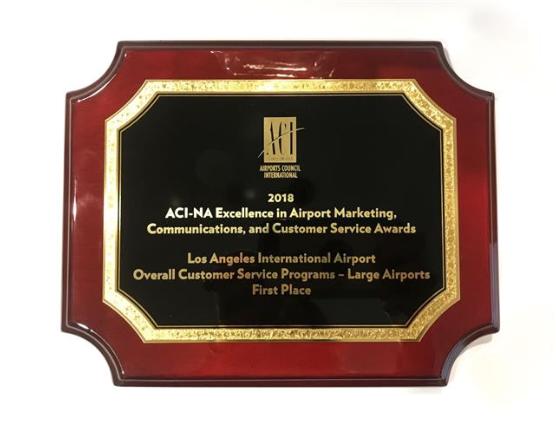 Los Angeles World Airports (LAWA) is proud to announce that it has received the Airports Council International – North America (ACI-NA) award for Best Overall Customer Service Program in the category of Large Airports for its LAXceptional Xperience program at Los Angeles International Airport (LAX).
This category recognizes excellence in overall approaches to delivering airport customer service.  Eligible entries for this category include new elements to current programs, or new programs developed in the customer service arena that have significantly enhanced the overall passenger experience at the airport.
"At LAX, we are focused on providing a top-tier experience that surprises and delights our guests," said Barbara Yamamoto, Chief Experience Officer, LAWA. "We are excited that the Airports Council International – North America has recognized our innovative approach to improving service through our LAXceptional Xperience program. Improving overall guest satisfaction is more than just physical and process improvements; it's the people and service elements that really make the difference."
The LAXceptional Xperience program includes guest experience staff training, mystery shopping to assess service levels, and the innovative Gold Star Rewards Program. The rewards program is unique in that every employee who works at LAX has an opportunity to be recognized by fellow colleagues or by guests via website, texting function, QR code or comment card.  Quarterly celebrations highlight exceptional employees, including those who go the "LAXtra Mile" to go above and beyond the normal course of duties, as well as terminal performances based on Airport Service Quality (ASQ) and mystery shop scores. The program was designed in consultation with Customer Service Experts, Inc. and Butterfly Consulting.
Yesterday, LAWA CEO Deborah Flint joined with Chief Experience Officer Barbara Yamamoto to present awards to this quarter's Gold Star Employees. They included LAWA staff as well as employees who work throughout the airport for concessionaires, airlines or other agencies.
ACI-NA's Excellence in Airport Marketing, Communications, and Customer Service Awards recognizes the quality of work, abundance of talent, and creativity within the marketing, communications, and customer service field of the airport industry. This year the contest received more than 300 entries in 20 categories.
"Our industry's ability to tell the dynamic and compelling story of airports is extremely important to helping us advance as an industry," said ACI-NA President and CEO Kevin M. Burke. "Airports like LAX are going above and beyond in connecting with their passengers and amplifying their message about the airport's essential role in their local communities. ACI-NA is delighted to applaud the innovative work and the talented individuals who are telling our industry's story."