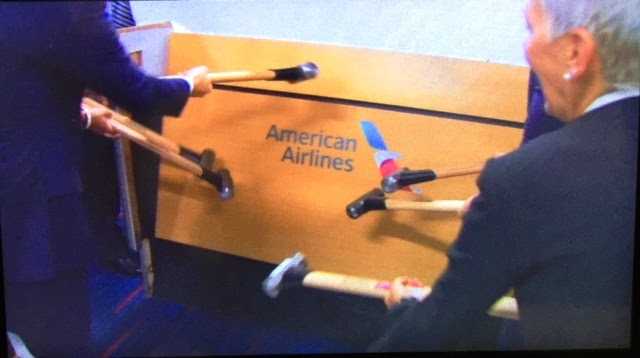 American Airlines and Los Angeles World Airports (LAWA) officially broke ground on a $1.6 billion modernization project to fully reimagine Los Angeles International Airport (LAX) Terminals 4 and 5. The project marks American's largest investment at a single airport in American's 92-year history and reaffirms the airline's commitment to Los Angeles. At the end of the modernization program, LAWA will reimburse American Airlines for the majority of the work as part of its lease agreement.
Los Angeles Mayor Eric Garcetti, Los Angeles City Councilmember Joe Buscaino, Los Angeles Board of Airport Commissioners (BOAC) President Sean Burton, and LAWA CEO Deborah Flint joined American CEO Doug Parker, Senior Vice President of Los Angeles Suzanne Boda and frontline team members for a ceremony to unveil the project and begin construction in Terminal 5.
"Los Angeles stands at a global crossroads — a place where the world comes to meet, innovate, and create," said Los Angeles Mayor Eric Garcetti. "American Airlines' commitment to the reinvention of Terminals 4 and 5 will create good, middle-class jobs and better connect Los Angeles to the world."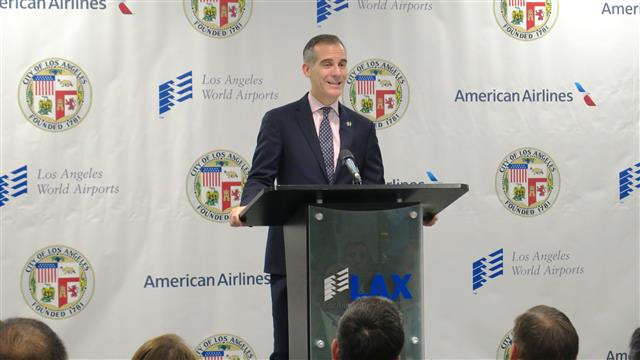 "Our city is an engine of economic progress, and airports are one of our nation's most important public infrastructure assets that contribute to our economy. This is why I could not be more proud that American Airlines is investing over a billion and a half dollars into modernizing its terminals at LAX. This modernization will greatly improve the customer experience, reflect positively on our city, and be a source of well paying local jobs," said Los Angeles City Councilmember Joe Buscaino, Chairman of the Trade, Travel and Tourism committee.
"American's significant investments in Terminals 4 and 5 will enable the new game-changing Automated People Mover to connect LAX to Metro, further making LAX both a world-class airport and first-class neighbor," said Los Angeles City Councilmember Mike Bonin, District 11. "It is clear that so many years of engaging the community and planning are paying off, and I am excited to soon celebrate the opening of a modern, connected, and more sustainable LAX."
Over the past decade, LAWA has spent approximately $8.5 billion on new projects and renovations aimed at improving operations and the guest experience at LAX, starting with the new Tom Bradley International Terminal, which opened in 2013, and stretching through the Midfield Satellite Concourse now under construction. Another $5.5 billion is earmarked for the Landside Access Modernization Program (LAMP), which will include an Automated People Mover (APM) and Consolidated Rent-A-Car Center (ConRAC), both set to open in 2023.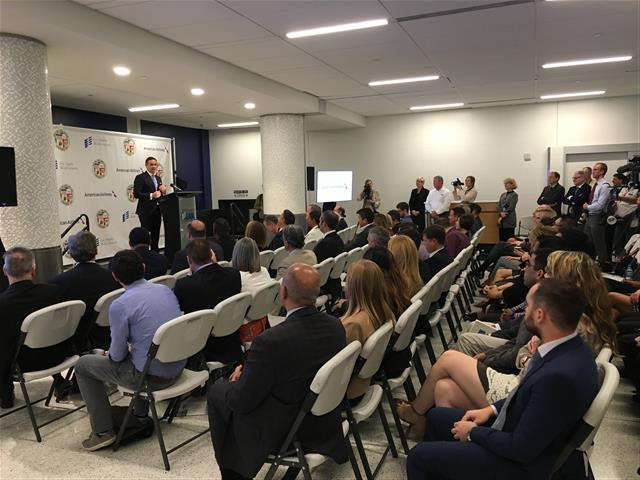 In June 2017, American signed a letter of intent with LAWA, which set the framework for the carrier's record investment. Now, less than 18 months later, construction is officially underway.
"Our mission to create a world class airport can only be realized in collaboration with our airline partners like American Airlines, and we are grateful for the substantial commitment they have made to improving our guests' experience at LAX," said Sean Burton, President, BOAC. "We have set high expectations for LAX and the project we are kicking off today will raise the bar for both American and this airport."
"Today marks an important milestone in the journey to creating an airport experience second to none," said Deborah Flint, CEO, LAWA. "The improvements included in the lease agreement between Los Angeles World Airports and American Airlines are ones that go to the heart of the guest experience. Working together with our airline partners as we reimagine our airport, we will transform LAX into the gold-standard airport that this city deserves."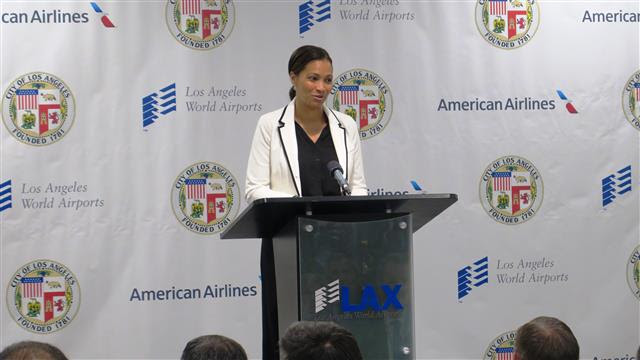 The project will fully modernize and update the infrastructure of LAX's two busiest domestic terminals. When completed, the new facility will create a world-class customer experience from end to end, with open and efficient check-in and security processing areas, more inviting gate areas with increased seating and access to modern amenities, and greater ability for airline operations to quickly adapt to and incorporate rapidly evolving new technologies.
"American has proudly served Los Angeles for more than 70 years," said Doug Parker, CEO, American Airlines. "From the very beginning, when LAX first became a commercial airport in the 1946, we've played a major role in keeping Southern California connected to the world. This remains one of the most important and fastest-growing markets for American, and today is a tremendous step forward as we continue to grow and strengthen our presence in the City of Angels."
"Our $1.6 billion investment will transform not only the customer experience at LAX, it will also give our team members a better place to work every day," said Suzanne Boda, Senior Vice President of Los Angeles, American Airlines. "It's an exciting time for American Airlines. We're investing back into our business and the communities we serve. That's exactly what we're doing here in Los Angeles, and thanks to our strong partnership with LAWA, the airport experience at LAX will soon set an example for the world."
Renderings released at the event show the unified departure hall, which will combine the entranceway of Terminals 4 and 5. Together with the secure-side bridge connecting Terminal 4 and Tom Bradley International Terminal (TBIT), which was completed by American and LAWA in 2016, movement between terminals for connecting passengers will become significantly easier and more convenient.
‌‍The project will also reimagine the workplace of American's 7,300-plus team members at LAX. Collaborative and open spaces will be designed to meet modern needs, with renovated break rooms, multi-use, small and large meeting rooms and team gathering spaces incorporated throughout the terminals.
Construction is now underway to reconfigure the Terminal 5 ticket lobby, allowing for the build out of one of the LAMP Core, a new facility being built in-between Terminals 4 and 5 that will provide vertical circulation (elevators, escalators and stairs) for passengers arriving from the APM train system. From there, the project will continue in a carefully planned, phased approach that will move from curbside to gate areas.