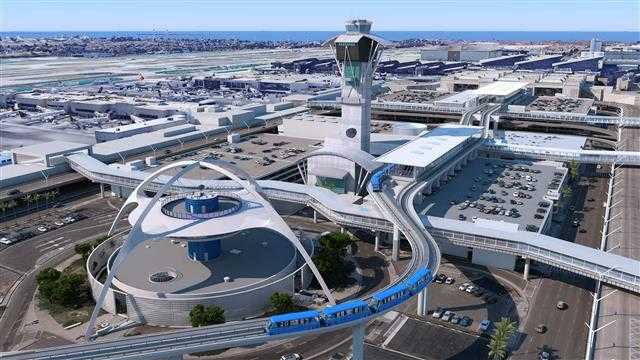 The Los Angeles City Council today unanimously voted to approve a 30-year $4.9B contract with LAX Integrated Express Solutions (LINXS) to design, build, finance, operate and maintain the Automated People Mover (APM) train system at Los Angeles International Airport (LAX). Today's approval marks the largest contract ever awarded in the City's history. The item was heard at Los Angeles City Council's Trade, Travel and Tourism (TTT) committee meeting on April 10, where it was also unanimously approved.
"Making LAX the most passenger-friendly airport in the world means giving travelers what they need and have been asking for — reliable, convenient transportation to and from the terminals," said Mayor Eric Garcetti. "This historic investment will ensure that LAX is seamlessly connected with communities across the region."
The Los Angeles World Airports (LAWA) Board of Airport Commissioners (BOAC) approved the contract at its April 5 meeting. Prior to that, BOAC selected LINXS as the Recommended Developer at the February 15 meeting and entered into an Early Works Agreement, which allowed LINXS to begin pre-construction activities such as hiring, soil testing, engineering and furthering design of the APM.
"We are pleased to have received unanimous approval from the Los Angeles City Council, the Trade, Travel and Tourism Committee and the Board of Airport Commission for this contract that will propel LAX to be amongst the world's best airports. The LINXS team contract brings more than we required, and through this partnership, this project will transform the airport and will also transform lives in our local community," said Deborah Flint, CEO of LAWA. 
LINXS is comprised of Fluor, Balfour Beatty, ACS Infrastructure Development, Dragados USA, HOCHTIEF PPP Solutions, Flatiron, HDR and HNTB. Bombardier Transportation will provide the APM Operating System, including all vehicles.
LINXS' team members have extensive experience building and operating APMs domestically and internationally. LINXS' rail provider, Bombardier Transportation, has been involved in operating numerous APM systems in the U.S. as well as APM systems in Dubai, Heathrow and Munich. LINXS is comprised of firms that have a history of involvement in significant infrastructure projects in Los Angeles and around the country. These projects have helped drive economic development and deliver significant benefits to the local communities. LINXS has committed to partner with LAWA in developing opportunities for local small businesses, creation of good-paying career jobs and fostering economic growth.
"The new Automated People Mover will transform the LAX experience for travelers by removing the frustration of the tangled traffic inside the horseshoe," said Councilman Joe Buscaino, Chair of the LA City Trade, Travel and Tourism Committee.  "Coupled with the new consolidated rent-a-car facility and the LAX/Crenshaw line, in a few short years going to LAX will become stressless for generations to come."
"The Landside Access Modernization Program is a perfect example of how we can make LAX a world-class airport and a first-class neighbor at the same time," said Council member Mike Bonin. "Every person who boards a train to the airport represents a car that will not need to be on local roads, contributing to traffic in neighborhoods near LAX and adding more pollution to our air. By making getting to and from LAX more convenient and stress-free for travelers with a connected and efficient transportation system, we are making life better for the people who live in the Westchester and Playa del Rey neighborhoods near the airport. I am excited and encouraged by today's vote and I congratulate LAWA on making progress toward finally connecting the region's largest airport with more public transportation options."
Convenience, reliability and easy accessibility are key elements of the user experience and are integral requirements for the APM. Trains will arrive every two minutes, have wide doors for easy access with luggage, large windows for viewing, plenty of hand holds and seats for those in need. Station platforms are open air, light-filled and have escalators, elevators, and moving walkways for quick, convenient access to the terminals. Architectural features include a viewing platform of the iconic Theme Building, an Experience LA center with an 800 sq./ft. LED programmable screen and an LED light band that accents the 2.25 mile guideway. LAWA anticipates that the APM will offer a maximum ridership capacity of 10,000 passengers per hour and up to 87.7 million passengers per year. The system will be operational in 2023.
LINXS' proposal had the highest technical score and the lowest cost proposal of the three teams that participated in the procurement process. The contract includes milestone payments for the design and construction phases, as well as authorizes future payments for operating and maintaining the APM for the contract period.
The APM will be built using a Public-Private Partnership (P3) contracting model. LINXS will be designing and constructing the system and will also be responsible for operating and maintaining the train and stations for a 30-year period. This incentivizes the construction and operating systems to be built to last.
The APM is the centerpiece of the Landside Access Modernization Program (LAMP), which also includes a Consolidated Rent-a-Car (ConRAC) facility, Intermodal Transportation Facility-West, and associated roadway improvements. The APM will reduce vehicle congestion in the terminal loop, provide a connection with L.A. Metro's regional transportation system, create new and convenient locations for passenger pick-up and drop-off outside of the terminal loop, reduce emissions, and provide reliable access to the terminals.