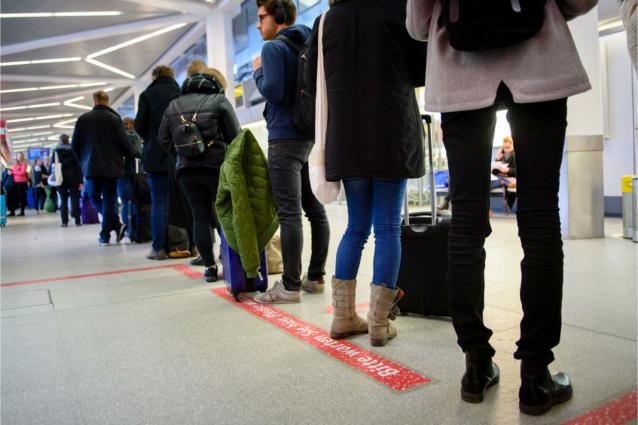 STRIKING airport workers in Germany brought chaos to international business travellers and tourists today.
Thousands of passengers have been left stranded after public services union Verdi called out members at four airports – Frankfurt, Munich, Cologne and Bremen – leading to cancellations of hundreds of flights and long delays for passengers.
Germany's National carrier Lufthansa struck more than 800 scheduled flights from its itinerary and Frankfurt Airport, the country's busiest, warned the industrial action could lead to "considerable delays in operating procedures and also to cancellations".
The airline added: "Rallies by the strikers could also lead to obstructions to transport routes, meaning reaching the airport by car will take longer."
Many strikers man the security checkpoints through which all passengers must be screened before proceeding to their aircraft.
Today's walkouts began at 3am GMT (5am local time) and are due to run until 4pm GMT (6pm local time).
Verdi is Germany's biggest labour union for service sector employees and is handling negotiations on behalf of its 2.3 million members.
The union is in talks with Lufthansa as well as employees at state-run nurseries, rubbish collection services and swimming pools which have also been affected by the strike action.
Union head Frank Bsirske said: "We want to send a clear signal to employers with these massive strikes."
"We expect an offer to be made for the third round of talks that is worthy of discussion so we can reach a good solution."
Verdi is asking for a six percent pay bump for public service workers in light of Germany's booming economy, which would equate to a minimum increase of nearly £200 each month.
The strikes in Germany come after walkouts in France by the national rail union which has crippled commuter transport and long-distance train travel.
Hundreds of flights were cancelled in France after pilots, cabin crew and ground staff stage a sixth day of strike action yesterday.
Unions representing the airport workers are demanding a pay increase after having their wages frozen since 2011 despite Air France, the country's flag carrier, now turning a profit.
Union negotiators have rejected an offer of a one percent raise and are warning of a further five days of walkouts which could would lead to further mass disruption.
Air France has warned the strikes will cost the company £148million (€170million).
Mass demonstrations across the country were also staged by union members, led by staff at state railway SNCF, in protest at some of President Emmanuel Macron's planned reforms.
Rail union workers are striking in protest at the young French leader's plans to overhaul the debt-ridden firm, which they fear will be the first step towards privatisation.

Energy and waste collection services have also been affected in the latest wave of strikes.