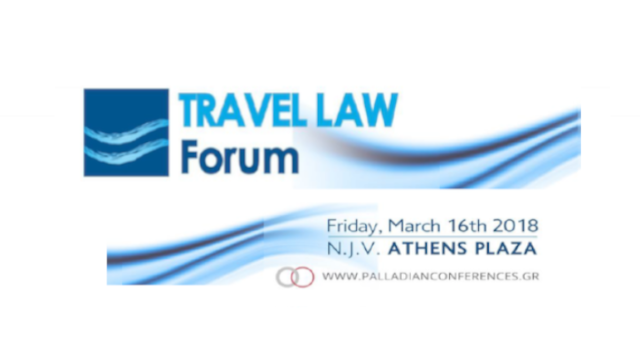 Palladian is organizing the TRAVEL LAW FORUM 2018 – Consumer Rights in digital era, which will take place on Friday, March 16th, 2018 (attendance 09.00) at the hotel N.J.V. Plaza, in Athens, under the auspices of the Greek Ministry of Tourism and in cooperation with the International Institute of Air & Space Law-University of Leiden and the Institute for Travel and Tourism in London.
Major law firms and offices with a high level of expertise in air and tourism law will attend at the forum. The discussion will be focused on legal issues about consumer rights in "shared economy platforms" era and Brexit's impact on the tourism industry.
The forum will focus on the following discussion panels:
PANEL Ι: Setting the scene – Airline liability: The most recent cases
PANEL ΙΙ: Consumer rights- the 'suppliers' and 'consumers' perspectives
PANEL ΙΙΙ: Shared economy platforms – Future trends
PANEL IV: Brexit
SPEAKERS
Professor Pablo Mendes de Leon, Professor of Air and Space law and Head of Department/executive chair of the Department of Air and Space Law 
Anna Anatolitou, Partner (Aviation and Travel), Ince & Co
Katia Avramidou, Legal Counsel, Aegean Airlines
James Burke, Associate, Katten Muchin Rosenman UK LLP
Jim Callaghan, Aviation Consultant at Croon Callaghan Aviation Consulting
Chris Christodoulou, Managing Director, Christodoulou & Mavrikis Inc
Monique De Smet, Regional Director, Europe, International Air Transport Association
Andrew Harakas, Partner, Clyde & Co
Joanna Kolatsis, Partner Hill Dickinson, Member of the Aviation Club, Board member and fellow of the Institute of Travel & Tourism
Peter Neenan, Partner, Stewarts LLP 
Victoria Nguyen, Manager EU- and Regulatory Affairs -Lufthansa Group | EU Liaison Office
Eugenia Papathanasopoulou,  Director Legal Affairs & Secretary to Board of Directors, Athens International Airport
Gregory Pelecanos, Senior Partner Ballas-Pelecanos & Associates L.P.C.
Laura Pierallini, Founder & Name Partner – Studio Pierallini, Professor of Commercial and Air Law – Rome LUISS University
Frank Püttmann, Head of Public Affairs, TUI Group, Corporate Office Berlin
Charlotte Thijssen, Attorney-at-Law, Avocat, Kennedys Law LLP
Marios Trivizas, Principal  Strategy & Operations, Deloitte
Stamatis Varsamos, Attorney at Law, Athens International Airport
Erik van Goor, Corporate Legal Counsel at KLM
Mia Wouters, Prof. Mia Wouters, Professor Aviation Law – University of Ghent, Off Council LVP Law, Brussels

The forum will be held with the support of the following sponsors: Aegean Airlines, Hill Dickinson, Christodoulou & Mavrikis, Ballas-Pelecanos.